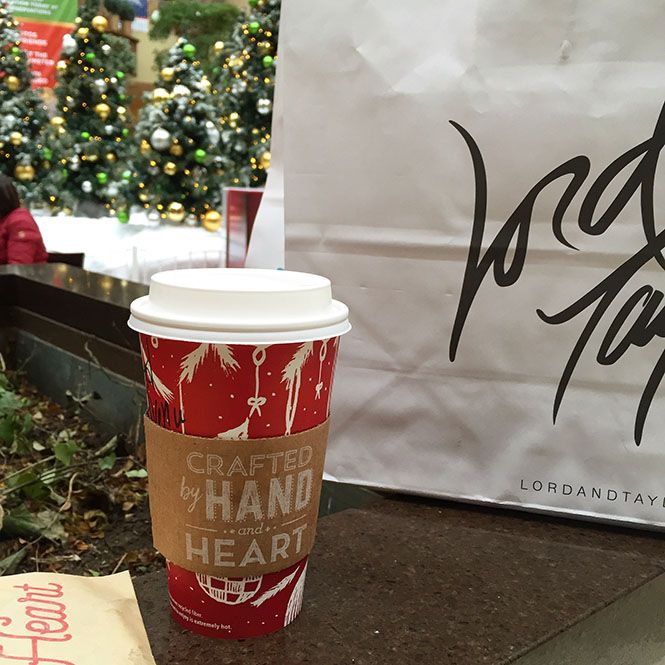 First off, I hope everyone has had an absolutely amazing Thanksgiving! I spent the day with so much of my family and SO much food. I have a lot of walking/bag carrying to do to burn off all of the food I've eaten in the past 24 hours! ;) There is so much to be thankful for and I know it may seem like shopping the day after giving thanks is sort of contradictory, but it's still so much fun and such a tradition! I'm rounding up some of my favorite sales - and there's a LOT of them this year! There's so much going on, it's hard to keep track! I usually go out late Thursday night into Friday morning, come home and sleep for a few hours, then get up and ready and head out again to more stores! I just can't get enough of it, I love nothing more!
Here's some of my favorite things I've seen so far and a ton of the best sales:
*
affiliate links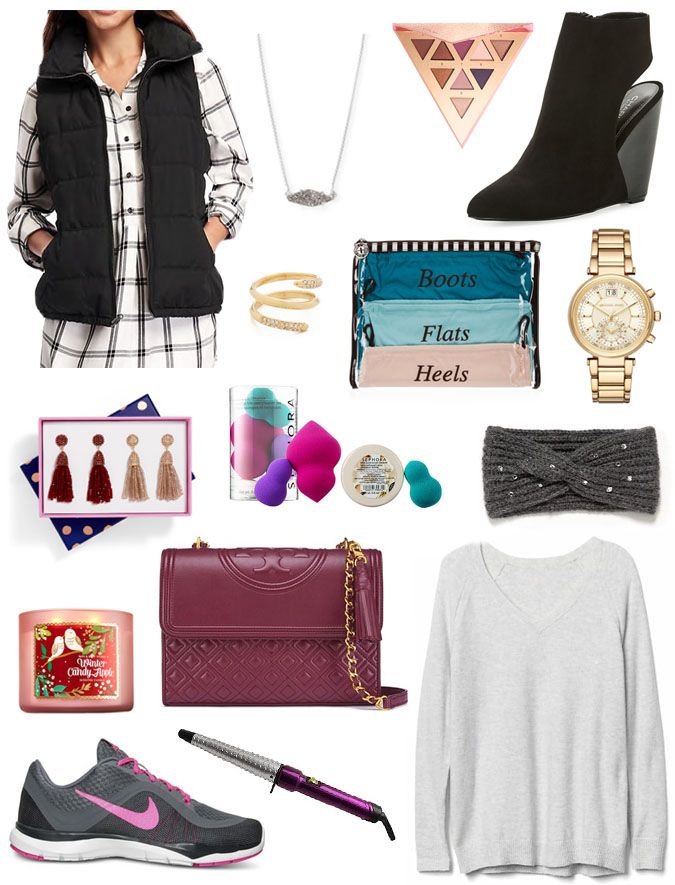 Black Vest // Kendra Scott Druzy Necklace // Eye Shadow Palette // Black Wedge Booties // Gold RM Ring // Shoe Dust Bags // Michael Kors Watch (major steal!) // Tassel Earrings Gift Set // Beauty Blender Set // Knit Headband // Winter Candy Apple Candle // Tory Burch Shoulder Bag // Nikes // Curling Wand (under $15!) // Wool V-Neck Sweater
I have been finding some *seriously* amazing deals today! I walked into Ulta and could not even believe that this curling wand was $15! It's a great gift idea and not even a brand that isn't well known, it's a win-win! There's a TON of awesome stocking stuffer ideas in Ulta and Sephora also; I grabbed a few of these beauty blender gift sets for some girl friends and my sister! Black Friday is prime time for stocking stuffers, especially for the girls in your life.
Old Navy and Gap are both 50% off all day long and I mean you really can't beat this! Pro tip: if you don't have a store credit card, consider opening one up - you get an extra 10% off when you open it, so you'd essentially get 60% off your purchase! The Old Navy card does have a high interest rate though so make sure you plan to pay it off right away! I got these v-neck sweaters for basically everyone, including myself! They're SO soft and they have the perfect neck line.
It isn't every day that Tory Burch has 30% off, so when she does, you take advantage of it!! I snagged this Tory bag during the fall sale last month and now I see it in this burgundy color and I want it SO bad. It's such a nice bag (mine is black) and the perfect size, and with 30% off it makes for a really nice gift - for someone else or yourself! ;)
And don't get me STARTED on the price of this Michael Kors watch! It's seriously insane that these watches are priced so low - and you can get an extra $10 off with an email sign up! All about the savings!
If you're a crazy Bath and Body Works lover like I am, you NEED to check out their Black Friday deal. The entire store is buy 3, get 3 free. On everything. Every single thing. Insanity!!! So you can get six 3-wick candles for $60, PLUS if you check your email (from the last week or so, or have printed coupons) you can get $10 off of that. Yep - I bought six 3-wicks for $49. Make sure you smell the new scent in-store too, and consider the $25 tote bag as a gift option with your purchase; it's great to have as a last-minute gift idea or in case you forgot something on your list!
Now onto the sales...
THE BEST BLACK FRIDAY SALES TO SHOP!
Old Navy: 50% off EVERYTHING!
ASOS: 20-30% off everything
Bath & Body Works: buy 3, get 3 free on everything
Shopbop: Buy more, save more sale 15-25% off
LOFT: 50% off everything (take advantage!)
Ann Taylor: 50% off everything
Tory Burch: 30% off sitewide
Nordstrom: extra 20% off sale items; check out the deals on UGGs!
Bloomingdales: 15-20% off; up to an extra 50% off sale
NM Last Call: extra 40-80% off everything
BaubleBar: 35% off sitewide!
40% off everything:
Express: 50% off - check out the blanket scarves!
Henri Bendel: 25-30% off everything
Kendra Scott: 20% off everything(!!!)
Macy's: extra 20% off everything & free shipping on $50 plus a TON of awesome doorbuster deals
I went to a few stores last night around 11; then I came home and slept for a while and went to the mall around 7 this morning. It's been a LONG day so far, but I'm loving every second. ;) Like I said, I live for this stuff!
What have your best buys been today so far?
XOXO