Any of you who have sisters likely can agree that shopping for your sister can be SO difficult. I mean it sort of makes no sense because your sister is one of the people you know best, but sibling personalities can be insanely different and although my sister and I like similar things, we still have different tastes. It's hard deciding if I picked something that I know she'll like or if it's just something I like, ha! But I've started my shopping a little bit earlier this year for the sole purpose of not wanting to feel rushed. In doing so, I've been able to budget better too AND have time to find more thought out gifts. These are my favorite gifts I've found that are perfect for your sister whether she's older or younger than you:
*
affiliate links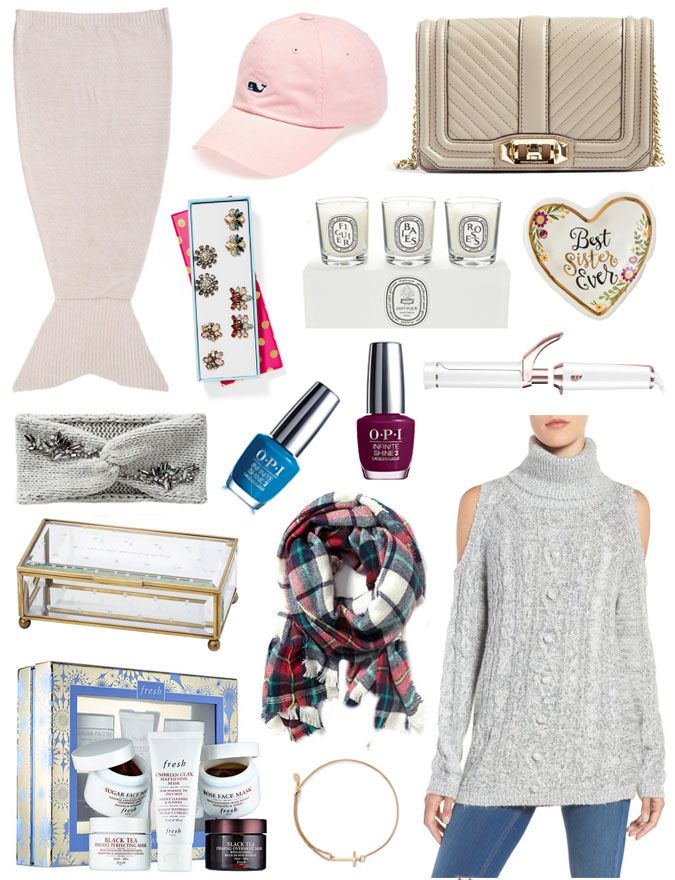 Mermaid Throw Blanket // Vineyard Vines Hat // Rebecca Minkoff Crossbody // Statement Earring Gift Set // Diptyque Candle Set // 'Best Sister Ever' Tray // Embellished Head Wrap // OPI Infinite Shine Polishes // Curling Wand // Jewelry Box // Blanket Scarf // 'Fresh' Spa Set // Cross Bracelet // Cold Shoulder Sweater
My younger sister is 17 and my older sister is 37, so I looked for gifts for this guide that are perfect for all ages. My younger sister loves candles and she absolutely loves candles. I love Diptyque candles because they always smell so gorgeous and there's so many ways to re-use the jars once the candle is gone. She LOVES burning candles - these are such a great gift idea and I love that they made a gift set this year! Speaking of gift sets - this set of statement earrings from BaubleBar are *such* a perfect gift idea for anyone, especially your sister! BaubleBar also offers gift wrapping this time of year and their wraps are so pretty, just another reason I love ordering from them. :)
I've seen the mermaid trend a lot lately and more specifically mermaid tail throw blankets like this one. But I love the one because it's SO soft; I saw it in-store and I bought two because they're so cute and fun and it isn't like a regular throw blanket.
Staying with the cozy theme, isn't this sweater so pretty?!
I just tried the new (ish) OPI Infinite Shine polishes and I LOVE them!! I get gel manicures at the salon usually every 3-4 weeks, but in between mani's I love to do my own nails and give them a gel-break. I know OPI has a new "gel break" line, but the infinite shine line is just as good for between gel manicures. It looks like gel but it doesn't require the UV light and it doesn't break your nails. It comes in a ton of colors and they're a great gift to give to your sister! I love the idea of putting together a little mani/pedi or spa gift set for your sister too.
Any ideas for your sister this holiday?
XOXO