As a New Yorker who lives 30 minutes from NYC, it's my go-to spot and where I go every chance I get! Whether it's to go to a favorite spot of mine or to try something new and different, there's always more to do in the Big Apple than you could ever imagine. There's such a different feel to the city during different times of the year and always never ending action. If you're planning a trip to NYC, you can definitely plan on having a great time. There really is never a dull or quiet moment, which is likely why New York is known as the city that never sleeps. But with as many things to do that NYC has to offer, who would ever want to sleep?
No matter how many times you visit, you'll notice something different every time and that's the beauty of the city! For as many times as I've been to all five boroughs, I still tend to act like a tourist in my own city.
If you're planning a trip, here's some of my favorite things to do, places to eat, stay at and ways to navigate the city: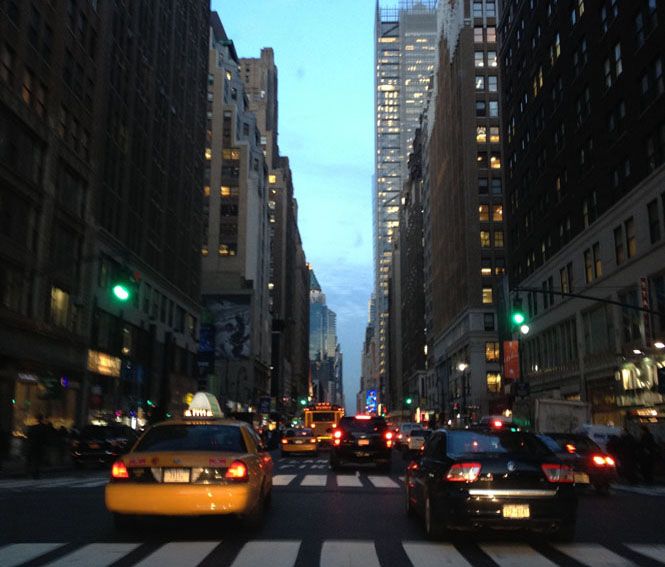 Things to do
While there are way more attractions and sites to visit or possibly list, there are quite a few places to see that you absolutely
cannot
miss out on, especially if you're visiting from afar.
Empire State Building:
there is NO way you can come to NYC and not go to the top of the ESB! Day or night, the view from the top can't compare to anything else. It will seriously leave you speechless, so make sure you leave time in your trip to experience it! While it's a bit pricey, trust me, it's worth every penny.
Rockefeller Center:
coming to the Rock is definitely best if you're here during the winter/Christmas because the Christmas tree is breathtaking and ice skating (if you have time to wait on the crazy line) is such an experience to remember. But any time of the year is an awesome experience also since it's such a famous attraction of NYC. Head to the Top of the Rock; experience the gorgeous view and get some awesome food (I recommend Del Frisco's Grille!) Also, definitely consider seeing the
Radio City Christmas Spectacular
if you're here in the winter months. My family and I go every year and it is so worth it – they change the show every other year and it's such a fun time for all ages. It never gets old. See the world famous Rockettes and then see the
Christmas Tree
on your way out, followed by dinner and shopping on
5th Avenue
will make for a great day!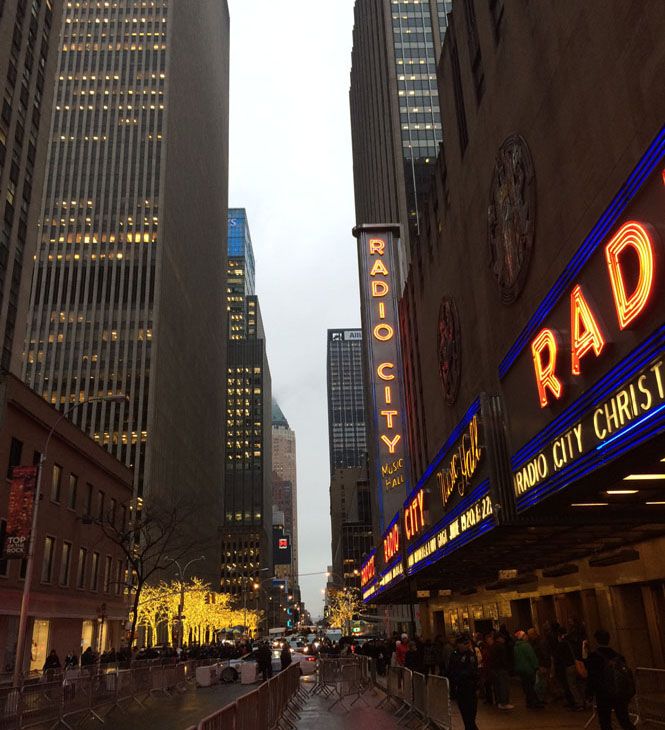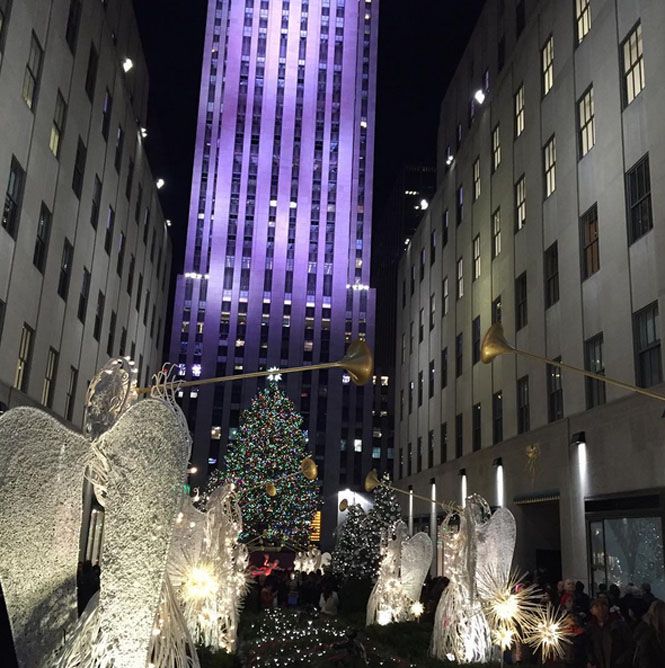 Times Square:
I'm pretty sure this is an obvious one! As many times as I've been in the heart of Manhattan, I still take so many pictures every time I go and likely look like a complete tourist. It's truly a magical place day or night and while I don't recommend venturing out into the madness of NYE in Times Square, any other night/day is SO worth it! I've been to the city on New Years Eve and trust me it's much more enjoyable watching from your couch with a glass of champagne and popcorn. The shopping, food and attractions of Times Square are worth every bit of cramped and crowded street corner crossings. For those who haven't been to the city, I recommend eating at Planet Hollywood or Hard Rock Café, and shopping at H&M, M&M World, Forever 21 and riding the Ferris wheel in Toys R Us! (yes I'm 21 years old and yes I still occasionally ride the Ferris Wheel). You can also take a walking break and sit on the Red Steps - a big (and fairly new) tourist attraction with millions of photos tagged #redsteps on Instagram. From the highest step, you can see a lot of Times Square and it's a fun place to take a small walking break.
Fifth Avenue:
it's crazy to me to think of 5th as a tourist attraction, but it is such a site to see, especially during Christmas. My favorite part is walking past all the super high end stores like Cartier and drooling over the window displays (kidding... not really but there's a TON of normal stores too!) The best thing to do is see the tree in Rockefeller center and walk just around the corner to shop Fifth Ave. And of course, the window displays and building lights in winter are mesmerizing. Saks always has a light display and this year they made it look like Disney World, it's a magical place (now in more ways than one)!
Freedom Tower and 9/11 Memorial:
visiting the memorial is one of the most moving things you could possibly experience. It is absolutely amazing and so touching and emotional. I recently got to go to the top of the Freedom Tower for the first time and something about it is so very different from the
Empire State Building
or going to the
Top of the Rock
. I'm not afraid of heights, and even I was a little nervous looking out from the top because it's
just
that high up. Whether you go to the top or not, this is a must see in NYC.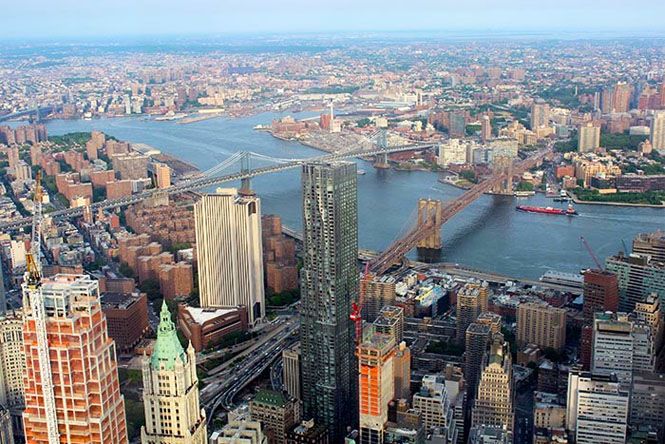 Taping of ABC Studio shows:
if you're a daytime TV junkie like me, then you're in luck! Shows like The Chew, Good Morning America, Live with Kelly and Michael and The View are all taped with a live studio audiences in NYC
almost every day
. I've been to tapings of these shows and it's such a good time (some shows like The View give free stuff away at almost every taping, too! Especially around Christmas time - starting in
mid November
.) Tickets for all of the ABC shows are
free of charge
and as long as you have previously requested/received them, you're good to go! I definitely recommend this for a morning that you're in the city, it's a lot of fun, especially if one of the show's guests that day is someone you love!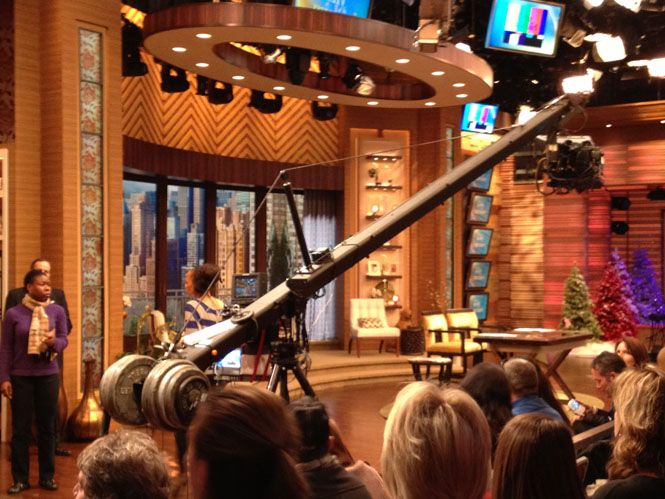 Yankee Stadium:
I'm completely biased with this one since I am a
huge
Yankees fan, but visiting Yankee Stadium is one of the best experiences you'll ever have – even if you aren't a huge baseball fan. Yankee tickets get expensive so if you don't want to spend a lot on tickets, you can get
bleacher seat tickets
for as low as $10 at some games. I've been to a couple games in the bleachers and you would be surprised at just how good the view is. The beauty of this stadium is that no matter where you sit - high up, out in left field, right behind home plate, etc - you can
always see everything
. Being in the stadium is an amazing experience and makes for a really fun time.
Little Italy:
whether you're Italian or not, Little Italy is a must! If you're visiting in September, you'll get to experience the
San Gennaro Festival
and during Christmas time they always have gorgeous lights and displays. There's so much food and it's basically one big street fair all the time. But all throughout the year, Little Italy has amazing restaurants, shopping and more and is definitely worth taking a few hours out of your day to visit.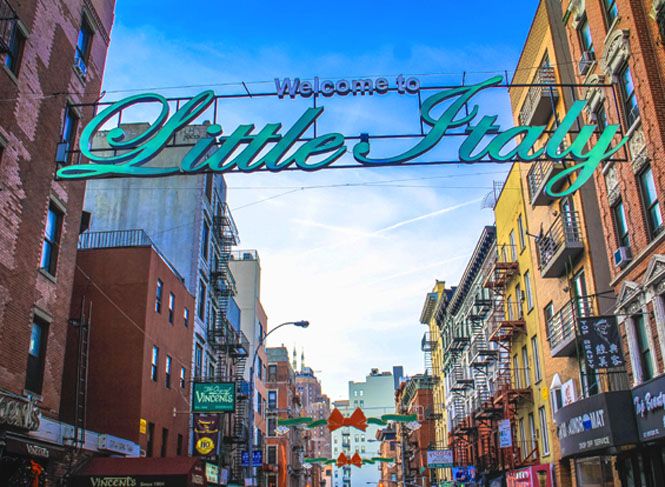 Walk the Brooklyn Bridge:
walking across the Brooklyn Bridge is so much fun especially on a nice day. There's so many pedestrians walking and biking across it at all times (unless it's the middle of winter and freezing) and it makes for some gorgeous pictures!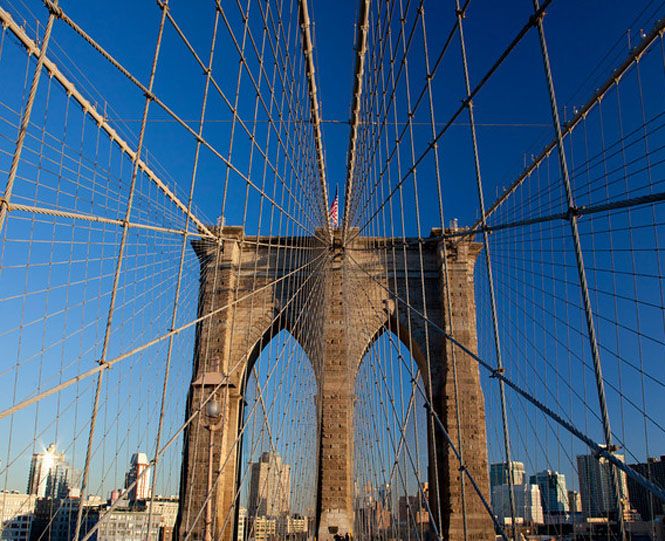 Take a Circle Line Cruise:
if you have time, I would definitely recommend a
Circle Line
cruise. It allows you to see so many sites and allows for some pretty amazing shots of the city too. There's a ton of different routes these cruises take, so check out their website to see which seems most interesting to you. I recommend the "Best of NYC Cruise" – it's 2 1/2 hours and travels passed a ton of landmarks and sites.
Other things to do and places to go
Battery Park: Southern tip of Manhattan
Central Park: Mid Manhattan with an (Southern) entrance at 5th and Madison
M&M World: Times Square
Flatiron Building: 175 5th Ave at 23rd St.
Experience a Broadway Show: tickets can be bought for some (nearly all) shows as close as the day of the show at the TKTS ticket booths located in Times Square.
Sugar Factory: 835 Washington St; Meatpacking District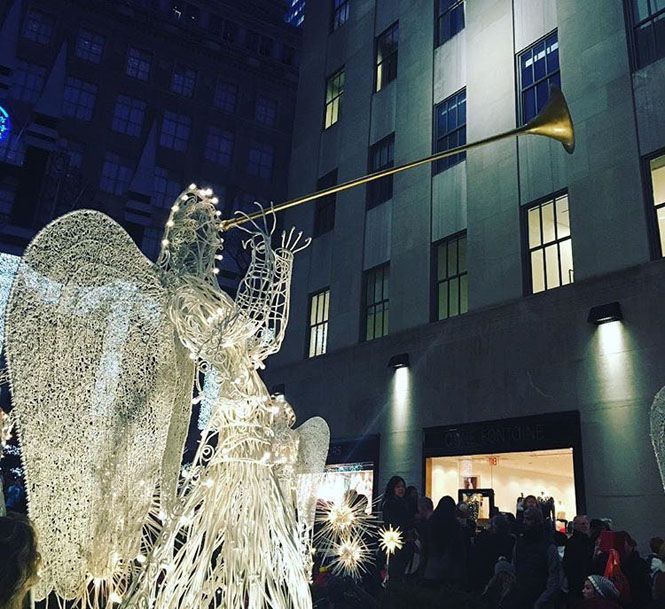 Places to eat
Similar to there being
tons
of things to do, I could never possibly name all the amazing restaurants throughout NYC but there are a handful of eateries that
cannot be beat
and are a must-visit when visiting the city.
Carmines:
this is hands down some of the
best
Italian food in NYC. This is my favorite restaurant
ever
. There's two locations; the Upper West Side and in the Theater District. They're both equally great food and great spots too! Carmine's is my go-to restaurant for a party, celebrating a birthday or just for a night out in NYC and trust me you will
not
be disappointed. P.S. I recommend the
chicken saltimbocca
for dinner and the
Titanic
for dessert!
Dylan's Candy Bar:
this is
such
a must-do in NYC. Located on Third and 60th, Dylan's has every yummy sweet imaginable! From ice cream to gummy bears to endless amounts of chocolate, they do not disappoint. It seems that Dylan's is always growing into bigger and better things, too. Every time I go there I have a better experience and it's a lot of fun for visitors of all ages.
Isabella's:
the first time I ate here, I became a little obsessed. The food and service is top notch and the best part is that you can eat outside at a sidewalk table in the nicer weather. Either way, it's amazing - make sure you try the
artichokes alla romana
appetizer – it's to die for!
Shake Shack:
some of the
best
burgers and shakes you can get! They have a couple of locations: Upper West Side, Madison Square Park, Theater District, Battery Park and Upper East Side.
Nightlife in NYC
The nightlife in New York is amazing. The city really never sleeps and there's always something to do and always something going on. Here's some of the best nightlife spots and bars to go to:
Mad46 Rooftop Louge: Madison Ave. at 46th St.
Bar 54: Hyatt in Times Square; 135 W. 45th St. (45 St/Broadway)
The Bar Room: Upper East Side; 117 E. 60th Street

Wicked Wolf:

if you're wanting to cross the river, this is the best bar in Hoboken! Located at 120 Sinatra Dr. and gorgeous views of the city.
Your view at sunset from the Wicked Wolf; I took this on my birthday! Getting a different perspective of NYC is so awesome. Hoboken is an awesome little city; a great place to go if you need a day away from the city madness during your trip.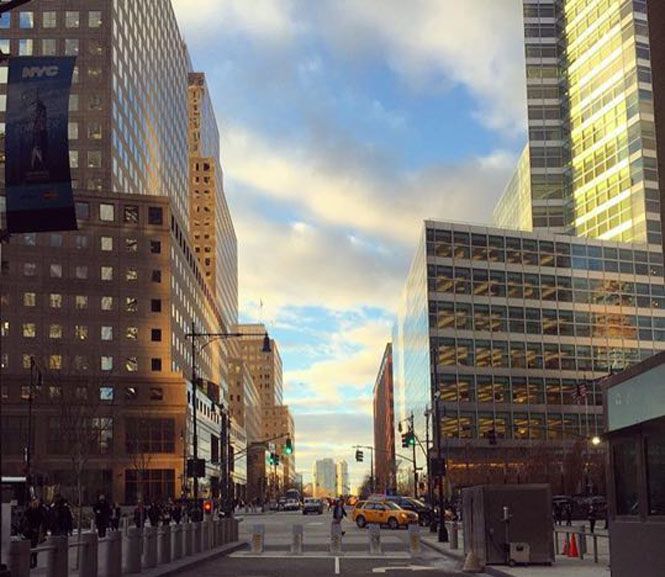 Where to stay
Although I don't live too far away from the streets of Manhattan, I've had my fair share of nights in NYC hotels. It's a great option for a "staycation" if you live close like I do, for a night away or even for a party of some sort. Of course, the majority of hotels are pretty pricey since they're always in such high demand, but there are some that are reasonable for NYC as well. And if there is a super expensive one, trust me you can almost
always
expect and receive a breathtaking view and wonderful experience.
Hilton Times Square:
the location of this hotel cannot be beat and for me, familiar hotel names/chains are something I always look for. I've stayed here and the proximity to Times Square can't be beat – neither can the views!
Crown Plaza Times Square:
the views of this Crown Plaza will
seriously leave you speechless
. The best part about Crown hotels is their reward system – they make it super easy to earn points back for future stays at their chain.
Andaz 5th Ave:
I've stayed here after learning that there was an Andaz in NYC after
an amazing experience
with the one in Maui. Like I said, being familiar with a hotel chain is usually a big influencer when booking a stay; like the Andaz which is owned by Hyatt. If you're planning on visiting the amazing Fifth Ave, consider staying here! It's super close to all the stores and literally
just a block
from Bryant Park and also super close to the Empire State Building, the Theater District and Rockefeller Center. There are gorgeous views, great amenities and an atmosphere that will allow for the best time.
What to wear
NYC and NY weather can be unpredictable
to say the least
. It can be 40 degrees in May and 65 degrees in December and in the summer, you'll never know what you're going to get. As someone who lives in New York, I've sort of figured out my wardrobe by now and packing appropriately can definitely be tough. Here's what you should bring according to season:
Spring
The spring months of March, April and May are
usually
really pretty - fresh air, melting snow and temperatures that gradually warm up. However these months in New York are sort of like the transitioning period between winter and summer, so there's a fairly good chance that you could get a 40 degree day and especially in the evenings, it's still super chilly.
Light shirts, jeans and bright colors are your best best this time of year. Bring clothes that you can layer easily to fit in with any temperature.
Distressed jeans
,
jeans that can be rolled into capris
and
white jeans
are your best bet. A
light weight poncho
or
cute pair of flats
for the warmer, sunnier days (that you know are comfortable,
super important
!) and some cute
Hunter boots
to navigate the slush from leftover snow should both be packed also.
For even more spring outfit ideas, check out my post
here with my favorite outfits for spring weather
.
Summer
The summer months here get
really hot
. Between June, July, August and even early September, we see temperatures up to the high 90's and the nights are usually super sticky, humid and hot too. Most especially in the city and on the subway, the air will feel extremely thick and you'll want nothing more than a cold drink and the air conditioning! The super warmth also brings occasional thunderstorms that subside quickly - kind of sounds like Florida the way I described it!
All of my favorite looks for the summer both comfy and cute
can be found here
. But being comfortable but looking cute is important, so bring
stylish tank tops like this one
, simple
tshirts that can be styled
and pretty, airy
blouses like this one
. Dresses are a great option too if it's a super hot day! For shoes, a cute
pair of espadrilles
that are comfortable or
sneakers
are obviously ideal; call me crazy but I
live
in flip flops and sandals all summer long no matter how much walking I'm doing. Side note: I walked the ancient ruins of Rome a few years ago in nothing but flip flops. Everyone told me I was crazy but it's what I'm most comfortable in! If you're like me, a
simple pair of flip flops
or cute sandals like
Tory Millers
are my favorite. I also recommend throwing in
a denim jacket
in case there's a cooler night or just to look cute with a pretty sun dress or t-shirt dress.
Fall
September, October and November are usually
the absolute best months in NYC
. The weather is perfect and there's almost always a light breeze. It becomes less humid and although the warm temperatures can last through September, it's pretty pleasant and comfortable. Come November (and even late October), the nights start to get chilly and the sun doesn't get as warm so warmer clothes are super important. 3/4 sleeve shirts
like this one
paired with
a pretty scarf like this one
and jeans and flats is one of my favorite fall outfits.
For more Fall outfits, check out my
Fall outfit inspiration and ideas
.
Winter
December, January and February are obviously the coldest in New York and when I say cold -
it can be really cold
. If you're visiting during the holiday season, you have about a 50/50 chance of nice and bearable weather or complete chaos with snow, sleet and ice. January and February are
always
when the city streets are filled with slush, wind and harsh temperatures though. I have two words of advice for winter outfit planning in NYC:
bundle up
!!
It's important to stay warm when sightseeing so bring a
ton
of warm sweaters like
this one
or
this one
and a ton of
cozy blanket scarves
. A
warm winter coat
that has a hood is ideal and it's also important to pack in a
waterproof coat
either for layers, a not-so-freezing day, or when it's snowing/sleeting/pouring (yes, all at once). Since I love summer it may not make sense, but winter outfits are my absolute
favorite
to style. Dressing cute and being cozy are both so important!
Navigating through NYC
Knowing your way around the city takes time and definitely isn't something you'll know your first or even second time around. If it's somewhere you go a lot like I do, it starts to become almost like a second nature. Here's what you need to know so you don't end up like
Kevin McCallister
:
Streets are all numbered, run East/West and are usually one-way. Even numbered streets go East, odd numbered streets go West (depending on which side of 5th Ave you're on). They run horizontally and the street numbers begin in Downtown Manhattan and go up as you head to Uptown Manhattan.
Avenues run vertically and start at First Ave. There are six major avenues on each side of Manhattan:
West Side:
Amsterdam, Columbus, Broadway
East Side:
Lexington, Park, Madison
Broadway
is sort of a crossing point; it runs diagonally across the avenues, creating a
square
at each intersection. This is what creates Madison, Union, Washington and Times
Square
.
Mass Transit: Taxi vs Uber vs Subway vs Metro North
This is
New York City
; home of millions of people and millions more of tourists. There are
tons of public transportation
methods and everyone is urged to use them at all times. Trust me, it makes things a
lot
easier!
Taxis and Uber
Using taxis are extremely easy and
very
useful. Credit cards and cash are now accepted throughout the city taxi system and there are fixed rates for a lot of destinations. All cab drivers know where to go when given directions and they're everywhere - so if you're tired of walking or are getting confused, hop in a cab and take it from there.
Similar (ish), Uber is a somewhat new option. It's pretty well known, self explanatory and similar to the cab system but with more variety. Personally, I use Uber
a lot
especially for nights out in the city with friends, etc.
Subway
Ugh. Call me crazy but I
hate
the Subway and the idea of it. Yes it makes sense but there's something about being underground that does not sit well with me! Either way, it's very useful and clearly a great travel method considering how many passengers use each line
daily
. You can buy a pass for the Subway which is great if you're visiting for a set period of time. There are a total of 24 Subway lines and you can find information about where each line goes
here
.
Metro North
The train system is broken into two different rail systems; the
Long Island Railroad
and
Metro North
. Metro North has five different lines; going into different boroughs of the city and into Connecticut. The
Hudson, Harlem and New Haven lines take you into New York City at Grand Central Station
. The Harlem line is what I take into the city and is the most common. Each line has
many
stops on the way to Grand Central. I have four stations around me within 10 miles that I can choose from when going into the city.
If you're staying outside of the city, purchasing a weekly Metro Card may be super beneficial. I usually drive into the city and rarely take the train, so when I do, I opt to purchase one-time tickets. When you buy your tickets at the booth, it's important to know two things: 1. are you purchasing a one way or a round trip ticket and 2.) if your ticket is during peak or off peak hours.
Peak hours
are considered to be
business hours
; rush hours for NYC travel that are between 6-10 AM and 4-8 PM.
Off peak
hours are all other times on weekdays, all day on weekends and on holidays. Ticket prices change, which is why this is important to know.
To avoid looking like a complete tourist and essentially making yourself a target (sad but true), avoid carrying a paper map (did I really just say that?) and download some apps on your phone -
Yelp
and
Google Maps
are my favorites.
Gridlock alert days
in NYC are also super important to be mindful of. These are the days that higher volume traffic (more than normal traffic) is expected throughout the city and when mass transit is
highly
recommended. Trust me, you do not want to get stuck in any sort of gridlock traffic!! These include days when the U.N. or General Assembly is in session, a high ranking official is in town or
during the holiday season
. Once the Christmas tree in Rockefeller Center is lit,
every Wednesday and Friday
is a Gridlock alert day.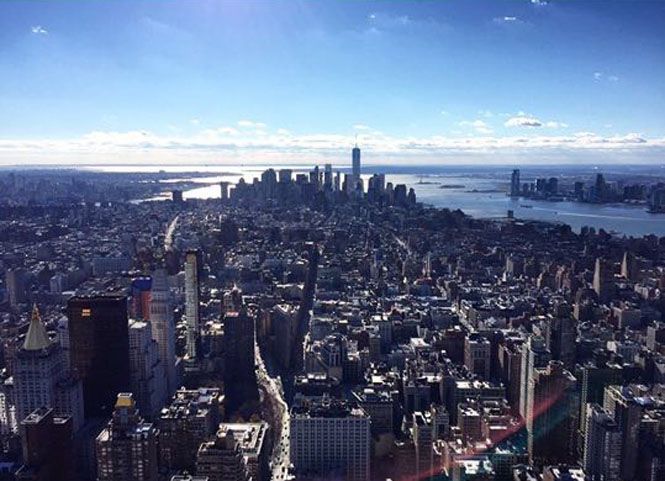 Here are some pictures from my various trips to NYC: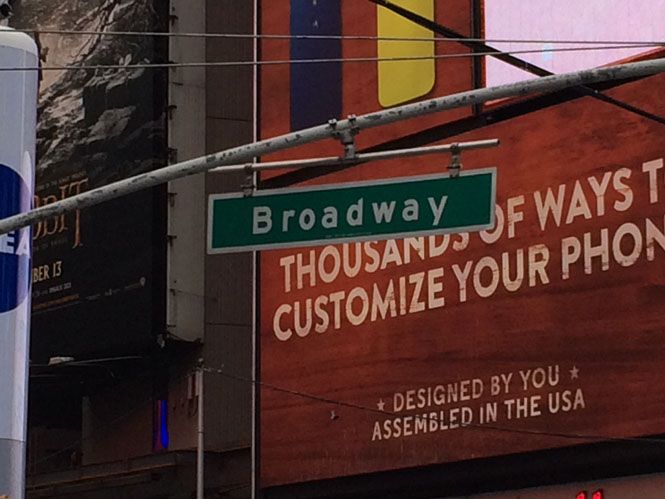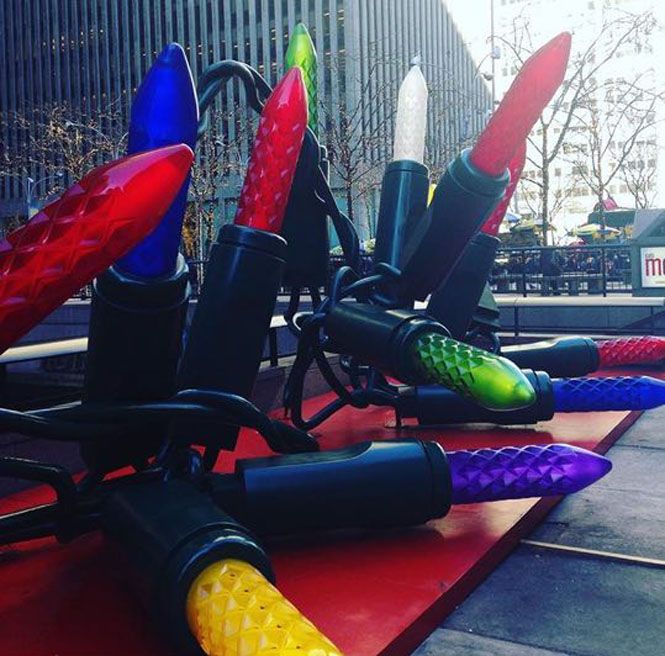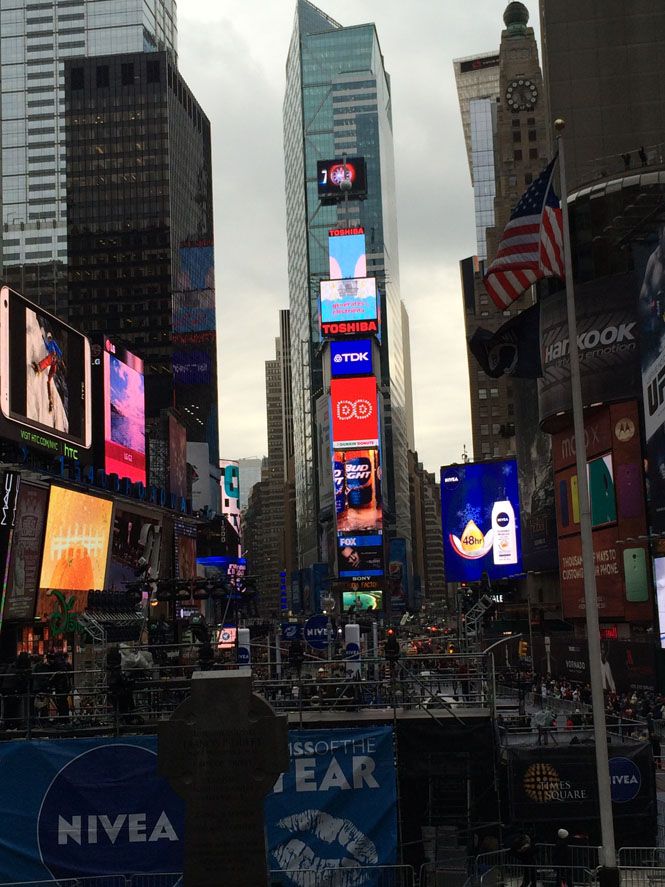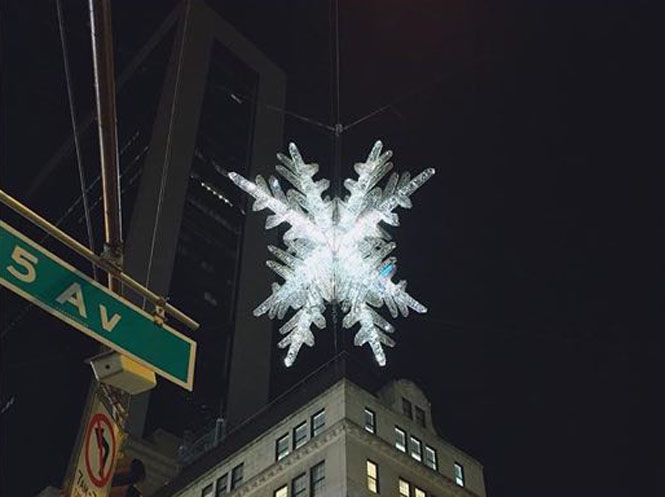 I hope my travel guide is useful and helpful if you're planning on a trip to New York! If you're coming here for the first time or hundredth time, there is always something new to know or happening and that's the easiest way to define the city that never sleeps. Wear comfy shoes, explore everything and have a wonderful time!
XOXO
Bloglovin|Facebook|Pinterest|Instagram