Thank you to Groupon Coupons for partnering with me on this post!
We all know and love Groupon, and it's become a shopping staple in most of our daily lives. I think it's mostly because it's so easy to use and there are SO many great things you can buy via Groupon. My first thought when I'm looking to buy something is to check if there's a Groupon for it or even if there's a Groupon Coupon for it, which there likely is! This time of year is so busy with gift giving for Mother's Day, communions, graduations, etc. and considering how easy Groupon Coupons are, there's no reason to not use them and their awesome selection of coupons!
There's a ton of brands that use Groupon Coupons and these coupons always work and are verified - no more wondering if there's a "success rate" for coupons that you get off of Google. When you have a shopping addiction, it isn't every day you're able to save moeny, so when I can save money it's a really exciting day!
It kind of becomes like a routine to check Groupon's Coupon section. I mean look at this: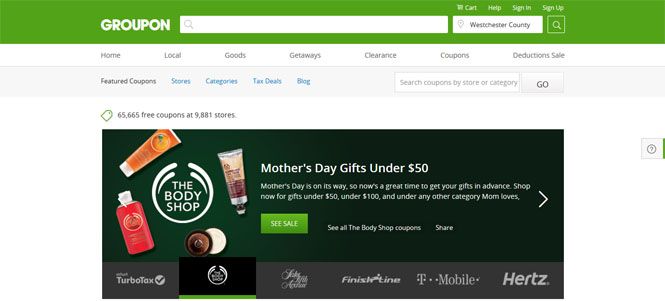 Over 65,000 daily coupons... who could resist?! Possibly my favorite brand that always has sales via Groupon Coupons is GoDaddy! Music to every blogger's ears; I bought my domain through Groupon Coupons and it saved me a ton each year on my web hosting!
Here's some more of my favorite sales going on right now:
Pier 1 // Save 20% on wall decor
Macy's // Take $40 off of 2 pairs of sunglasses
Aerie // 15 assorted coupons
Nordstrom // 127 current deals
Possibly one of most exciting, all the time Groupon Coupon sales - their sales via Travelocity! This is the easiest way to get great travel deals. I've gone on two (2!!) tropical trips by using Groupon Coupons and saved just about $250 each time. Most recently, I was able to rent a car for a weekend trip for free!!! I used my Groupon Coupon along with my AAA card and ended up paying nothing to rent the car for an upcoming trip.
Using Groupon's Coupons to travel is THE number one way to save money - that way you can use the money toward buying new clothes for your trip using other coupons via Groupon ; ) duh!
There's also a current sale going on (here) that gives you up to $250 off of a trip to the Bahamas - um, yes please!
Some of these sales don't even require a coupon code - you can "activate" the sale and it applies to your order there after! Even with the code, you have it at your disposal and have constant easy shopping and easy checkout.
Some extra tips to help save you money:
1. Download the Groupon app to always have the available deals readily available when you're on the go. It's much easier to launch the app when you're waiting on line to pay in a store than fully rely on the not so great wifi to load a web page.
2. Always check Groupon Coupons for more savings - they are always adding coupons and you never know what coupons will be available. They never fail to surprise me with some of the brands they include!
3. Sign up to receive emails about your favorite stores or even for travel deals. This assures you don't miss a beat and potential some of the best sales of the season.
4. If you're going to be out of town and are looking to save money, or are doing something out of town for a day, change your location to said city/state. Groupon and Groupon Coupons only shows coupons and deals for the city and surrounding areas of where you designate it/live in.
Which Groupon Coupons are your favorites to use?
XOXO
Bloglovin|Facebook|Pinterest|Instagram