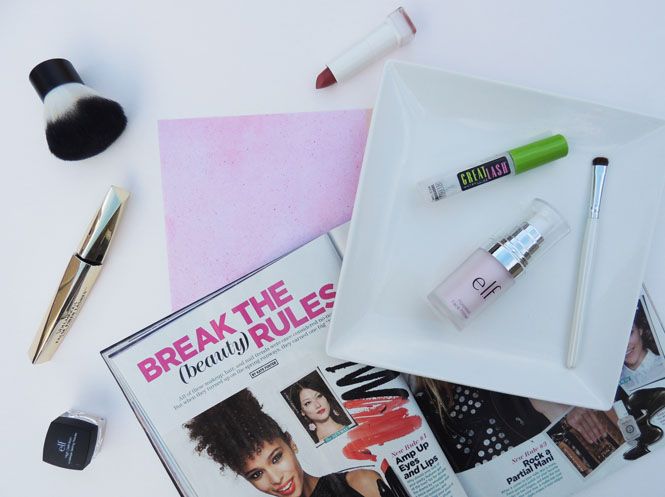 My favorite thing to buy every time I go shopping are new makeup products. I have a huge bag filled with things I still have yet to try! There's always the question of how much you should spend on makeup products and I definitely believe that 9 times out of 10, the more expensive products have better quality. But there are still a ton of products that don't break the bank and are way better quality than you would expect; especially when it comes to drugstore shopping.
Places like Nordstrom and Sephora are my favorite places to shop for makeup, but the occasional CVS shopping trip never hurts, am I right?! ; ) Some of my favorite products I've ever tried have come from a drugstore and have been $10 or less. I always go by quality over price, but these under-$10 products definitely have the quality factor I look for: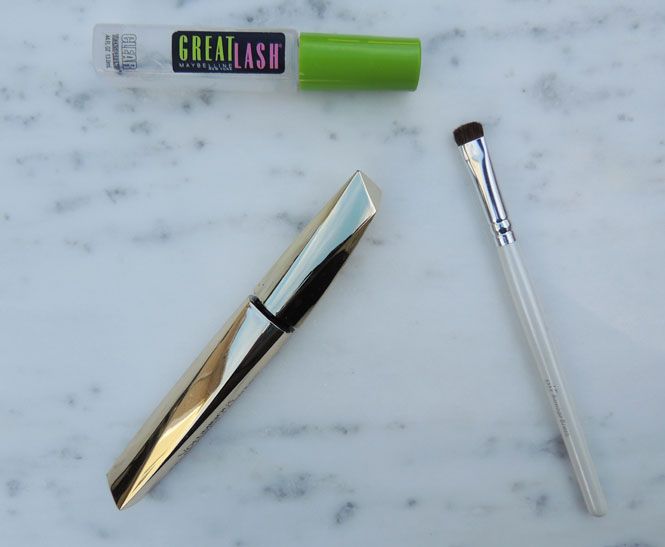 Maybelline Great Lash Clear Mascara:
my life was changed when I tried this a few years ago! I use it every day and the brush is perfect for your lashes and brows. It helps separate your lashes before applying mascara and helps keep your eyebrows in tip top shape all day long. The Great Lash Mascara has been around for years - my mom has used it since she started wearing makeup! I've seen a ton of brands try out the clear mascara and out of the ones I've tried, I always go back to this one.
L'Oreal Voluminous False Fiber Lash Mascara:
ever since fiber lashes have become popular, I've been trying out a few different ones because the idea of it makes so much sense, doesn't it? I tried
this Physician's Formula one
and the
Tarte Faux Lash extenders
and still love my L'Oreal mascara best! It comes in a few different colors and it lasts a long time too. I use the "very black" version and I see such a difference in my lashes. I do like the idea of the separate tube of fibers like the Physician's Formula and Tarte ones have, but I wear contacts every day and I get so paranoid about one of the fibers going into my eye(s). I usually wear this L'Oreal mascara every day, or I combine it with
this MAC mascara
.
ELF Eye Shadow Brush:
most eye shadow palettes come with brushes, but I swear by the variety of brushes that
Elf Cosmetics
sells! Every time I go to Target I end up buying a few brushes because I can't help myself - I mean they're like $2! I have a handful of MAC and Sephora brushes I love to use but Elf never fails to disappoint. This eye shadow brush is super easy to clean and applies your shadow evenly and perfectly each time. Highly recommend!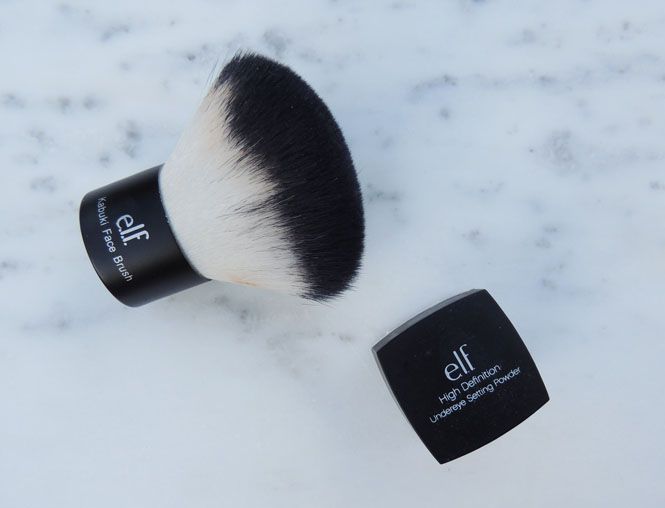 ELF Kabuki Brush:
the struggle in finding a perfect kabuki brush is REAL! I've tried
this Sigma Beauty brush
and
this Bare Minerals brush
and neither are as soft or help apply makeup as evenly as this Elf one does! I talked all about how I use it with my
NARS Velvet Matte Skin Tint
over in
this post
if you want to check it out!
ELF Undereye Setting Powder:
this is by FAR my favorite beauty product I've ever bought that is under $10!! Seriously, do not go and spend $38 on setting powders like
this Laura Mercier one
; I love Laura Mercier makeup but this ELF powder is perfection! It comes with a little brush for application too. I apply it as the last step of my makeup routine and put four spots of it under each eye. I blend it into my skin with the applicator and just like that my eye liner lasts ALL day! It doesn't smudge, get stuck in the crease of my eyes or start to look bad. I love this and I've been using the same little jar for months now - it lasts so long!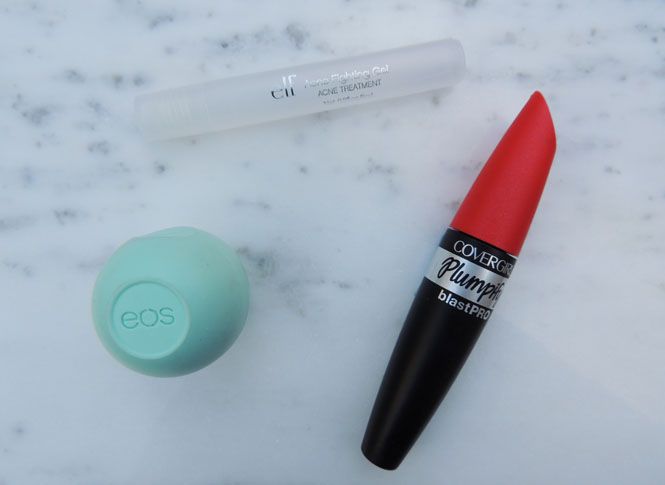 ELF Zit Zapper:
I know, another Elf product - but I swear this isn't sponsored haha! I love this stuff - it's basically just salicylic acid but also has aloe and tea tree oil which is great for your skin. The best part is it really works in such a short amount of time too! It's great because it's easy to travel around with and put in your bag to take with you anywhere.
eos Lip Balm:
this is pretty straight forward but it's by far one of my favorite lip balm's! This is another product that's so easy to carry around and it works wonders on my lips - especially at night!
Covergirl Plumpify BlastPro Mascara:
I got this mascara in my
Covergirl VoxBox
and I've been using it ever since! I love this mascara and not to be punny, but it gives my lashes so much plump!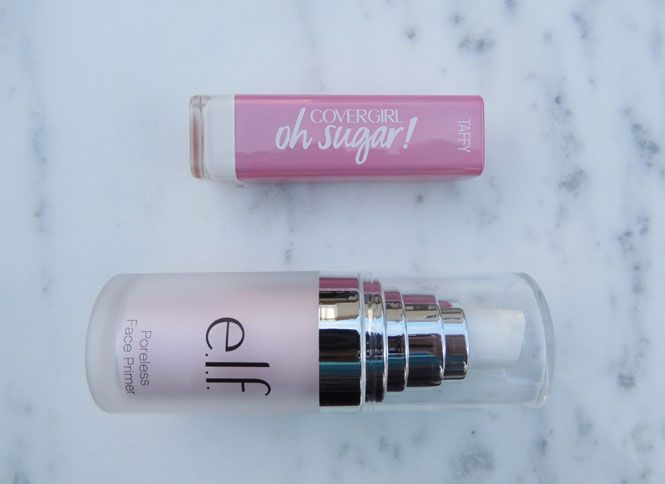 Covergirl Oh Sugar Lipstick:
never have I tried a lipstick that I loved (under $10) as much as this one! It appears shiny and finishes with somewhat of a matte look and it comes in a ton of shades. I love the way it feels on my lips and it lasts really, really long!
ELF Poreless Face Primer:
this isn't the primer I use every day, but since I bought it it's been great - especially as my not-everyday primer. It's meant to reduce the redness which I always try to do before applying face makeup. It also helps to reduce the size/visible size of your pores which is why I love it the most! Best of all, it doesn't leave my face feeling sticky even though it's gel.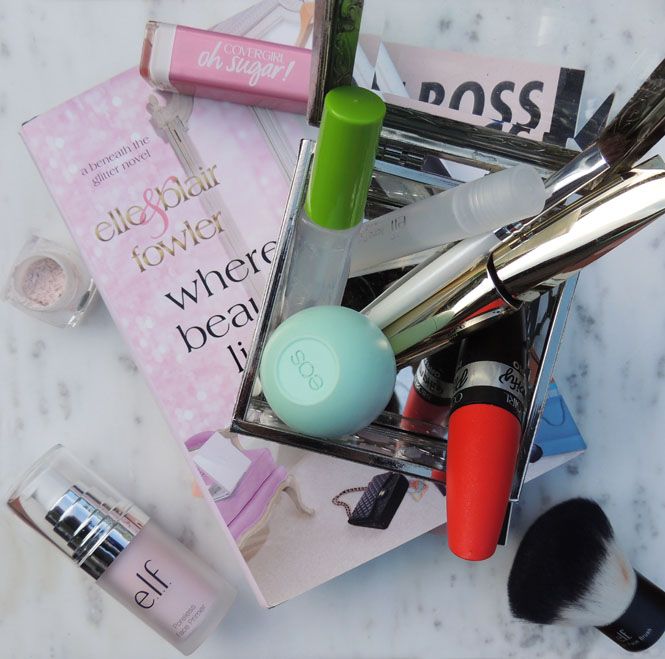 No matter what kind of makeup you buy, looking for the quality of a product is always the way to go. I love makeup shopping - whether it's at Sephora or CVS, there's always great products that you can find under $10!
What are your favorite makeup products under $10?
XOXO
Bloglovin|Facebook|Pinterest|Instagram