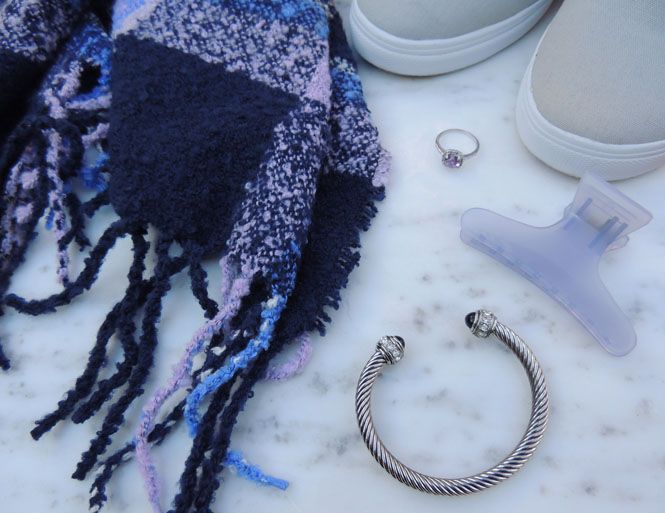 Happy March!! I am so excited that we're officially in a "spring" month! We've been really, really lucky in New York this winter when it comes to the weather; we've only had three or so "real" snow falls and it's melted so quickly and it's been so gorgeous out - even as I look out my window now, 51 degrees on March 1st is unheard of! I'm so excited to be out of the winter months and I'm so looking forward to the warmer, sunnier weather and the amazing accessories, beauty products and clothes that come with it. I know I said in my January Currently Craving post that this series would be the last Friday in every month but this passed weekend was beyond hectic so I'm a few days late ; )
Here are my February favorites:
Rebecca Minkoff Clutch// Kate Spade iPhone 6 Case// Kendra Scott Cuff// Josie Maran Moisturizer// Colorful Wedges// Black Drop Earrings// Peach Belt// Gold Pineapple Decor// Mint Green Scarf// Tassel Clutch// Gold Knot Cuff// Stud Earrings// Stuart Weitzman Ankle Strap Heels// NARS Foundation
Rebecca Minkoff Clutch
: these Leo clutches come in so many colors and they're such great quality (and a really good price too). I love this new electric blue color and it's a color I've never had a bag in which is why I jumped at the chance to get it!
Kate Spade iPhone 6 Case
: every phone case I have is Kate Spade mainly because of the quality and of course the adorable patterns they come in. I never thought of these being protective, but I have
this case
on my phone right now and I've dropped it wayyyy too many times and it hasn't even scratched. They're great quality for the price and they're adorable on top of it.
Kendra Scott Cuff
: this Kendra cuff is on my wish list and I'm hoping to get it in my spring jewelry purchases (yes I have categories for each season ;). It comes in a few colors and I think it'd be great with some stackable bangles!
Josie Maran Moisturizer
: a few weeks ago, I began looking for some new makeup and wanted to try some new things. I needed a new moisturizer and this was the one recommended to me when I went into Sephora. I was a little hesitant because it's pretty pricey for a moisturizer but I gave it a try and I absolutely
love
it!! It's expensive for such a small jar but I highly recommend it. My skin always gets super dry in the winter and I've been looking for something that actually helps add moisture to my skin and not just a temporary fix. I also love moisturizer creams that don't have a strong scent; if it's too strong you smell it all day long and I usually end up getting a headache. Thankfully, this cream doesn't have ANY smell at all (besides being fresh and clean) and that's one of the main reasons I love it so much. I highly recommend this - especially if you suffer from a lot of dry skin and redness on your cheeks, it's helped me so much.
Colorful Wedges
: these will
no doubt
be the wedges I wear most all spring and summer long! I'm so excited about these - I just purchased them yesterday the moment I found them because I have a feeling they're going to sell out quick! They also have
espadrilles
in the same pattern and colors that I'm equally obsessed with! I love the bright colors and they're so different from anything I've seen or bought before.
Black Drop Earrings
: I just got these in the mail yesterday and it was the happiest mail day ever! They look like they'd be so heavy (like some Kendra Scott earrings are) but they really aren't that bad. I love the color and I've been wanting a fun pair of black earrings like these - I think they go perfect with
this dress
I bought for a wedding in a few weeks!
Peach Belt
: I don't usually wear belts unless I absolutely need to but this is more of a fashion/statement belt and I love it! I bought it during Loft's Presidents Day sale a few weeks ago and I love the color of it for spring. I haven't worn it yet, but I've already come up with so many outfit ideas in my head to wear this belt with when the weather starts to warm up. It comes in a few colors and fits true to size - it's a super soft material too and isn't uncomfortable, major bonus!
Gold Pineapple Decor
: is there ever a time that I'm
not
buying new/replacing decor?! I can't help it - especially with this adorable pineapple figurine! This is on my wishlist and I'm dying to buy it - I've been looking for a pineapple statue and this one comes in gold and silver. I love it and may have to splurge on it during my spring cleaning binge(s).
Mint Green Scarf
: this is a much thinner scarf in person than it looks but I still love it! Especially at a price under $10, I bought it in every color! I love accessorizing in the spring with scarves just like I do in the winter but lighter material scarves that are brightly colored are the best for warmer weather and I added this to my collection of spring scarves!
Tassel Clutch
: I can't even get enough of this clutch!! I've been eyeing it for a few months now and I think this will be the month I finally buy. It's available in black and brown too and I'm leaning toward the brown but this peach is such a gorgeous color! I've seen so many people post outfits with this clutch on Instagram and it's making me want it so much more - the more I see how cute it looks with every outfit possible!
Gold Knot Cuff
: have I mentioned how much I love stackable bracelets?! I know I have a million times but I can't get over how fun mix and matching bracelets can be. I also bought this during the Presidents Day sales and I've been wearing it on repeat with a gold watch. Sailor knot jewelry has been a huge trend lately and I can't help but be a part of that!
Stud Earrings
: how cute are these?! I found these yesterday online and I love the colors and how dainty they are. I'm realizing that I overlook Banana Republic for jewelry way too much - they have the cutest things ever!
Stuart Weitzman Ankle Strap Heels
: heels that are opened with ankle straps like these are my favorite. I have a black and nude pair from Steve Madden and they can be worn with a dressed up jean outfit, dress, skirt, the list is never ending. These are so cute and I'm thinking I'll wear them for Easter (hopefully it's warm)!
NARS Foundation
: there isn't really any one word I could use to describe this foundation... I am
SO obsessed
with this - so much so that I'm doing an ENTIRE post about it later this week! I cannot wait to share more about this with you all, it's by far the best beauty product I've ever tried and if you try it you'll see why too instantly! I'm not going to go too much into this one since I have an entire post coming about it but all I'll say is that it makes total sense as to why it's sold out four times so far on Sephora's website since it was released!
What are your favorites from February?! I'm so excited to see what amazing products March brings us - and even more excited for spring to (hopefully) spring soon!
XOXO
Bloglovin|Facebook|Pinterest|Instagram