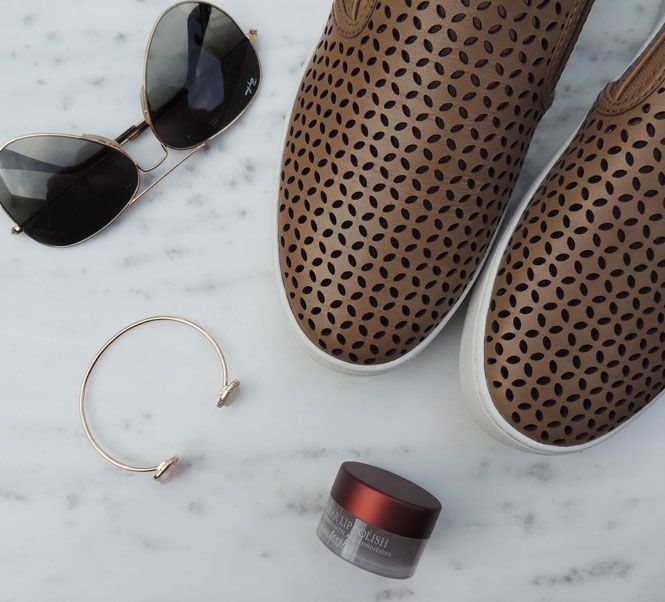 Somehow, it's the end of another month and time to share my favorite products of the month again! Seriously, where is time flying by to?! I feel like I was just writing about my February favorites yesterday and now March has come and (almost) gone. This month has involved a LOT of products I've tried and have loved and ones I'm still dying to try too - I think it's mostly because spring has finally sprung and it's calling for some serious wardrobe and closet updates! I love trying new things for new seasons, so there's a lot of things I'm loving right now.
There are so many new trends for the warmer months and most brands are releasing new things - whether it be clothing, accessories or makeup, there are a ton of new products that are swoon worthy and must-tries and must-haves! Here are some things I'm loving and currently craving from this past month: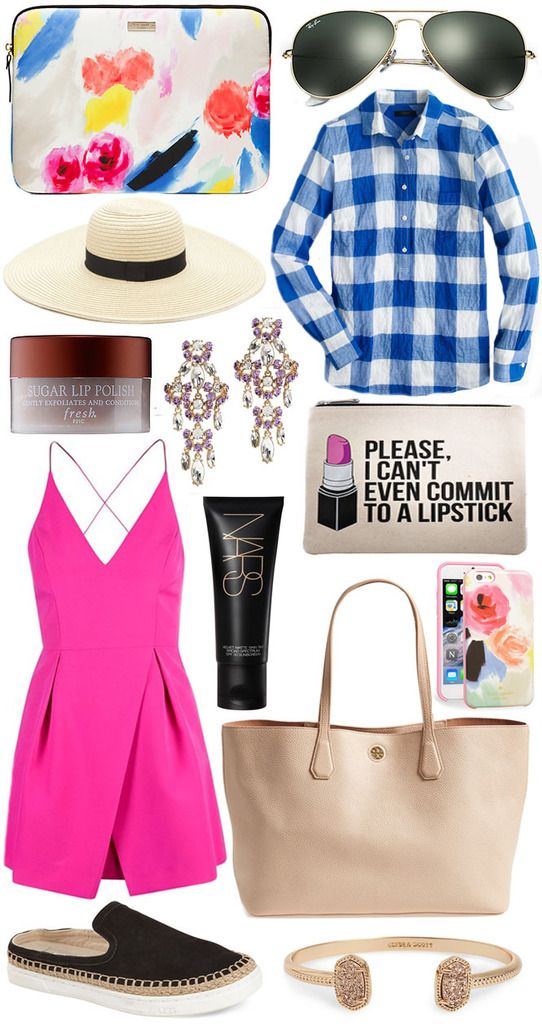 Kate Spade Laptop Sleeve// Black Ray-Bans// Floppy Hat// Gingham Button Down Top// Sugar Lip Exfoliant// Gemstone Earrings// Makeup Bag// Pink Topshop Dress// NARS Matte Velvet Skin Tint// Tory Burch Tote// Kate Spade iPhone 6 Case// Black Slip-On Sneakers// Kendra Scott Bracelet
Kate Spade Laptop Sleeve
: you may have seen
on Instagram last week
I shared my adorably packed box from Kate Spade (yes, I'm totally aware that I'm obsessing over the packing of a box ;). This is what was inside! I've been loving this watercolor floral print ever since I saw it as an iPhone case last month. I just bought a brand new laptop and while this laptop sleeve isn't exactly cheap, it's one of my favorite purchases in a long time! The color is perfect and Kate Spade's tech products are really way nicer than you would probably imagine in terms of durability... highly recommend!
Black Ray-Bans
: there is no doubt that I'm completely obsessed with Ray-Ban aviators. I LOVE this pair from
Sunglasses Shop
! I have ink and blue and was definitely in need of a more neutral pair to wear every day. The color also gives a lot more sun coverage too - and the gold rim with black glass is every bit of perfect! I highly recommend shopping with
Sunglasses Shop
- their customer service is great and they have SO many frames and brands to choose from.
Floppy Hat
: I featured floppy hats like this one a LOT in my
Easter outfit inspiration post
and that's because I can't get enough of them! They're great for special occasions (like Easter Sunday) but also for the pool and beach. F21 is my go to for floppy hats because they
always
have them and they're
always
at a great price, which is perfect if you need to replace it for any reason.
Gingham Button Down Top
: my
Easter outfit post
also featured the Gingham print and how much I'm LOVING it for spring! It's so in style and comes in so many colors and different sized patterns that create different, versatile looks. This button down would be perfect with a neon colored bag or shoes - I mean how cute is electric blue and a pastel yellow together?! I love JCrew's button downs and now that they're available in Gingham I'm way too excited.
Sugar Lip Exfoliant
: by far THE best $24 you'll spend um, EVER! I was hesitant in buying these a few weeks ago because of the price and size of the bottle ratio, but I'm so glad I did. I was in Sephora with my mom and sister and they were waiting for me to read the reviews on this for a long 10 minutes! Every single review I read was SO positive and everyone had great things to say about it and let me tell you -
so do I
! I've been looking for a really great lip treatment/exfoliant that I absolutely love and this is it. I put this on about three times a week after washing my face at night - you apply it and leave it on for about 5 minutes and then wash it off and it leaves sort of a chapstick feel to your lips. After the first three times of using it, I saw a serious difference in how soft and rejuvenated my lips looked and felt! The feeling of this exfoliant is sort of weird at first, but you get used to it and it's actually a cooling, relieving feeling to your lips. I highly recommend this and I'm so happy I bought it!
Gemstone Earrings
: I have always loved Banana Republic but I have a newfound love for their jewelry section! These chandelier style earrings are perfect for spring and the gemstones shine so bright. I'm always looking for new statement jewelry and I'm so excited about these this month.
Makeup Bag
: I mean... does this even need a description?! I love this makeup pouch, it's perfect for your bag and it's easy to fit in any place. The Sephora Collection at Sephora has some of the best products and these sassy makeup totes are the best!
Pink Topshop Dress
: by far the prettiest colored summer dress I've found this season! I love the color and the straps on this dress so much - it can so easily be dressed up or down and this is definitely on my "craving" list!
NARS Matte Velvet Skin Tint
: this was included on my
February favorites list
AND I wrote an
entire
blog post about this skin tint a few weeks ago
. I even referred to it as my holy grail makeup product and I'm totally sticking to that. I've been using this every day for over a month and I'm absolutely loving it. Make sure you check out
my full review on it"
for more about it.
Tory Burch Tote
: the Perry tote is one of my favorites from Tory Burch ever. It's changed over the past few years which I love and there have been so many new colors since then too! This bag is huge and such great quality - I really love it in
the silver/white
too; I don't have a bag that color and I think it's perfect for spring. If you're looking for your spring splurge, make it this bag - I know I am!
Kate Spade iPhone 6 Case
: this is a repeat from my February picks, but I can't help it - like I said, I LOVE this pattern and can't get enough of it (you should of seen my face when I found the makeup bag in this print last night)! There are so many really cute, inexpensive iPhone cases which makes it sort of crazy to buy $40 phone cases but the quality of the Kate Spade cases is amazing. I have
this Kate Spade case
on my phone now and I've dropped it so many times and not only has it kept my phone in tip top shape, but the case doesn't have any scratches either! I'm SO craving this case this month and it may have to be my next purchase!
Black Slip-On Sneakers
: these aren't shoes that I thought I would like as of two weeks ago, but now I'm realizing how cute and practical open-back espadrilles like these are. Long story short, I was wearing my espadrilles the wrong way (with the backs folded down) as I was rushing to leave my house one morning and I ended up cutting my ankle up on the outdoor steps. I'm still in pain and still can't wear closed-back shoes (insert eye roll emoji here) so investing in a cute pair of espadrilles like these is super necessary! I really never realized how cute UGG products could be (and comfortable!) outside of the normal boots/slippers you think of when you think of UGGs. They come in a ton of colors and now I know that having a pair of closed-toe shoes with open backs like these for spring is so necessary!
Kendra Scott Bracelet
: this bracelet has been around for a while and isn't really new, but it's definitely the next jewelry piece I'll add to my stackable bracelet collection. I've been wearing gold jewelry more and more and I love Kendra's druzy pieces!
What are some of your product favorites this month?
XOXO
Bloglovin|Facebook|Pinterest|Instagram
*In Partnership with Paula's Choice and PRIMP