It's no secret that summer is always hard on our skin - from chlorine pool waters to sun bathing and tanned/burned skin, it's so important (now more than ever!) to give our skin the hydration and care it needs. There are so many great skincare products out there to help you pre-sun and post-sun and to keep your skin feeling fresh; but are you remembering to notice what you're actually cleaning your skin with? You know - to get rid of the chlorine, the salt water, outdoor dirt and more? In-shower products are just as important for your summer skin as out-of-shower products - so don't skimp out my friends!
Remember your shower caddy products and you'll be good to go this summer, especially if you have these awesome Suave Essentials body washes at hand!
With as much as I shop, you can believe that I try a LOT of skincare products! I try tons of different body washes - from drug stores and beauty stores alike - and never have I tried any that have made my summer skin feel so clean, happy and fresh than these Suave Essentials body washes do!
I can't even pick a favorite scent; they're so reasonably priced and affordable, I just buy every scent LOL! They're also great for everyone in the family so no need to go crazy looking for the perfect brand for everyone. Suave is a brand you know you can trust - another huge bonus!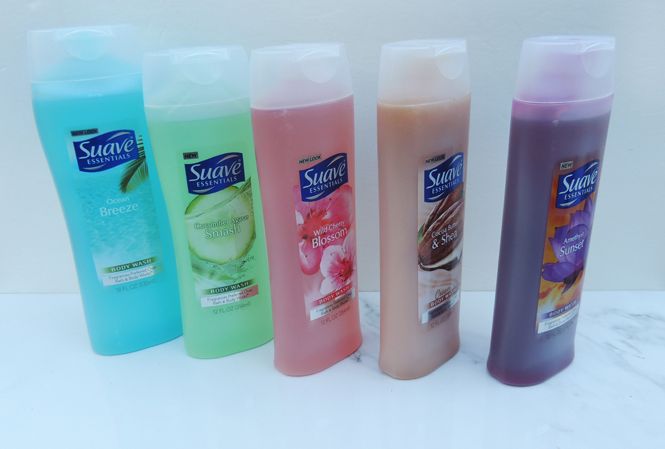 I got to try the Suave Essentials body washes in Ocean Breeze, Cucumber Agave Smash, Wild Cherry Blossom, Creamy Cocoa Butter & Shea and Amethyst Sunset. The best part about these bottles is that they last so long and they're no more than $2!
Ocean Breeze:
this is my favorite of all of the Suave Essentials (and that's hard to say because they're all SO good). It's the perfect blend of watery hyacinth, fresh sandalwood and sheer freesia. I feel like I'm on a tropical island when I use this one! It's always my go-to option and the one I find myself buying the most.
Cucumber Agave Smash:
this is one of the new scents that Suave released this year and it smells SO good. It's infused with Vitamin E and cucumber and it makes you feel fresh and smell so clean and summery!
Wild Cherry Blossom:
out of all of the bottles of Suave Essentials, the cherry blossom is the one I find myself smelling the most! I love using this when using the Suave Essentials Wild Cherry Blossom body lotion - it's the perfect mix! The mix of cherry blossoms, jasmine and black currant is pure perfection.
Creamy Cocoa Butter:
when my skin is feeling dry or in need of moisture (especially after a long day in the sun), this is my go to Suave choice. Its cocoa butter, coconut and vanilla cream are the perfect blend to make your skin feeling hydrated and fresh!
Amethyst Sunset:
this is the second of the new Suave Essentials body washes this year and it's SO good! I have to admit - it's one of the last scents I would of chosen at first, but after I smelled it I quickly second guessed that. This is my favorite wash to use if I'm showering at night or even on relaxing days. It's infused with acai, passion flower and Vitamin E and has the perfect mixed scent of jasmine, apricot, grapefruit and sweet linden flowers. This body wash by Suave is the one that lasts the longest (scent wise) and it's so gorgeous!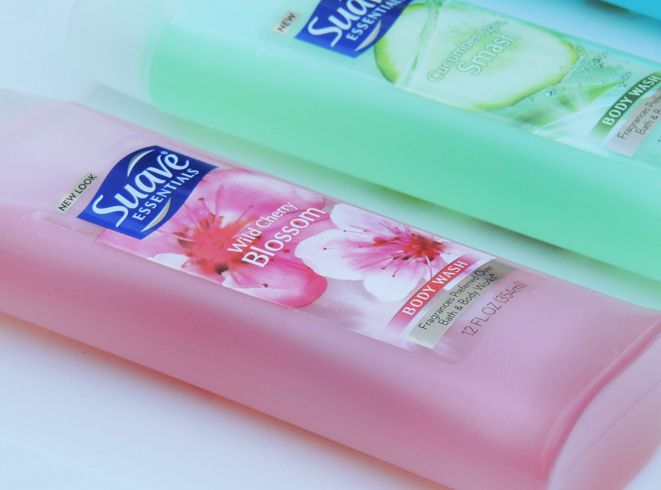 Before-sun and after-sun products are super important in the summer but remembering to hydrate your skin even in the shower is just as important. Not only do you feel super clean and fresh but your skin will be so happy! ; ) Great quality skin products at such a great price aren't easy to come by but once you discover Suave Essentials and how awesome they are for everyone, you'll never look back!
My summer body and skin routine:
1. Before sun: apply moisturizer and sun screen
Reapply throughout the day
2. Post-sun shower time: use my choice of Suave Essentials Body Wash for the day to replenish my skin and make it feel fresh and hydrated
3. After shower: apply after-sun skin products and moisturizers; aloe if needed
I take these Suave body washes everywhere with me - even if I'm going somewhere overnight, they're with me! The bottles are slim too and easy to carry around in my travel tote. I'm headed on a mini road trip for the weekend, so you can bet what I have in my bag!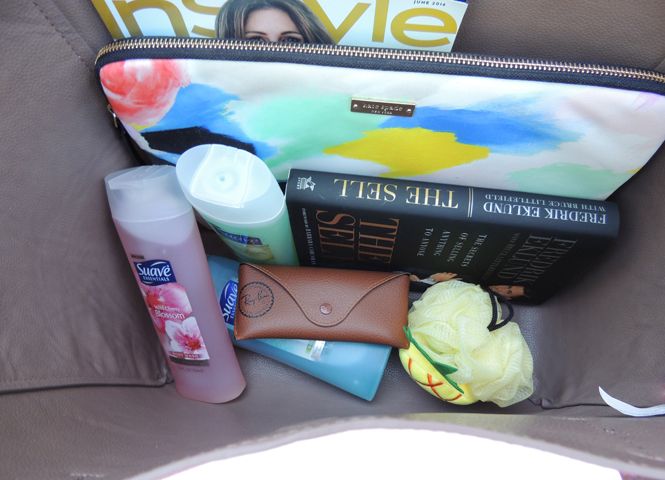 Check out this video; where a "sniff test" of three Suave Essentials body washes is taken! Be sure to check out the
Let Your Sense Decide
page too:
What's your favorite Suave Essentials scent?
XOXO
In partnership with Suave® Essentials on behalf of One2One Network. As always, all opinions are my own.