It's officially summer and June is almost over - and the June Pop Sugar Must Haves Box is SO on point and perfect for this month, I'm so freakin' excited about it! As I opened my box when I first got it I kept gasping in excitement because all of the fun goodies they included are so perfect for summer; they're so different and definitely things you wouldn't think of getting, but everything you need!
If you've never heard of the Pop Sugar Must Haves boxes, you need to get on that and try one out for yourself - you will NOT regret it! These boxes are subscription based boxes that are filled with fun fashion, fitness, beauty and food products that you'll be obsessed with! This is my first Pop Sugar box and out of all of the subscription boxes I've tried, this has been my favorite by far. The items each month change and they're all full sized products - none of that mini sample craziness that you pay to try! The boxes each have a theme which is so fun and this month's theme was all about summer fun and outdoor fun. I love this theme for summer, of course - but like I said; they're products I needed that I really never even knew I needed! You'll see what I mean: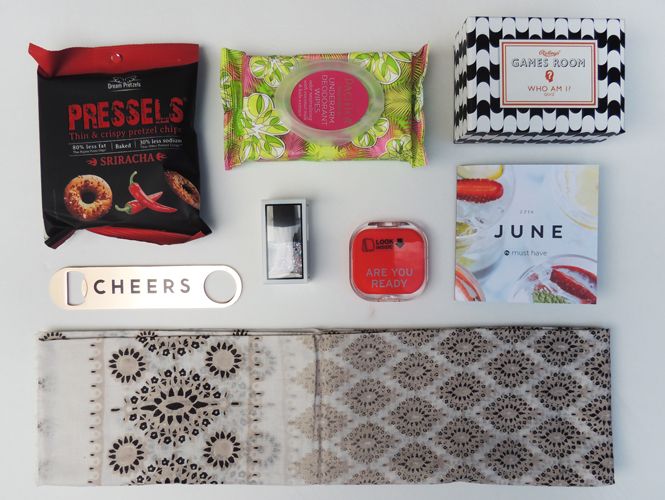 Everything that came in this box is so useful for the summer and so much fun! The best part is that there's so many fun things inside and you feel like you're opening for hours - ha! I've already found everything so useful and so fun in this months box. I know I'm not the only one whose loving the June box and if anything, it's made me so excited to try the July box.
Pacifica Underarm Deodorant Towlettes (MSRP $9): these things have been insanely amazing to have in my travel beauty bag and my beach bag too! I've heard of and used Pacifica products before, but I haven't heard of these towelettes before and I'm slightly obsessed! The wipes come in a re-closeable package that's small and easy to carry on the go. I carry these in my purse day to day and I most recently carried them with me on a trip!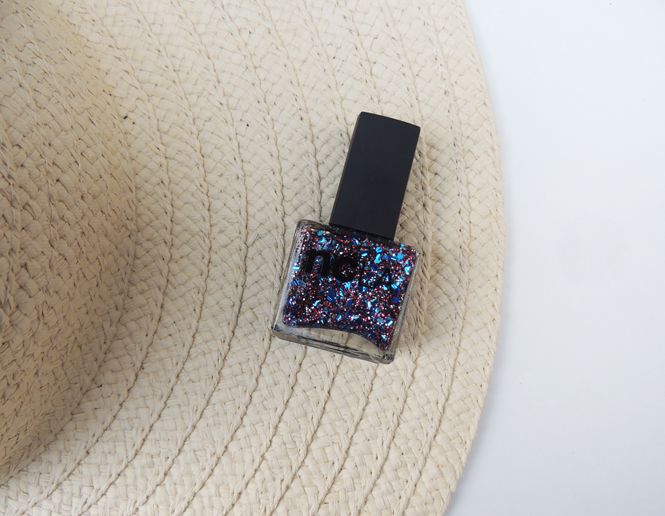 NCLA Nail Polish (MSRP $16): for a long time, I wore acrylics on my nails (I'm talking like 10 years on and off...) and got my nails done but at the beginning of this year I decided that I was sick of them, having to get my nails done every 2-3 weeks and I knew my nails were WAY over due for a break. I let them breathe, grow and strengthen for a while and just about two weeks ago I started doing my nails on my own and getting manicures. I'm so excited about this patriotic/glittery nail polish because for the 4th of July this year, I can do my nails with this fun polish! It's so pretty and two coats goes a long way which is the best part.
'Cheers' Bottle Opener (MSRP $12): this is going right on my bar cart for the summer! I'm so excited about this, I've seen similar ones and I've wanted one for so long but this one's even better because it's gold too! It would look beautiful on any bar cart and even make for a great gift. LOVE!
'Who Am I?' Quiz Game (MSRP $12.95): this is going to be so fun to play this summer with friends and family around the fire pit at night! I haven't heard of this game, but it seems like so much fun. You can play individually or in teams and you try to guess the celebrity correctly. It's fun, sure to start some laughter and portable - perfect to carry around or even take on vacation!
Neutral Printed Sarong (MSRP $58): I've been eyeing these pretty sarongs for a while now and I haven't gotten one until this box; I'm so excited about it because the print is gorgeous and so neutral so it'll match a ton of swimsuits. It's the perfect beach cover up and it's really big so it's comfy to wear! I love that there's multiple ways to tie it also; each tied up way is a different look!
Compact Mirror (MSRP $10): this cute compact mirror is the cutest one I've ever owned and it couldn't have come in better timing because I needed one for my beach bag! I wear minimal makeup to the beach, pool and even on trips - but it's nice to know that the makeup you do wear hasn't smudged or melted in the sun!
Sriracha Pressels (MSRP $1.29): another must have in my bag (especially in the summer) are snacks - with long road trips, airport trips, etc., yummy snacks are must haves. I was skeptical of these at first because I'm not a huge sriracha fan, but these are SO good! Pressels have less fat and sodium than other popular chip brands and they're seriously SO addicting, so it's a good thing! Pressels are more than just pretzels and if I had to describe them, it'd be a hybrid of a pretzel and bagel ; ) They're great to have by the pool too. Sriracha is quickly becoming one of my new favorite flavors!
These Pop Sugar boxes are THE best and if you aren't already signed up to get them each month, sign up now in time to get July's box - it's going to be a good one (you can get a sneak peak of it here)! These boxes retail for $39.95 or you can try out the mini version first for $18.95/month. It's actually a really good deal too - the boxes are worth over $100 and think about it - most of the items are similar to things you'd be purchasing anyway!
Another great feature/idea are the gift collection boxes. There's a variety of occasions you can choose a box out for - a baby gift, bridesmaid gift - and send. These are such great ideas and especially great if you're in a rush for a gift, at a loss of what to get for a gift and if you're looking for bridesmaid options, these are going to be SO great. When I opened my June Must Haves box I was thinking about what a good idea it would be to give something similar to a bridal party, so I can only imagine how great the bridesmaid box is!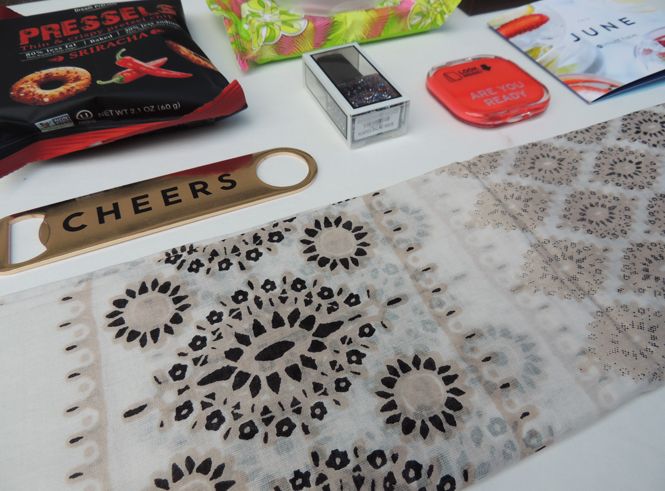 Have you tried the Pop Sugar Must Haves box(es) yet?
XOXO
I received the POPSUGAR June Must Have Box for review purposes; however all opinions - as always - are my own.