There are so many fun things to do in the summer and even though it's still unofficially summer, the hot and humid weather and fun summer activities are in full swing - including June! With so many things to do and see and so many Instagram pictures of fun activities to post, there's a handful of things that you can do in June as the first "official" month of summer!
Whether you have an ongoing bucket list started for summer or need some ideas, here are my top 9 things to do this month:
Get organized
Early June is the best time to get your summer organized! If you're like me, you always need some sort of plan. In the summer I love to have things happen on the whim, but having some sort of plan and things that I can be anxious and excited for is what makes me happiest! Whether it's finalizing your travel plans, making time to catch up with friends and family or working on a project you've been dying to do, planning some events and activities guarantees you to have a more productive, fun and event packed summer!
Take morning jog/run
Waking up to 70 degree weather is a huge motivator if you ask me! This is the best time of year - and although sleeping in is fun and sometimes essential if you had a late night, waking up early and going for a run even a few days a week is a great way to get in a workout. There's nothing better than morning, summer air and it feels SO good to start your day by doing something productive. Don't forget your water!
Make a bucket list
Guys - it's summer! I don't know about you, but I wait for summer to roll around from September through May! ; ) There's SO many fun things to do in the summer whether you're traveling or not, so start putting together a list of the funnest things you can think of and don't ever think it's long enough! There's endless possibilities in the warm, beautiful summer weather so get to planning.
Watch the sunrise
I mean... is there really any better way to start the day? Pretty colored skies are my
ish
(if you haven't noticed from my
Instagram
) and nothing beats a summer sky. Whether you grab a blanket and lay in the grass or have access to your roof (call me crazy but I can sit on a flat part of my roof from my bathroom window - ha!) set your alarm, find a comfy spot and get motivated as the sun comes up. Try making yourself a
Rise n Shine smoothie like this one
to enjoy while you watch the sun come up, too : )
Go to a concert (or 12)
My absolute favorite thing to do in the summer is attend as many concerts as humanly possible. Granted, my two favorite artists aren't touring this summer (OneRepublic - they'll be touring next summer and Taylor Swift - her 1989 tour was last summer and man was it amazing!) but there are still SO many different concerts and music festivals to go to. Find some artists you like via Ticketmaster or any other event website and don't hold back! There's also fun concert options this summer (depending on where you live) that are free - hosted by TV stations like Good Morning America, The Today Show and even Fox News. I live in New York, so there's tons of options here and I know there are some on the West Coast too! If you're in the East or will be visiting the tri-state area this summer, check out the awesome concert series that are happening!
Try something new
Whether it be a new food, new TV show or new activity, a new season is a great time to try something new! I'll admit I'm a reality TV junkie and I have two
Real Housewives
series' premiers within the next two months (Orange County and New Jersey) and I'm ridiculously excited; there's some shows that just remind me so much of summer! I'm also getting more and more into running and hiking and the warm weather is definitely my motivator for that. I'm not a fan of change but for some reason summer gives me the drive I need to try new things and learn to enjoy the little things.
Read a book
During most of the year, I think we can all agree that our schedules are almost always *too* busy to find time to sit down and read a book. I can't remember the last time I read a book for pleasure and not something that was school related - probably last summer! But seriously, the best ever is to sit by the pool, on the beach or even in your air conditioned house and read a good book. I've gotten a lot of recommendations lately, and one at the top of my list is Me Before You. Reading is so relaxing and a really great way to unwind!
Pick fresh flowers
I absolutely LOVE having fresh flowers in my house at ALL times! I usually buy pretty bouquets from Trader Joe's or the super market, but there are so many beautiful blooming flowers in the summer. Pick some flowers from your yard and make your living room smell amazing! My favorites are hydrangeas, peonies and roses - all of which you can buy to plant from places like Home Depot. Flowers can be expensive to buy, so giving your flower-fund a break over the summer by picking from your own garden is a great way to save!
Spend time away from technology
Whether you're a social media junkie, have a DVR full of shows, work to get done - or all of the above like this chic! - taking a time out no matter how big or small to do things away from the phone, TV or computer can be seriously refreshing. Whether that means taking some time to clean/organize something or spend some time outside enjoying the weather; you don't realize how beneficial it is and how much you need that down time until you actually try it! I try and spend a minimum of 20 minutes a day away from technology and although busy schedules can get ahead of us a lot of time, making time for your mental health is so important. I think it's a lot easier in the summer too since there's so many fun things you can be doing - swimming laps, walking on the beach, taking a hike - endless possibilities my friends!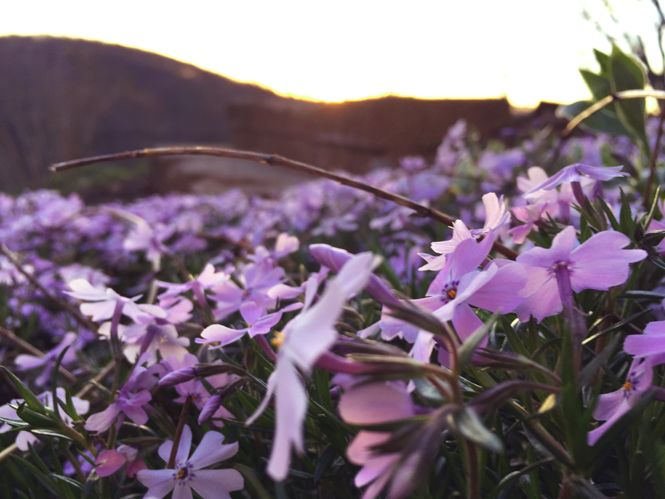 What do you have planned this month?
XOXO
Bloglovin|Facebook|Pinterest|Instagram