Anytime that someone asks me what my favorite monetization tool is when it comes to blogging, my answer is always ShopStyle Collective. Not only have I had a ton of success with Shopstyle, but it's also really fun to use and with features constantly being added, they really never fail to disappoint. I see a lot of people asking in Facebook groups, etc. how to use it, what it is and how to be successful with it, and considering I've had a ton of time to learn it and find out what works best, I thought a detailed guide to using Shopstyle was completely necessary!
There are tons of affiliate networks to use - but first it's important to know what exactly an affiliate network is and how it differs from other blogging networks:
Affiliate Networks
These networks are essentially what connects you (the blogger or influnecer) to brands and networks. There are dozens to choose from; ShopStyle Collective, RewardStyle, Commission Junction, Share A Sale, Rakuten Linkshare - to name a few. These networks allow you to take a regular link to a product across the internet and create a link associated with your account that allows you to make a small commission each time it's clicked. This is one of the easiest ways to monetize and one of the most common too. If you're just beginning to monetize, you've likely read about affiliate networks and since there are so many to choose from and try out, don't hesitate and get started ASAP! Many people use multiple of these networks, but if you're anything like me you would rather use
one
. When I began monetizing my blog, I signed up for a good majority of these networks... But I really only found myself using one or two and forgetting about the others (or more likely, forgetting my log in). Even then, using more than one, I found it was
really
difficult to be reaching the payout thresholds. Granted a ton of people do it and are successful at it, but it's just fact that it's easier to reach the payout if you're focusing on one network. I know this isn't always possible because not all retailers are supported, etc... but that's where I come in, advocating for Shopstyle Collective! P.S. this is
not
a sponsored post, I just have had so much success with Shopstyle and love the network ; )
What is ShopStyle Collective?
Only the best thing ever! Seriously though; it's another affiliate network. One of the best if you ask me, and the one I use and love! Shopstyle has evolved and it continues to grow by adding new features and supported retailers. You can create links, product widgets, "shops" for your blog and even monetize your social channels like Instagram, Pinterest, Twitter and Facebook. Product links get transformed into a "ShopStyle enabled" link that is associated with your individual ShopStyle account and begins to collect a revenue based on the (eligible) clicks you receive. It's totally free to sign up and as long as you include your tax information, you'll get paid each time you reach the $100 threshold. It's SO simple to use once you get a hang of it and learn all it has to offer. Here's how:
ShopStyle Collective vs. RewardStyle
While the premise of these two affiliate networks are the same, they do in fact work differently. Scrolling through Instagram and blog posts, you'll see a mix of both; clearly I prefer ShopStyle (hence to the post title ;) but if you're a part of both or considering applying to both, it's important to recognize the differences: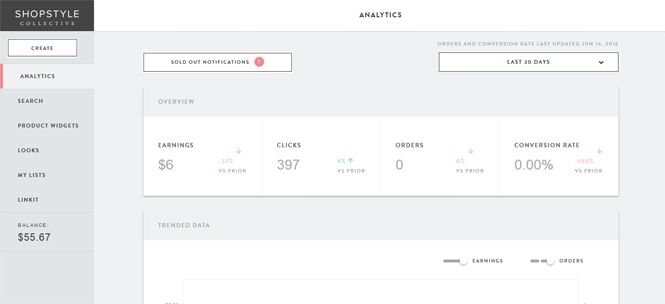 ShopStyle:
regardless of your blog size, you can do well with ShopStyle. You can also sign up and begin earning right away, rather than applying and being added to a wait list. ShopStyle works
on a pay per click basis
. This means that for every eligible, legit click you get on a link, you earn a commission. Different items have different payout amounts - it varies by item, how many clicks you get, the type of item and your history with ShopStyle. The money you make is yours; once you earn it, it won't be taken out of your account (you'll see why I mention this in a minute).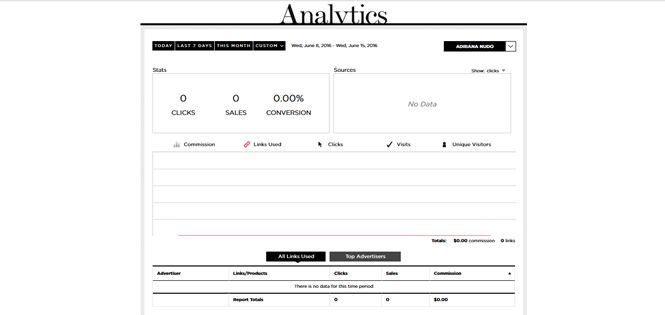 *No data via Rewardstyle yet - I just was accepted/haven't used it - but I wanted to show what the dashboard looks like!
Rewardstyle:
while it's common on Instagram with "liketoknowit", Rewardstyle pays out
on a pay per sale basis
. However it still isn't that easy - when you do make a commission via Rewardstyle, the sale will go into a file called "open commission" for around three months (90 days). This is so if the purchase made by someone gets returned, the commission you made then gets subtracted from your account balance. Upon reaching the payout threshold of $100 worth of "closed commission sales", you'll get paid.
I think both networks have pros and cons, but if you ask me - it seems like ShopStyle has more pros than cons. Many bloggers - myself included - post product links or outfit ideas and even home decor and accessories. When readers are curious about where to get an item, how much it is, etc., it's likely they'll click to know. ShopStyle is pay per click, so this potentially will be one of the largest sources of your ShopStyle account's balance. Clicks are nice with Rewardstyle links, but it doesn't guarantee a sale: think about how many times you click on a link, see where it's from and forget about it.
You can also aim to use "high commission" items when creating your ShopStyle links and widgets. Doing so means more money per click for that item. Those items look like this, and can be easily found/filtered through by selecting "high commission":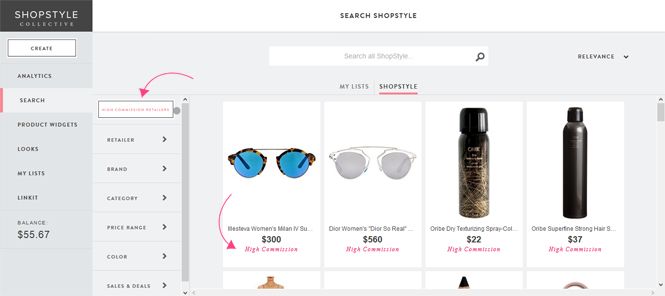 ShopStyle is also best to use when you're sharing products from a sale - like the Nordstrom Half Yearly sale or a Friends and Family sale. On the other hand, Rewardstyle may be more beneficial if you're sharing gift guides during the holiday season; more people are likely to buy on impulse during this time of year. Both ShopStyle and Rewardstyle run on
website cookies
; which "drops a cookie" until a new one is clicked. These two networks' links cancel each other out, and as soon as you click on a different affiliate link, the cookie disappears. It's also important to note that it's sort of frowned upon to use both networks on your blog. Meaning, if you're using both ShopStyle and Rewardstyle links on your blog, the two sort of cancel each other out. It's called a "cookie war". Using ShopStyle on your blog and Rewardstyle on Instagram is different though! On a side note, it's sort of funny because as I sit here and type this, I got an email that I was accepted to Rewardstyle. I applied when I first started my blog and was denied (obviously, but I didn't know any better!) and now I applied so I could 1. get a better idea of how it works to write this post and 2. to *possibly* use it for Instagram. Instagram is the biggest pro for Rewardstyle if you ask me - "liketoknowit" is very popular and I think it is in fact a good tool to use for Instagram in some cases. Moving on.
The Basics
Analytics:
Here is what your ShopStyle Collective dashboard looks like: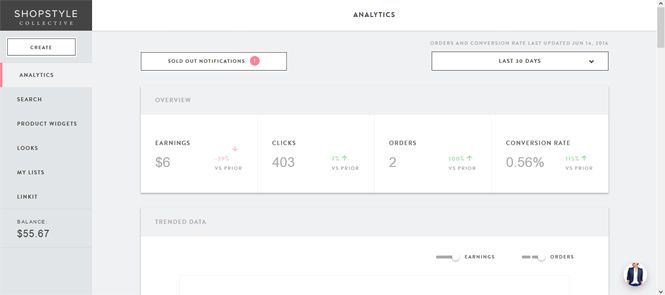 You can see your account analytics and even determine which products are doing the best on each platform you share them on. If you use this page correctly, it's super helpful in learning how you're using ShopStyle and how you can use it more effectively. On the top left you'll see the "sold out notifications" button; this is a fairly new feature and it is SO helpful. Clicking this allows you to view any item from the widgets you've created that are sold out. You can even update the widget and find something similar to replace the item with from this feature. I try and use this once a week to make sure that everything is up to date!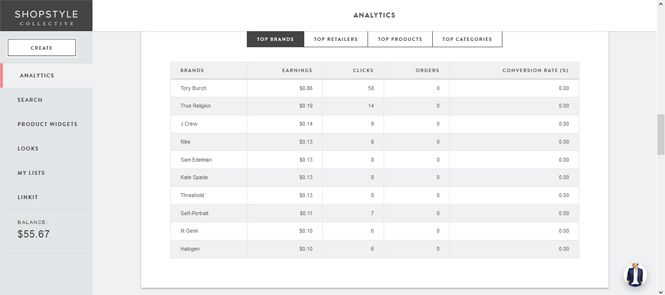 Scroll down a bit on your analytics page and you can see what products are doing the best by brand, retailer, product and category. Categorizing by brand is my favorite because I can see what my readers like most and what products I should try to use more if I want to increase my ShopStyle engagement. These categories are extremely helpful and you should be using them and checking them each time you log into ShopStyle - I didn't start checking these for a while and I wish I would have sooner because it is a HUGE help!
Search: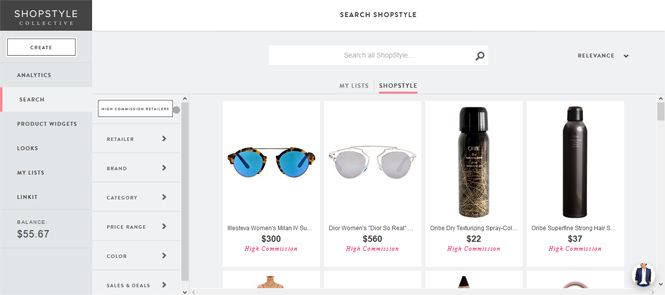 Searching ShopStyle is likely the feature you'll use the most. Here is where you'll search through the thousands of products that are ShopStyle enabled and also can copy a link individually. If you're searching for something specific or a specific category of items, you can narrow that down too with the drop down menus on the left titled retailer, brand, category, etc.
Product Widgets: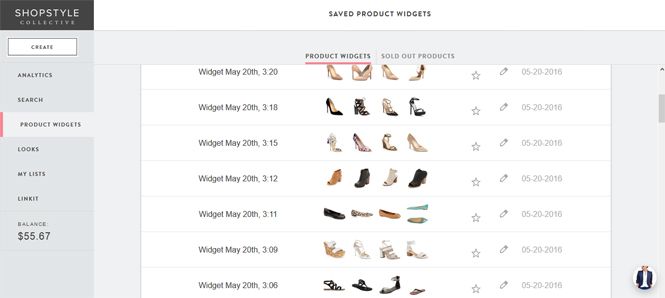 This page shows you all of the product widgets you've made and allows you to edit/update them too. As you can see I'm not very good about organizing these because I don't normally name my widgets, but I highly suggest naming them! It's much easier to go through and see what you have if you want to re-use a widget for any reason or edit a specific one.
(Next is the looks tab, which I'll get into much more later on in this post.)
My Lists: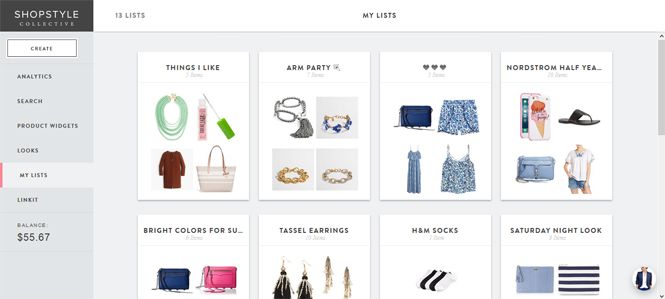 This is the section where you can create ShopStyle lists. Lists are most helpful in using ShopStyle on Instagram - I like to create my lists on the app too - it's basically to link items to link to your Instagram with the shopstyle.it link! Making these categorized lists is also a great way to go back and re-talk about a product. For example, "remember
this bracelet
from my
Instagram
a few days ago? Well it's on
major sale
now!" - you get the idea ; )
Linkit:
This is SUCH a helpful tool when you're creating blog posts with items and even looking for items to add to use on social media. What the "linkit" tool does is adds a small button on to your browser's tool bar. Once you're on a website and see something you want to link, you simply click the "linkit" button! I love using this and not worrying about trying to search for something specific on ShopStyle later on. Here's an example: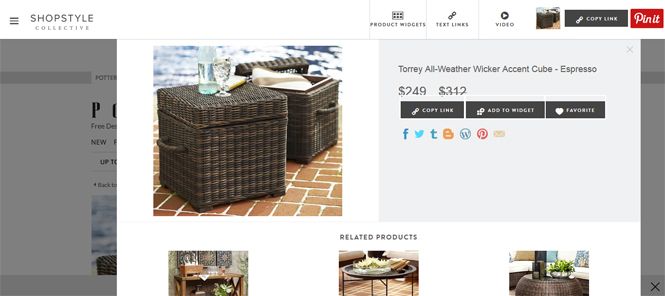 Here I chose a table from Pottery Barn and clicked my "linkit" button. Upon clicking it, this comes up atop of the page you're on. You can simply copy the link, or you can add it to a product widget (new or existing), favorite it
or pin it
. I'll get into Pinterest x ShopStyle later on, but this is a seriously awesome option!
Implementing ShopStyle on your blog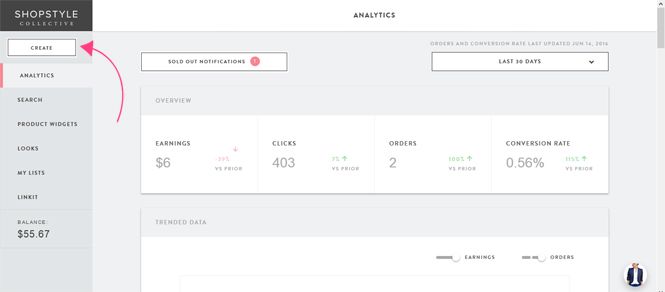 Here is where the oh so fabulous "create" button comes into play - and where you really get started implementing ShopStyle links and widgets onto your blog. There's 5 different options of things to create:
Product widget:
A product widget is a visual "widget" to place in blog posts for readers to click on. Instead of clicking a link, the image is clicked and works the same way as a regular text link does. Here's an example of a product widget in a blog post: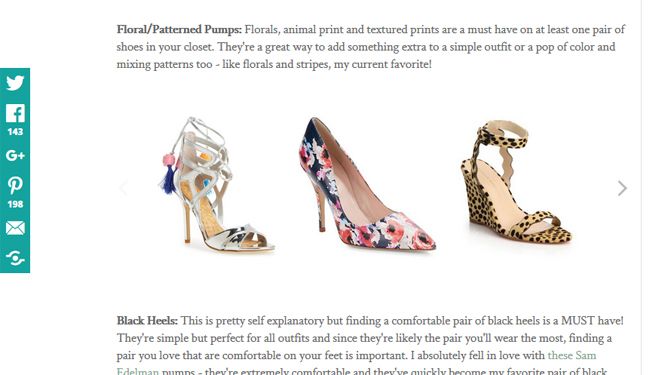 Here's how to create a widget:
Upon clicking "product widget", you can begin to search through products to add to your widget. Once you add items, they'll appear at the top of the page: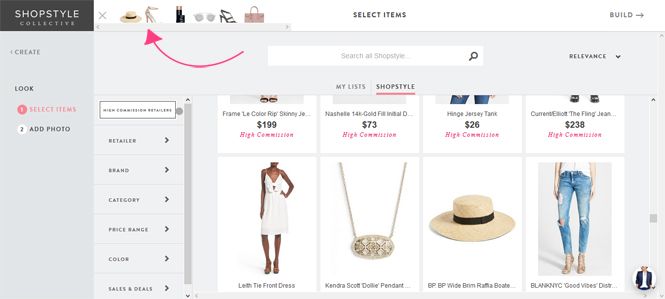 Once you have all of the products added, click "build" in the top right corner.
There are three main important things to notice/edit on this page. First is the display; pick and choose what information you want showing about your product. Remember, many people click on images from widgets to see where something is from - so you may not want to include that information. Sometimes prices are beneficial for things like "steal vs. splurge" posts or sale posts, but this is totally up to you. I tend to have all of these options unchecked and just have the image - I like the clean look to solely images in the widget. Next is the widget size and row/column section. **You want to choose your row and column size before changing the widget size so that nothing moves out of place; once you have the rows and columns how you like them, go ahead and set your widget size. Keep in mind the width of your blog when choosing a size and try and stick with it for each widget you create. For me, my widgets are always 675 pixels wide (I don't really mess with the height, as the two correlate). Finally is the "edit" option. This allows you to move around the products in the widget so you can choose which items are shown first. I love playing around with this section and choosing which products show up where.
When you're happy with your widget, click on "publish" on the top right and copy the embed code. You'll want to paste this code in the HTML section of your blog post - and if you don't work in the HTML section normally, add the widget last before publishing the post. It's
that
simple!
Text links:
Creating text links could not be any easier! Simply take a regular link and paste it into this box: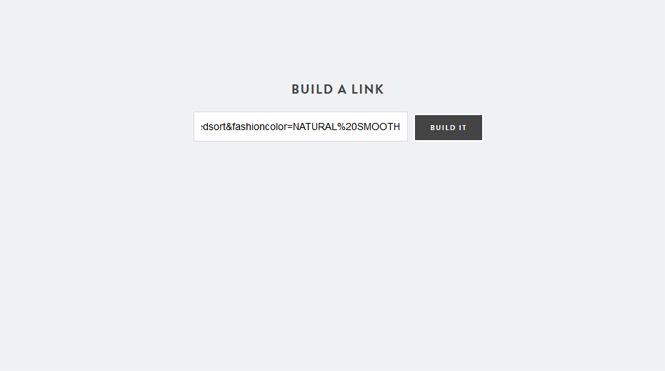 Click on "build it" and simply copy the now ShopStyle enabled link and paste it into your post!
As for creating a video - I've never done it with ShopStyle because I don't vlog (although I wish I had the courage too - props to all the vloggers out there!) but you can upload a YouTube video and embed the video with ShopStyle enabled links. Upon clicking create video, there's a detailed step by step process to upload your video and add product tags - pretty cool! Next are the looks and collections - which I'll get into in just a bit!
Why ShopStyle Collective?
-It's easy to use
-You don't have to apply/wait
-Multiple ways to monetize easily and quickly
..to put it simply.
A lot of people ask me why I prefer ShopStyle and why I'm "close minded" about using other platforms. Honestly, I've tried all of the bigger and more well-known platforms. Since I began blogging, I started learning about these networks and I haven't loved one more than I love ShopStyle. It's super easy to use and there are endless ways to monetize with it. I don't want to bash any other networks specifically because I know there are tons of success stories with them - but some of them require a LOT more work and who has the time to let making affiliate money be hard?! I sure don't! As I mentioned, ShopStyle is pay per click and it really doesn't get any better than that. While Rewardstyle may be a bit more known, I like reaching the payout threshold often - instead of waiting for people to actually purchase a product from me. ShopStyle isn't paying me for saying this, I just truly LOVE the network and have had SO much success on it and I want to see everyone have that same success too!
ShopStyle Looks and Collections
Ah - my favorite part! This is one of the newest parts of ShopStyle Collective and it is SO. COOL. The looks and collections features allow you to easily monetize all of your social channels and even do so through your blog. Since Instagram is most popular with this feature, I'll show you how to create a collection of looks from Instagram and implement it onto your blog:
First you want to create a collection. Since this is for your Instagram posts, you can call it something along the lines of "Instagram Shop". This makes it easy to monetize your Instagram posts via your blog. *It's important to remember, you must create a
collection
to "hold" your
looks
!
Click create - collection - name the collection - press save.
Once you save your collection's name, you can copy the embed code given. *Another note, I use Blogger, so I'll be showing you how to do this on the Blogger platform. If you use WordPress, you can find a detailed tutorial
here
.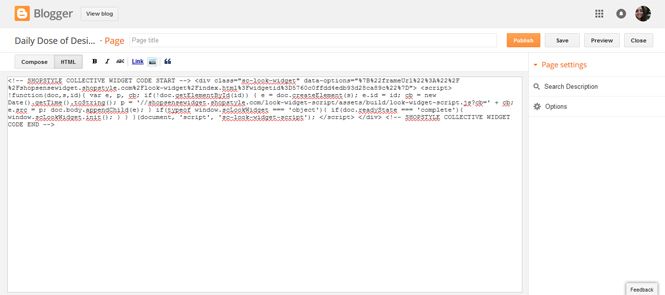 On Blogger, head over to your pages section and create a new page. Paste the embed code given by ShopStyle in the HTML side of the page.
Now that you have the collection created, head back to the "create" page and this time click on "look". Here you'll find and choose the products that you want to have tagged in this specific look. Upon finding the product, hover over the image and click "add to look". Once you have all of the products, click on "build". Here is where you'll upload your Instagram image:
Once you upload your image, you can add a caption and hashtags if you want to. I like to caption it with what I did on Instagram and add a few simple hashtags. When you're happy with how it looks, click "publish".
Here you'll see all of the looks you create for any collection. For the sake of this tutorial, I only have this one listed that I just created - and I actually am still in the process of creating my Instagram shop on my blog!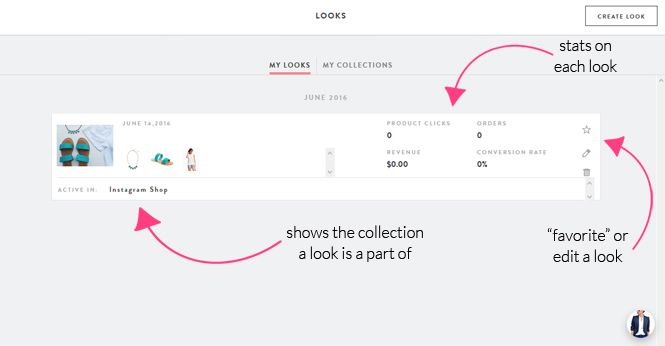 You can add the link to your collection anywhere on your blog you'd like - for the purpose of this tutorial, I added it to my navigation bar. As I complete my Instagram shop, I'll likely put it on my sidebar. However it's totally up to you and where you think you'll get the most traction, notice and clicks from! Every blog is different : )
Using ShopStyle on social media
The beauty of ShopStyle Collective is that beyond adding links and product widgets to your blog, you can monetize your social media accounts that you work so hard on growing. Let's talk Instagram, Facebook/Twitter and Pinterest:
Instagram:
Aside from implementing looks and collections from Instagram on your blog, you can use ShopStyle's feature, SHOPSTYLE.it! This works the exact same way that Rewardstyle's "liketoknowit" works. *Note that I'm using an iPhone for this!
1. Download the ShopStyle app from the app store
2. Log into your account
Here is what the main page of the ShopStyle app looks like. Pretty similar to the dashboard on a computer! Let's assume you're creating a new list; start searching for the products you want to add. Once you find the product you want to add, hold down on the image until these three little dots appear: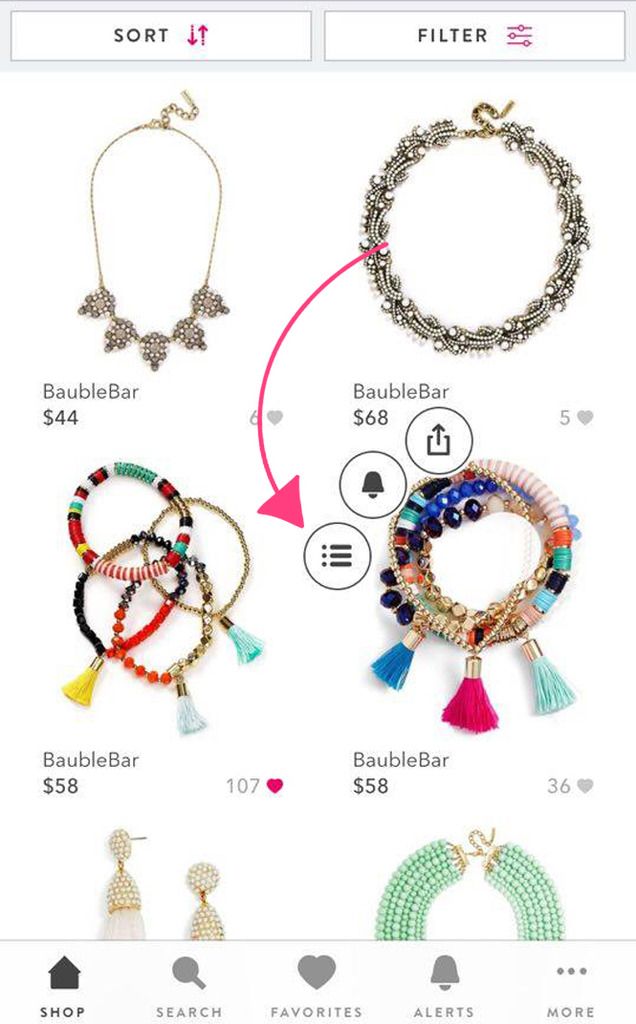 Click the highlighted button (see above) and add the product to a list. You can add it to an existing list, or create and name a new one. Do this repeatedly until you have all of the products you want to have added. When you're done, click
favorites
(bottom bar) -
lists
(top right). Select the list you've been working on.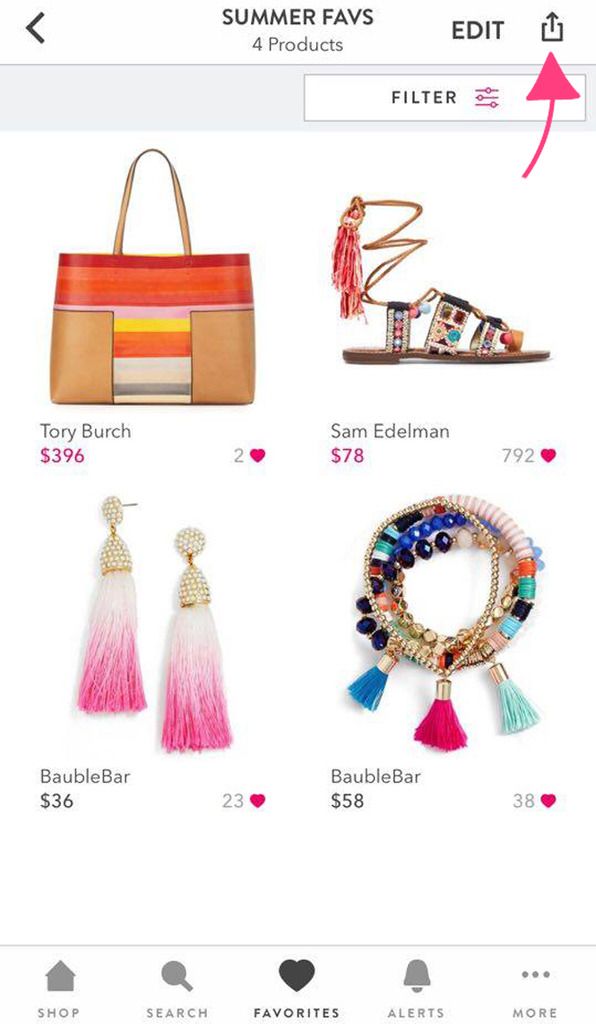 On the top right, click the "share" button (see above) and scroll all the way to the right until you see the ShopStyle.it button:
From here, you can copy the caption and open it up in Instagram or you can simply remember the ShopStyle.it link to add to your post's caption. For reference, this is the link:
Voila! You can now let your readers/followers shop your Instagram posts!
Facebook and Twitter:
The easiest and most effective way to both put your affiliate links to good use and engage with your readers is most definitely by doing it via Facebook and Twitter. For example, you can ask your readers for an opinion on something. I think getting various opinions on something (whether it be a decision on a new couch or which pair of shoes to wear) can be so beneficial too! I actually realized this idea via one of my favorite bloggers, Kristyn Cole from
At Home with Kristn Cole
(check out her blog - AMAZING)! Here's an example: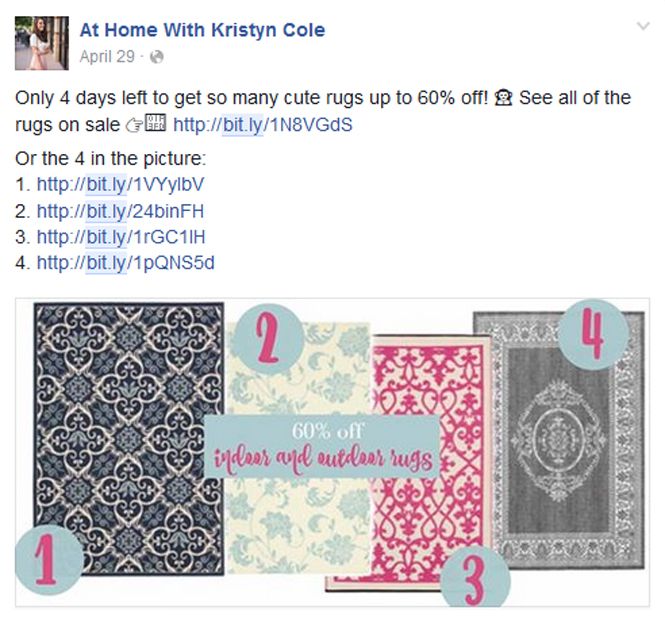 And the same goes for Twitter! Or even if you want to share a new product you found and loved - sharing it via ShopStyle is THE way to go.
Pinterest:
My new found LOVE with ShopStyle... seriously, I was hitting myself for not thinking to do this sooner! Pinterest is such a powerful tool for bloggers/business owners and if you're not utilizing it to its full potential, start to! When it comes to ShopStyle, here's what you can do: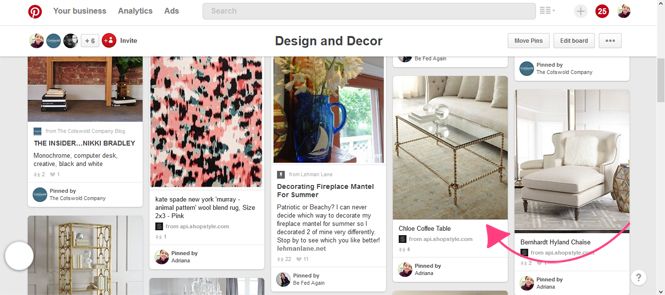 Here is one of the group boards I created on Pinterest - called Design and Decor; it's for all things home decor and home related. When I find home inspo on websites like Pottery Barn, One Kings Lane, etc., I often save the image to my computer and upload it to this board... or link to a blog post related to home decor. But for some reason (which is still beyond me!) I never thought to link ShopStyle linked images to my board(s)! You can do this one of two ways; via the "linkit" tool from your toolbar that I mentioned earlier, or by searching an image on ShopStyle and linking it through the Pinterest button, which looks like this: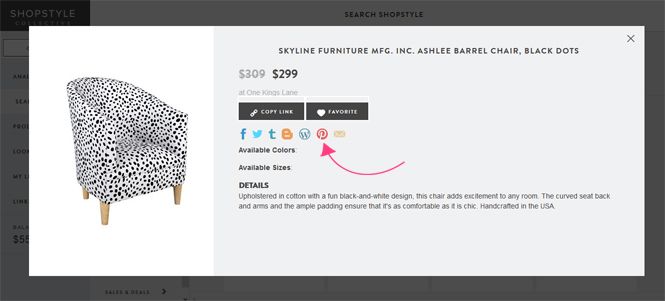 From here, you can also link to other outlets not mentioned here like Tumblr, straight to your Blogger/WordPress site or even in an email! Pretty cool huh?!
FAQ's about ShopStyle
1.
What do you do when a product isn't supported by ShopStyle?
- You can do one of two things: leave it as a regular link, or find something similar to link. I usually like to do both! This way you can still share the exact product with your readers, but leave room for them to keep clicking around by providing them with other similar items they also may like.
2.
Can you use ShopStyle Collective if you don't have a blog or a website?
- Yes!!! That's the best part. I know a few people who haven't launched their blogs yet or just aren't interested in having a blog/site right now, using Shopstyle.it is a great way to keep monetizing and using the platform anyway. It's also smart so that you have the account going, the momentum and the following in case you do decide to launch a blog one day!
3.
What's with the new Snapchat features?
- The newest feature from ShopStyle Collective (they're always rolling out new things, it's awesome!) is
Emoticode
. You can read a super in depth post about Emoticode and watch a video on how to use it
here
! I haven't tried it yet, but I think it seems like a great idea!
Like this post? PIN ME!
ShopStyle Collective is such a large and varied affiliate network and there are SO many things you can do with the site! They're always updating it to make improvements, add retailers to their ever growing list and adding features super often. Whether you're already monetizing your blog with ShopStyle or are looking for a new affiliate network to join and try, make it ShopStyle! I would love to help answer any other questions you have about it; when I first started using it, I wish I had this guide to help me through learning everything. The network is super helpful and easy to use and no matter who asks me if they should use it or if it's a good network, I never have anything but positives to say!
XOXO
Bloglovin|Facebook|Pinterest|Instagram