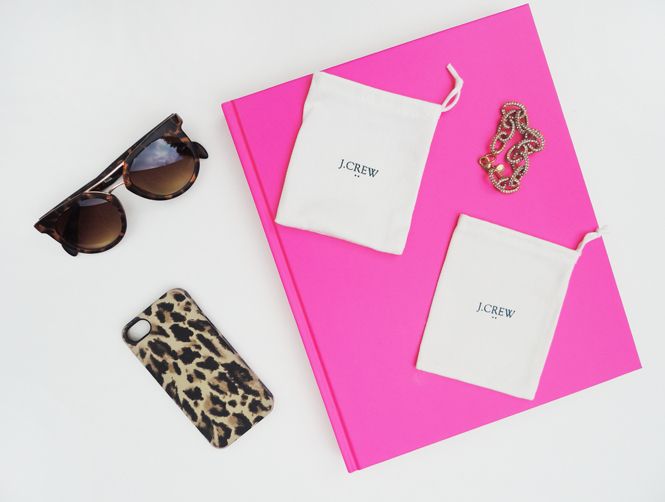 When it comes to clothes, I'm usually pretty opened to shopping places and looking for pieces I love regardless of the store. I have my favorite stores; but I've learned to be opened about finding fun things I love too! That being said, there's a handful of stores that never disappoint and constantly sell timeless pieces and things on trend. J.Crew is one of those stores for me; I could shop there all day every day and never get bored or tired of what they sell! It's also nice knowing that everything you get from J. Crew is a quality piece that will last such a long time. I have a few button downs and vests that have been in my wardrobe for a good 4-5 years now and still are perfect; condition wise and style wise.
This summer, there's so many new trends to try and repeat trends that are becoming timeless. Things like white denim and bright colored shoes will always be in style in my opinion - and J.Crew gives you the best of both worlds! No matter what you're shopping for, it's likely J.Crew has it. Here's some of my favorite summer looks with everything you can get from J.Crew:
*
affiliate links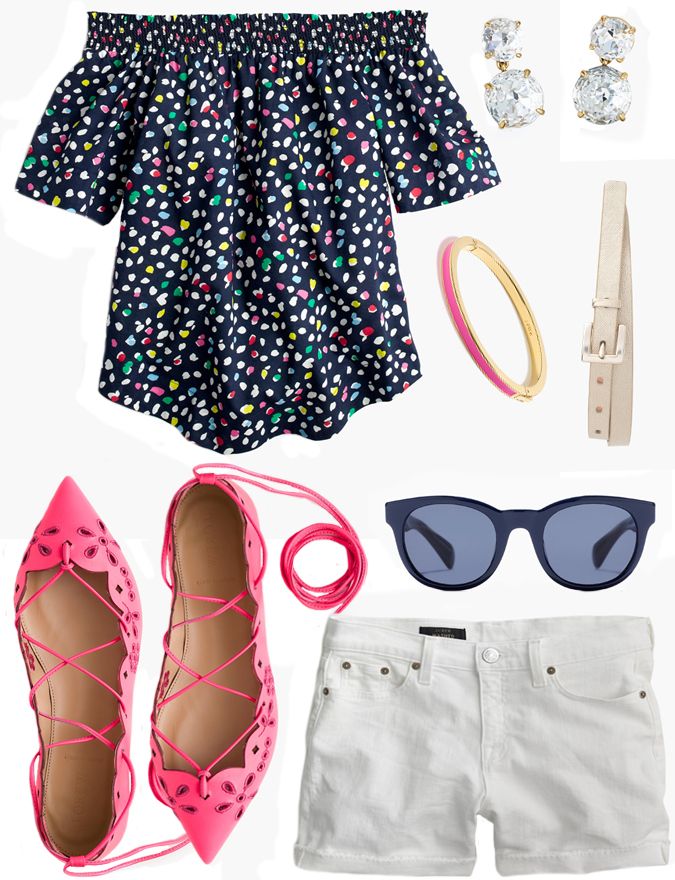 Printed off-the-shoulder Shirt // Earrings // Pink Bangle // Skinny Leather Belt // Pink Leather Lace-up Flats // Navy Sunnies
This is the perfect summer outfit that can be mix and matched easily and versatile to be worn for casual or more dressed up occasions. Off the shoulder tops are SO in style and J.Crew has such a large variety to choose from. This 'paint' printed top is such a pretty pattern and can be paired with so many different bottoms - denim, white denim, colored shorts, etc. J.Crew also has a ton of Italy made shoes and these pink flats are the perfect touch to any outfit; the lace-up detail is so cute and I am loving pointy toed flats and heels more and more!
Blush Sunnies // Sea Salt Texture Spray // Navy Striped Bikini // Pink Floral Beach Cover Up Dress // Crystal Trio Earrings // Black & White Straw Tote // Colorful Hair Ties
The best part of summer? Pool, beach and vacation days of course! J.Crew has always been my go-to spot for fun beach cover ups and pretty maxis to wear on vacations. This pink maxi is so beautiful in person and perfect for a cover-up but honestly, I love it for an every day summer maxi too! This striped maxi and this black embroidered beach tunic are so comfy, soft and great quality too. Does anyone else who loves J.Crew LOVE their beauty and accessories section?! I cannot get enough - especially when you're in the store and find $60 worth of things you don't need while waiting on line... Great marketing I tell ya! One of the J.Crew products I LOVE and swear by is this sea salt hair spray. It's SO amazing and similar to the new(ish) Bumble and Bumble version. I love it; smells SO good, not too expensive and it works wonders for my hair in the summer! I love throwing it in my beach bag so I have it where ever I go.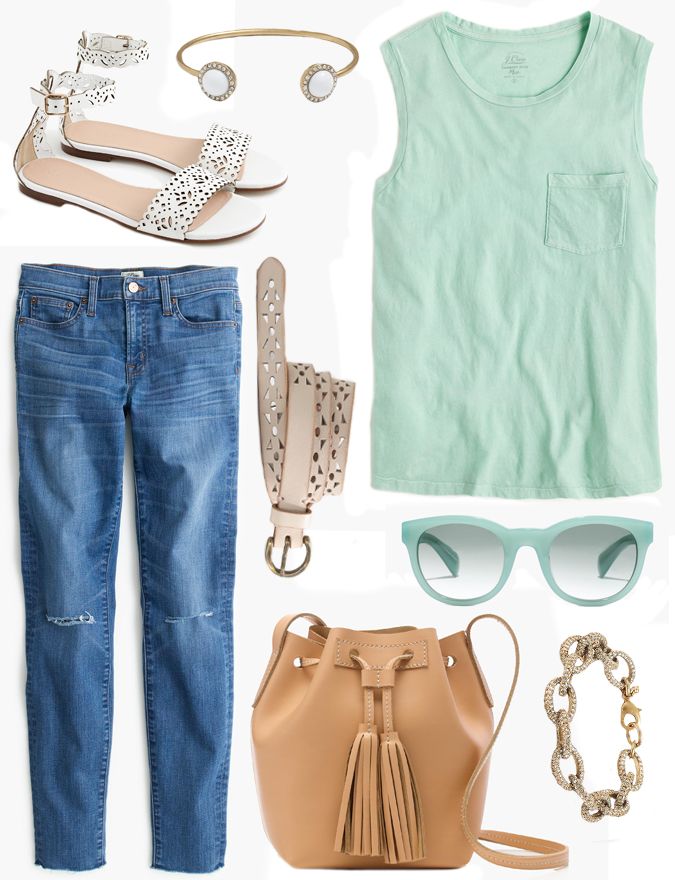 White Ankle Strap Sandals // Gemstone Cuff Bracelet // Mint Tank Top // Jeans // Leather Belt // Tan Leather Bucket Bag // Mint Sunnies // Crystal Link Bracelet (under $20!)
Okay... This is possibly my favorite go to summer outfit! I know it's pretty plain but on a hot day of running errands when I really just want to get home and jump in the pool, a muscle tank and simple jeans or shorts are my go-to! This muscle tank comes in a ton of colors; I love stocking up on it during sales! They're super soft too and again, versatile! Fun jewels with a simple outfit are easy to do too; J.Crew jewelry is some of my favorite statement jewelry um, ever. I just got this crystal link bracelet from J.Crew Factory (which you may have seen on my Instagram!) and I ordered it online. I wasn't sure if it would be as pretty in person, but it's even better! I love it and even more so with this outfit.
Tortoise Sunnies // Striped iPhone Case // Peach Pink Lip Stain // Pearl & Diamond Earrings // Pearl Bracelet // White Pumps // Yellow Floral Lace Dress
This time of year is especially busy when it comes to parties and events. Fun summer dresses/skirts with pretty patterns are popping up every where - and I love the style, color and floral lace pattern of this dress. It'd be so fun to wear to a wedding, party, etc. and can easily be made to be a bit less dressy with fun lace up sandals or less dressy pumps and a simple cross body. The J.Crew phone cases have been a favorite of mine since the iPhone 4 (a little time perspective ;) with the super popular leopard print case that sadly was discontinued and isn't made anymore... Side note: I waited an extra month before upgrading from my 4 to 5s because I wanted to make sure I would be able to find the same leopard J.Crew case! Sadly when I upgraded to my 6s, no such luck. But this striped case is pretty freakin' cute!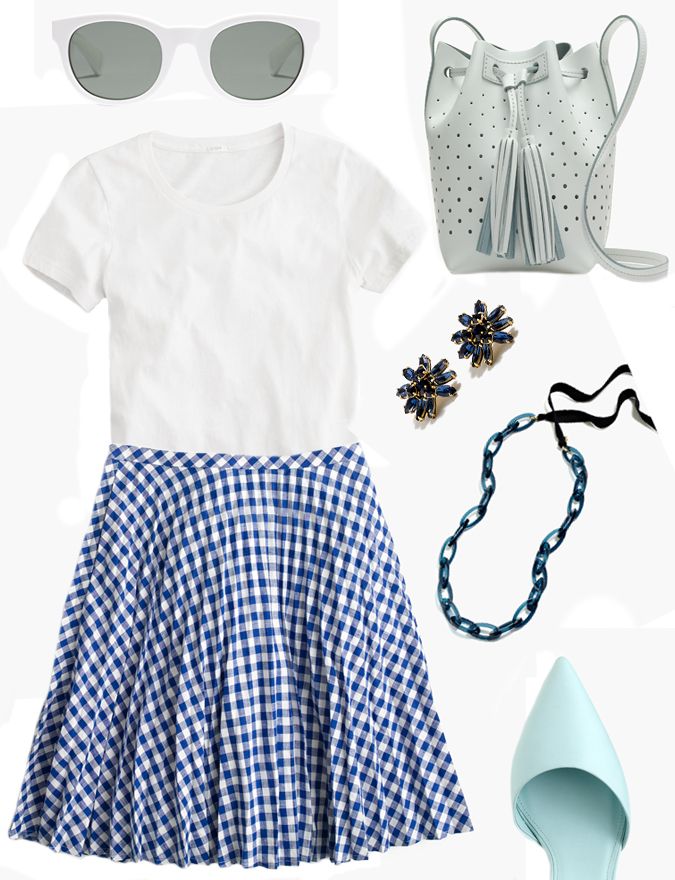 White Sunnies // White Tee // Leather Bucket Bag // Pleated Gingham Skirt // Navy Gemstone Earrings // Navy Link Necklace // Mint Ankle Strap Pumps
Words couldn't describe just how excited I was when I spotted this gingham skirt! I mean the length, material, color and pattern could not be more perfect (insert heart eye emoji here). There's always a large handful of summer days that are even too hot to be outside or wearing shorts (or denim of any sort in general) and light and airy skirts are the only thing you're comfortable in. The best part? You could easily wear this over and over - casual or dressy! I absolutely love this link necklace too - it's the perfect bauble addition for a fun summery look.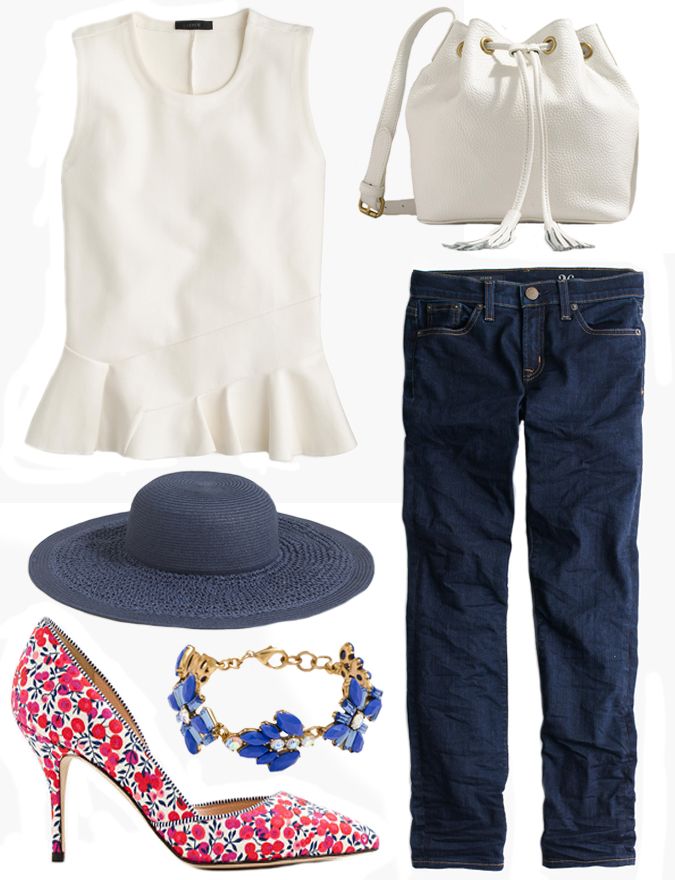 White Peplum Tank Top // White Leather Bucket Bag // Navy Straw Hat // Floral Pumps // Blue Gemstone Bracelet // Jeans
Sometimes the best way to plan or pick out an outfit is by picking the shoes first and that's exactly what I did here! I LOVE J.Crew shoes and these fun floral pumps are no exception. I love fun shoes to dress up an outfit or even to be an outfit's best accessory! J.Crew ALWAYS has the best shoes - sandals, heels; even sneakers. And can we talk about J.Crew Factory again because this bracelet is SO gorgeous. You may have also seen this one on my Instagram a few posts back and it's such a steal - I got the blue and as soon as it came and I saw how pretty it was, I got the green and white/clear too. Snag it while you can - it's $16!
Whether you're a long time J.Crew fan or you're new to shopping there, it's no secret that you can always find a ton of great looks! What's your favorite J.Crew piece?
XOXO
Bloglovin|Facebook|Pinterest|Instagram