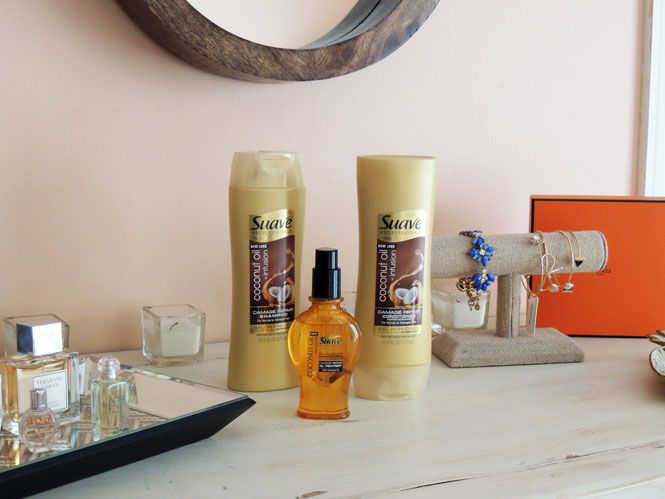 Last week at this time, I woke up to 72 degree weather. Today, I woke up to 41 degree weather. New York brings a whole new meaning to transitional time! For real; and we don't usually have this much of a drastic difference in temperatures so quickly but it's affecting me a lot! Not only is this quick change seriously affecting my skin, allergies and nails - but my hair too. The quick change in temperature plus heat products? Forget it, I'm left with a frizzy and damaged mess! While I'm enjoying the cooler temperatures and dressing in cute and cozy clothes and accessories, my hair doesn't enjoy it one bit.
I'm always opened when it comes to trying new hair products, because as much as I love a blowout and salon-fresh look, I can't have that every day... So I found the next best thing and 5 ways to adapt my hair to the fall weather: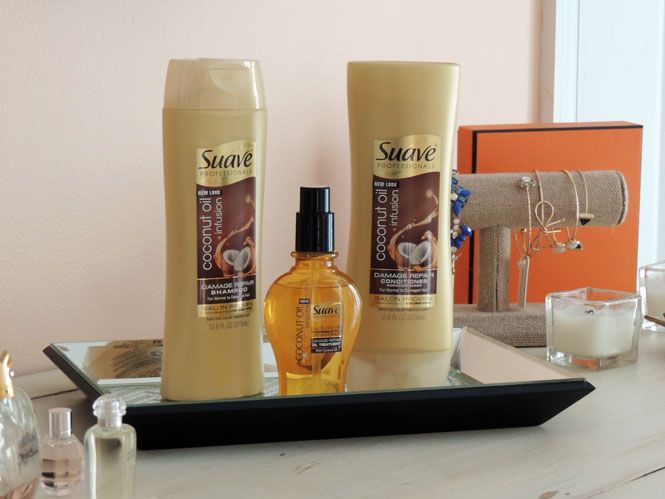 1.
Add more moisture to your routine.
Your hair needs added moisture just as much as your skin does in the cooler months! When there's such a change (especially a quick one) between the warm summer air and the brisk fall weather, it's so important to give your hair the moisture it needs in order for it to adapt. The air is so much drier this time of year, and since you're less likely to go out with a wet head and will be using the blow dryer and styling products more, making sure you give your hair more moisture than usual is so important! Coconut oil is a great pick to keep your hair voluminous and moisturized all day long. The new coconut-oil infused
damage repair shampoo by Suave
is meant to help deliver much needed moisture to your hair while keeping it voluminous and damage-free.
2.
Opt for more natural ingredients.
You don't put foods with ingredients that you don't know and trust into your body, so don't put ingredients that you don't know and trust onto your hair. Some hair products have harsh ingredients and chemicals that only quicken the drying process and make your hair more brittle and damaged. Bringing it back to coconut oil - look for a conditioner that has these natural oils and more trust worthy, natural ingredients to avoid any added harm. Suave's
damage repair conditioner
helps repair your hair of damage using natural components with a strong focus on coconut oil. It's salon proven to repair hair damage, and when it's done naturally you know it's got to be good! Natural ingredients - especially coconut oil - helps to lock in the moisture and give you luscious, healthy locks all day long.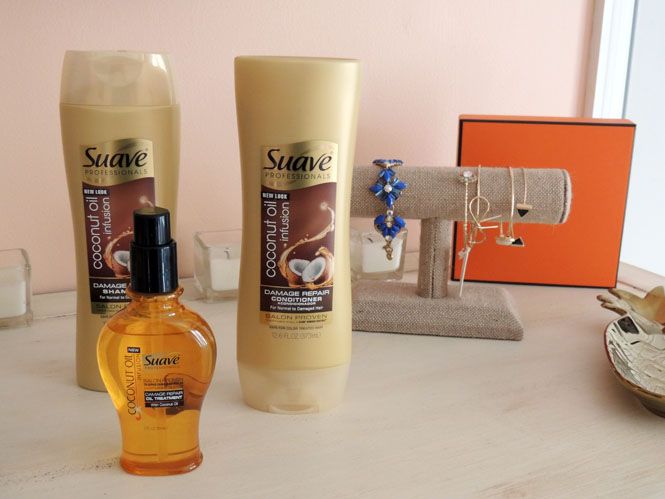 3.
Get frequent trims.
More than usual, get your hair trimmed! Especially as summer comes to an end; we've been in the sun and heat all season long, and starting the new season off by getting rid of split and dead ends helps your hair so much. Whenever you have split ends, get a trim - it's the easiest way to keep your hair looking and feeling healthy. Use the season change as a good excuse to get a few inches off!
4.
Use heat protection products.
When you style your hair using a curling iron, straightener, etc., pick and use a heat spray that helps seal in that moisture we talked about. I see a huge difference when I use a heat protector versus when I don't! If you're going to add heat, at least help save your hair as much as possible.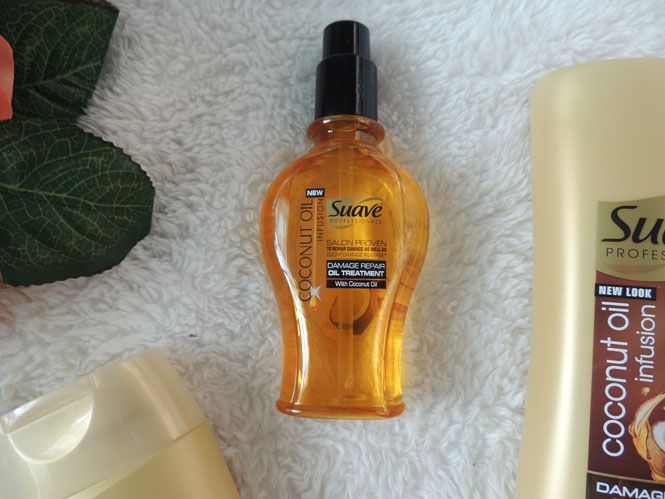 5.
Try a repairing oil treatment.
Not only will a treatment like this help restore your hairs physical beauty and shine, but it'll help to reverse damage that's already been done. The
Suave Coconut Oil Infusion Damage Repair Oil Treatment
is a great option; it's meant to tame flyaways, give your hair long lasting shine and smooth any rough hair cuticles that this change in weather is known to cause! Using a soothing treatment on your hair like this one will help to keep your hair healthy both visually and deep into its roots.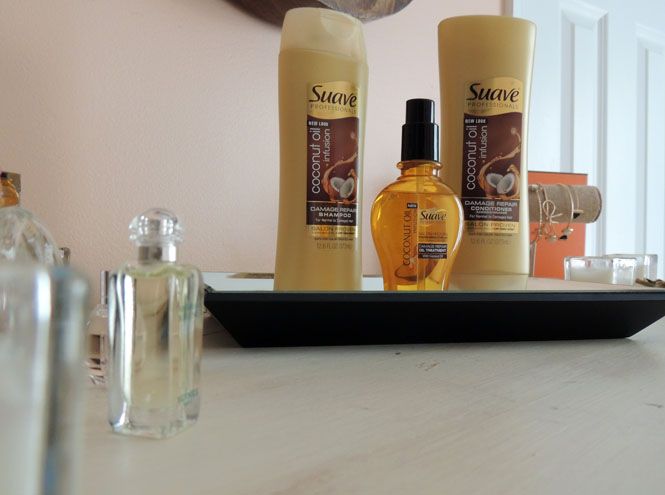 Suave's Coconut Oil collection is SO helpful in so many of the ways that you can implement to keep your hair healthy for the fall and the weather change. Not only do they work, but they're so easy to find (I buy my coconut oil line products at Walmart!) and super affordable. The Suave shampoo and conditioner have become my favorite hair products - I use them every day and I'm sort of obsessed with how amazing they make my hair smell! Other shampoo brands that have mentioned having these benefits haven't worked nearly as well for me as the Suave Coconut Oil line has. I've seen a huge improvement in how this entire line helps to strengthen my hair in the time that it needs it most.
I've been stocking up on the shampoo, conditioner and the treatment from this line because I really can't imagine how I'd get through the weather (that's only going to get colder!) without them. Dramatic? Maybe a little, but they're seriously that good. So good that Suave even has a WAWA claim in place; claiming that their products work as well as salon and luxury brands. To be quite honest, I stopped using some of the products I've bought at the salon only to use my Suave Coconut Oil line. I find that they give my hair so much more moisture and repair than other shampoos have that are sold in salons for crazy prices.
Not only do the shampoo and conditioner work wonders together; but they work even better when you pair the Oil Treatment with them. It combats frizz, makes your hair shine beautifully and most importantly repairs your hairs damage. I've been using this treatment every day for the past week that I've been using the line and I already see a difference! We aren't even close to the harshest of weather yet - in fact, it's pretty gorgeous out - but a LOT different than the 85-90 degree weather my hair as been used to for the past three months!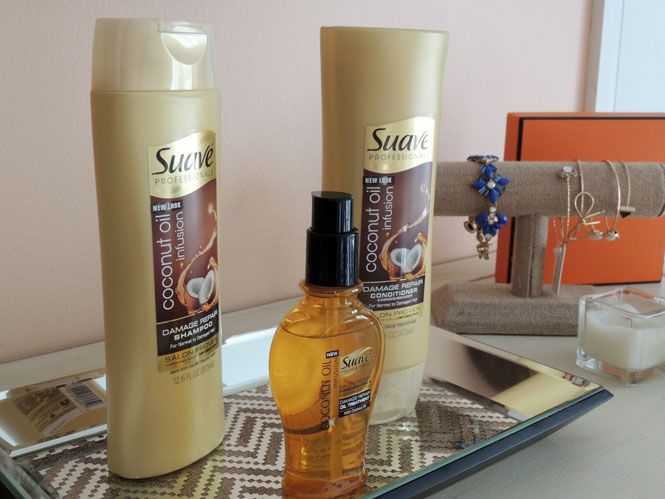 You can visit your local Walmart to try out all of the new 2016 Suave Professionals collections: Coconut Oil Infusion, Coconut Milk Infusion and Biotin Infusion, while supplies last. Highly recommend these all year round - but most especially now!
Check out Suave's Facebook, Twitter, Instagram and Pinterest for more on their new product lines!
XOXO
This post is part of a social shopper marketing insight campaign with Pollinate Media Group® & Suave Professionals, however as always all my opinions are my own. #pmedia #SuaveBeliever #pmgSuave http://my-disclosur.es/OBsstV