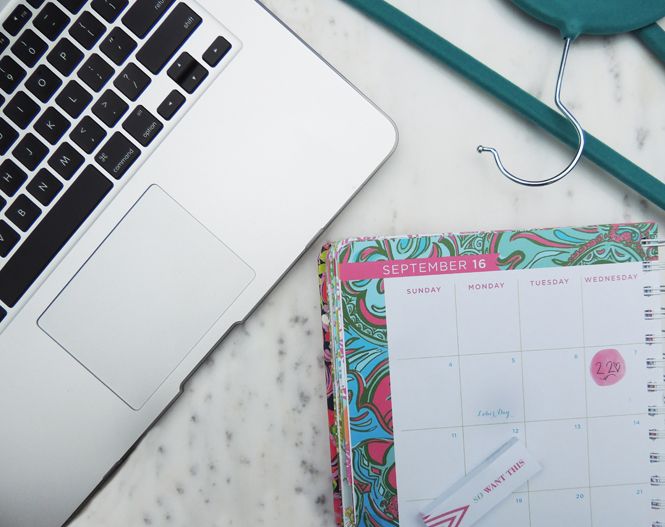 Welcome September - my birthday month! I'm finding it really hard to believe that it's already coming to an end... but summer has been absolutely amazing. I'll be sharing more about my trip to Italy over the next two weeks, but today is all about retail therapy ; ) August has been full of product favorites between end-of-summer sales and an upcoming birthday, there's been no shopping shortage over here. It was hard to pick a handful of favorites, but here they are:
*
affiliate links
Steve Madden Block Heels // Criss Cross Ring // OUIA Wave Spray // Tory Burch Wristlet // Naked Concealer // White Converse // Laura Mercier Highlight Powder // 'I'm Outta Here' Luggage Tag // Jumpsuit // Kabuki Brush // Kate Spade Mini Tote // 'A' Necklace // Nivea In-Shower Body Lotion // 'Yes Way Rosé' Sign
Steve Madden Block Heels
: I just bought these - as in, I literally JUST bought these as I added them to this post! I've had my eye on them for a while and they're now almost 50% off during Nordstrom's summer sale! I'm so excited because I've been wanting a tan pair of heels for the fall and added bonus that they have a block heel! Buy them quick!
Criss Cross Ring
: I've been wanting a cute 'X' ring like this for a while and I have one on my birthday list. There's a couple of different shaped rings like this I've seen but I'm a fan of the wider 'X' like this one! Is it comfortable to wear, anyone have one??
OUIA Wave Spray
: this stuff is my gold medal summer item. I love this spray and how it makes my hair feel! I don't think I'd use it as much in the winter, but it's great for tropical trips too. It smells so good and lasts a long time!
Tory Burch Wristlet
: I have more iPhone/wallet wrislets than I need but I can't help it; it's so much easier just carrying this around than a big tote! Don't get me wrong I LOVE carrying big bags, but sometimes small wrislets are the way to go.
Naked Concealer
: this has been my concealer for the past two or so months and I've been waiting to really talk about it to see if I like it and it's by far one of the best concealers I've tried and used thus far. It's light, doesn't look caked on, long lasting and there's a ton of colors to choose from so you can easily find your shade! It comes in a travel size bottle; I bought that one at first so that it wasn't a big deal if I didn't like it (usually by the registers in Sephora!).
White Converse
: I posted a picture wearing these
on Instagram in Italy
last week. I know; you probably know how comfortable converse are but these are the Shoreline version and I've never loved a pair of Converse more! In my Insta picture, you can sort of see that the back of them are ruched and they just slip on and don't tie. They come in black, gray and a pretty teal color too - I wore these around Italy on cooler nights and did a LOT of walking in them - so far, so good!
Laura Mercier Highlight Powder
: this was an impulse buy to say the least... I bought this in late July and forgot I even had it until I began using it when I found it in my makeup bag in Italy one morning. Let me tell ya - best $40 I've ever spent! I have never achieved such a natural and pretty highlight so easily. It lasts as long as you wear your makeup too and the shimmer it gives is stunning! It's very similar in shade to the Jaclyn Hill Champagne Pop highlight powder and about the same price.
'I'm Outta Here' Luggage Tag
: I know, this has been around for a while... But I used it for the first time on my trip to Italy! I forgot I had it, and I was so excited to use it. It looks super cute on your travel bags - you can see it in the
picture on Instagram
from when I was at the airport a few weeks ago. The matching passport holder is adorable too!
Jumpsuit
: the CUTEST freakin' transition piece your closet will ever hold! Seriously, is this not the cutest?? It fits true to size and I love that it can be dressier or less dressy depending on your accessories. The bow is the best part and it's seriously so comfy! Perfect for late summer nights and fall days, it's definitely at the top of my list of favorite clothing items.
Kabuki Brush
: I talked about this brush a while back, but it's one of the only brushes I use right now for my face! I use it for my bronzer and blush and it helps blend everything so well. I prefer it over more expensive kabuki brushes by far.
Kate Spade Mini Tote
: this too has made it's debut on
Instagram
.. I scored it at Lord and Taylor right before I left for Italy for $130! It's on sale on the Kate Spade site now too and it comes in a ton of colors. It's seriously my favorite shoulder bag/mini tote I own, the size is perfect for sightseeing and touring cities and the colors are freakin' adorable! I very well may buy it in another color - that's how much I love it.
'A' Necklace
: I've been going back and forth with this one for a while and I'm not sure why, because now that I bought it - I'm obsessed with it. It lays so nicely on your neck!
Nivea In-Shower Body Lotion
: I talked a little about this in my
summer beauty favorites
post in June. Three months later and I still love it just as much! It works so good and not having that sticky lotion feeling is the BEST. If you hate the way lotion feels too, get this!!
'Yes Way Rosé' Sign
: does this really need explaining?! Perfect gallery wall addition, perfect colors ; )
Now that it's September and the long, Labor Day weekend is here, I need all the shopping I can get to cope with the fact that summer is almost over! This is the perfect time to score summer clothes and accessories at great sale prices and even get a start on your fall wardrobe. Here's some of the best sales going on this year:
Banana Republic: 40% off almost everything with code FALL40
Francesca's: up to $15 off your purchase
Anthropologie: extra 40% off sale items
Express: 40% off everything!
Bloomingdales: extra 20% off and extra savings on the Brown Bag sale
J.Crew Factory: 50% off everything
Kate Spade: extra 25% off sale with cote DOTTY
Bauble Bar: extra 20% off sale items
Old Navy: take 50% off all jeans, dresses & tees through 9/5
LOFT: buy one style, get the next 50% off
Last Call: take an extra 30-75% off everything!
American Eagle: up to 60% off sale through 9/5
:
Happy Shopping and long weekend!
XOXO