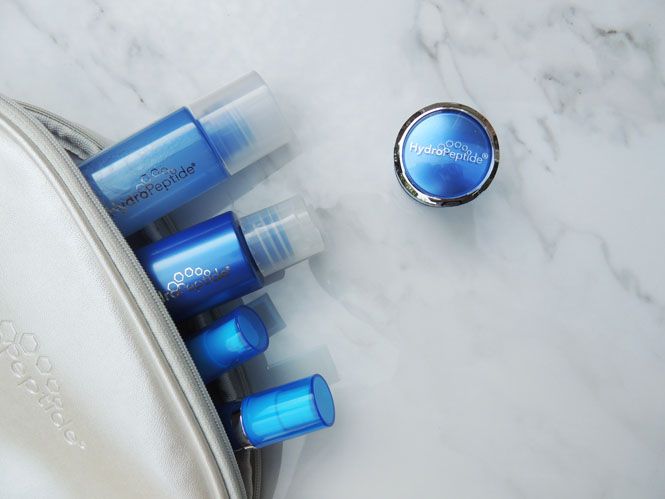 Hydropeptide's On-the-Go Glow Anti-Wrinkle Travel set is the newest addition to my skincare routine each day and I can't get enough of it! I was so excited to try these out after reading a little about Hydropeptide. I know I don't have to worry about aging yet, but I do love preventative products like these that I think will make a difference in the long run. Hydropeptide creates their products with your skin in mind; they combine hydration techniques with the power of peptides and it's become a new, go-to combination for anti-aging. Whenever I try new skin products I'm always worried about how they'll make my face feel, how my skin will react and most importantly, how my skin will look after using them. I'm happy to say that these products are all winners!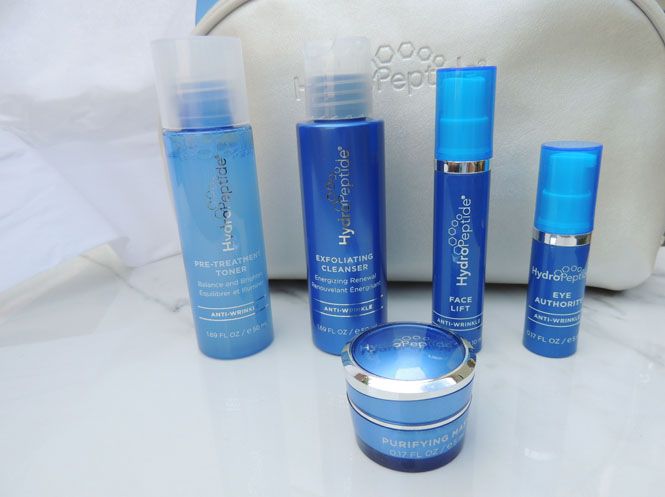 This set comes in the most perfect travel-sized bag and the products are super easy to take with you on the go. I took this set to Italy with me this summer and I've been using them ever since; they're SO good. The set comes with the Exfoliating Cleanser, Pre-Treatment Toner, Face Lift Moisturizer, Eye Authority and Purifying Mask. I didn't know where to even start when I was ready to try these out!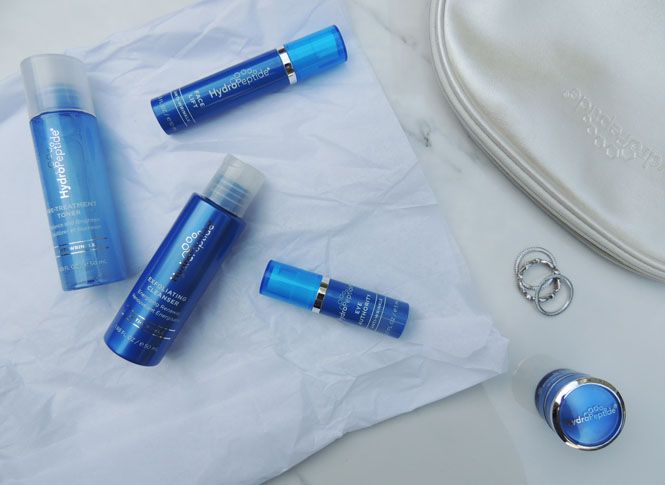 My favorite of these products are the Face Lift Moisturizer and the Purifying Mask. I use the Face Lift Moisturizer two times a day, in both of my skincare routines in the morning and at night. A little bit goes a long way, and it smells amazing! I use a dime-sized amount and put it all over my face and my neck, more focusing on my chin and neck. I use the Purifying Mask 2-3 times a week and it feels SO good on your skin! You put a layer of the mask on your entire face and leave it for about 10 minutes. The first time I used it I tried 7 minutes to make sure it agreed with my skin; then upped it to 10 minutes. I like to try different masks, and this one is one of my favorites. While these products are anti-aging, they're meant to restore and protect your skins protective barrier. I loved that about these which is why I was so excited to try them! I highly recommend them whether you're looking to try some anti-aging products or like me, want to prevent against aging skin effects.
Grab your set while it's still available - they're going quick at such a great price!
XOXO
I received product from Hydropeptide to facilitate a review for this post. As always, all opinions are 100% my own! #ad