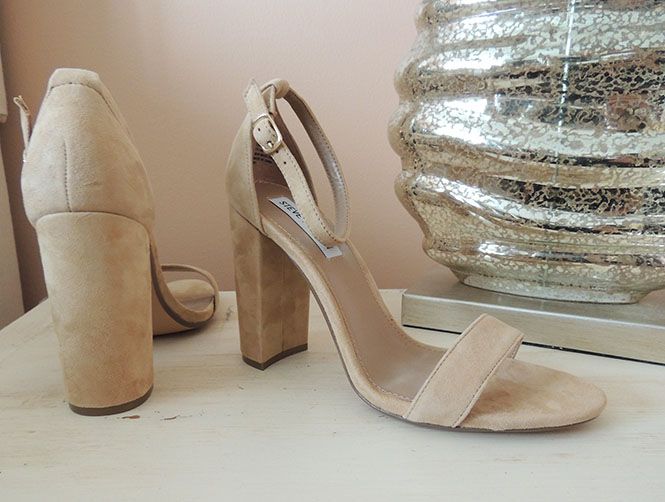 As of today, it's officially Fall! I love summer (as everyone knows because I say it a million times! ;) but I really do enjoy the cooler temperatures and getting dressed in the fall. If there's one thing I do love about New York, it's getting to experience all four seasons. This is the time of year that everyone starts buying tons of cozy scarves, oversized sweaters, fun boots and all of the season's trends. It's still hitting the mid-80's in New York, so it's been sort of hard to get on the Autumn bandwagon but after going to the mall yesterday and finding a TON of adorable fall items, I'm starting to get in that mood! I may not be able to wear any of this yet, but the nights are getting cooler so I know that the warmth is only going to last so much longer.
I think it's so fun to look through each season's trends and find pieces that fit your style; but there's always a couple of pieces that can be repeated year after year. Whether it's a fun statement scarf or a pair of booties, here are 11 staple pieces that everyone needs in their wardrobe this season:
*
affiliate links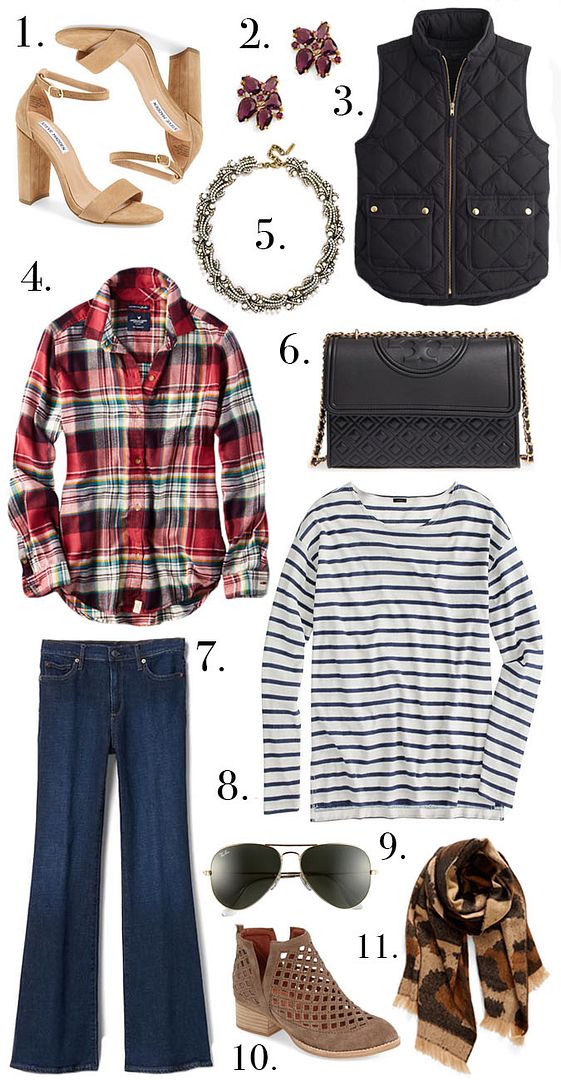 1 // 2 // 3 // 4 // 5 // 6 // 7 // 8 // 9 // 10 // 11
1. Steve Madden Block Heels
: this season more than ever I love block heels! These are the perfect color for fall plus they're suede and SO comfy!! It's usually still warm enough to wear open toe heels like this, but they're fitting for the fall. And they're so neutral that they're must haves!
2. Statement Earrings
: burgundy/plum everything is extremely in this season, but I can't help but wear it in almost every month! It's such a pretty color and everyone needs a good pair of statement earrings to go with a cozy sweater or LBD. I love these especially because they aren't heavy and easy to wear all day or night long.
3. Quilted Vest
: I mean, do I even need to explain this one?! I'm obsessed with the J.Crew vests; they're such a closet staple and they really do work all season long and for years on end. I've had my black one for 3-4 years now and I pretty much have made a collection out of these vests!
4. Plaid Button Down Top
: I've owned a few plaid tops here and there, but I've never really been in love with the way button down tops like this one looked; this season, I don't know what changed but I'm OBSESSED. This is the softest one I've found to date, and I love the colors in it! You can find these everywhere and they're perfect for fall and winter. Plus, plaid doesn't go out of style so it'll be in your closet for a long time.
5. Statement Necklace
: the easiest way to dress up any fall outfit? A statement necklace!
6. Black Tory Burch Bag
: everyone needs a LBD and everyone definitely needs a LBB (little black bag). This one isn't so little, but still the perfect size for a shoulder/crossbody bag. I'm obsessed with the quilting detail, one of my favorite Tory bags to date!
7. Flare Jeans
: I am SO beyond happy that these flare jeans are back in style. They've always been my favorite and I wore them religiously throughout middle school. I was so sad when I felt like I had to start wearing skinny jeans come high school (I quickly grew to love the skinny/straight look) but a part of me has always loved these super flare jeans. I can't wait to start wearing these!
8. Striped Shirt
: this is a staple shirt that works in every closet, every time of year. In the fall especially, it's so easy to layer with and dress up or down.
9. Black Ray-Bans
: another accessory that's really perfect for year round wear, but this time of year I love the way black sunnies look!
10. Booties
: can you really have too many pairs of booties? I don't think so! I love this pair, I tried them on in the store and I'm kicking myself for not buying them!
11. Leopard Scarf
: I am obsessed with leopard this season! Scarves, shoes, bags I love it all. This scarf is super soft and warm and it can be worn with so many colors come the cold weather.
What's in your closet for this fall season?
XOXO