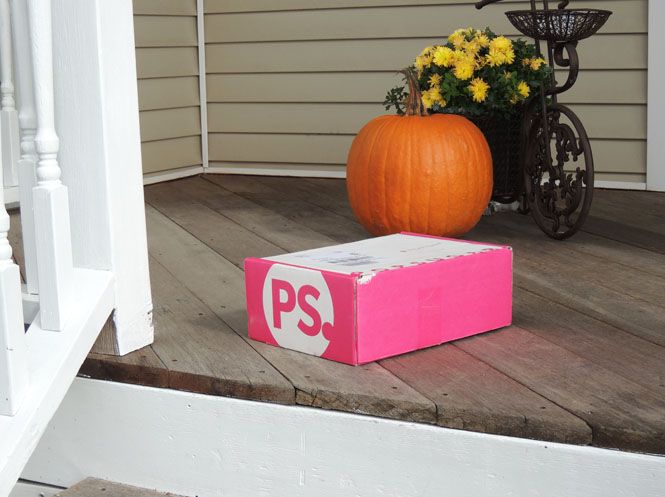 Seriously, where did October go?! I cannot believe that Halloween is on Monday already! But speaking of Monday, it's been such a long week so I'm SO happy it's FriYAY! This month has been a whirlwind, but every time I receive my monthly Must Have Box from POPSUGAR, I get so excited - the box that comes in the mail is bright pink so I always spot it from a mile away - and it always makes for such an exciting mail day! #bloggerprobs
I seem to find that each month gets better than the last, but I really don't know how October's Must Have Box can be beat; it was filled to the tippy top with SUCH amazingly fun items - all of which are essentials for fall you really didn't even know you needed, but totally do. ; ) Here's what's inside:
P.S.
scroll down for a coupon code!!
Related: June Must Have Box // July Must Have Box // September Must Have Box
Additions to my beauty bag: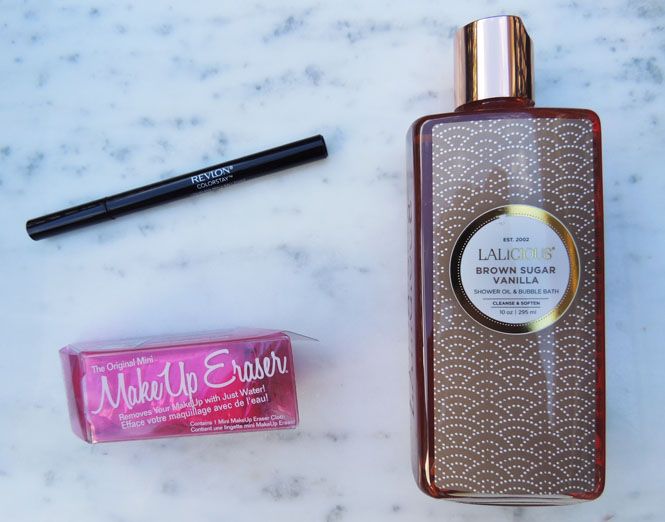 On a daily basis I use a pencil eye liner, but for dressier/nicer occasions I love using liquid liner - this Revlon ColorStay liquid liner lasts so long without smudging and I've never had such an effortless time putting liquid liner on! I get frustrated with liquid liners easily - probably why I don't normally wear them! Since it lasts so long, the Mini Makeup Eraser will take the liner and ALL of your other makeup off after a long day! I LOVE this thing - I've seen them in Sephora before but never tried it because I was skeptical if it would really work and I figured since I have makeup removers I love, I didn't need it. I was wrong. This little eraser is GENIUS! All you have to do is wet it with warm water, and it takes ALL of your makeup off. Compared to my makeup removing cloths, it works better - I love it! It's good for 1,000 washes and it's much lighter to travel with over a pack of makeup removers!
Thank god it's Friday, because I've been waiting to use this shower/bath oil all week long! I'm so excited about this because of the brown sugar vanilla scent which is perfect for this time of year. It's made with a probiotic formula and it's a dual shower oil and bubble bath - this is going to be a repeat purchase, I can tell!
Rainy Day Essentials: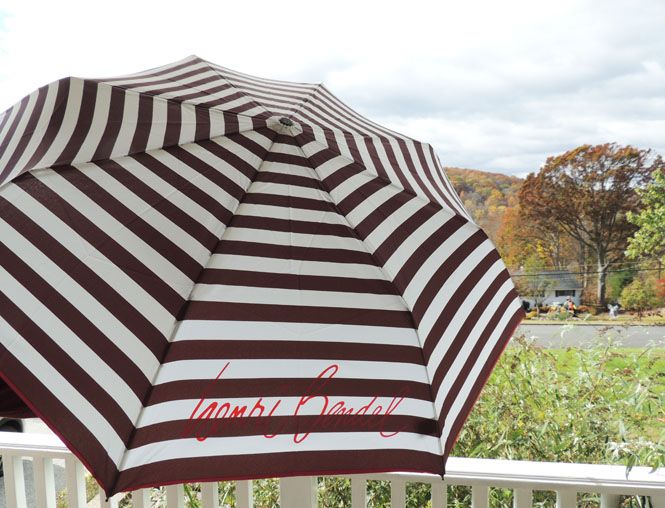 Not only has it been absolutely freezing in NY this past week but it's been raining (and snow flurrying!!!) all week long! I've had so much to do this week when really I just wanted to stay inside and do nothing thanks to the weather. Well let me tell ya - going out in the crazy weather this week hasn't been nearly as bad because of this adorable, striped Henri Bendel umbrella! I normally don't carry an umbrella in my bag every day but this one is packable and small so it's easy to carry around. It's just an added bonus that this is THE cutest umbrella I've ever owned! It's something I wouldn't of thought to purchase from Henri Bendel, but I love the brand and love their products so this is by far what I was most excited about from this month's Must Have Box. It also makes for a perfect holiday gift for friends!
On rainy days all I want to do is cuddle up on the couch, catch up on TV and read books. Power Your Happy is a memoir book written by the founder of POPSUGAR, Lisa Sugar. (can I have her last name?! SO cool!) This book is meant to be encouraging and filled with fun stories about Lisa's career and personal life, so I cannot wait to start reading this one! Clearly Lisa Sugar is a total girl boss! ; )
Chilly Saturday Morning Musts:
Okay so I definitely wasn't prepared for it to get so cold so fast here, but it's still going to get into the 60's a few days next week so fall is still hanging on! Yesterday and today I've been shivering ALL day long - I've sat in front of the fire place for 60% of the day and the other 40% I'm under my electric blanket at my desk. Between the wind and cold front we have going on here (I swear I'm only exaggerating a little), getting snuggly on a Saturday or Sunday morning when I know I can relax for a few hours is the best feeling! My Cup of Cocoa is an all-natural hot chocolate and it's SO creamy and decadent - I'm obsessed. I'm such a sucker for hot chocolate so when I saw this in the Must Have box I was beyond excited to try it! The worst is when hot chocolate is too liquid-y or not chocolate-y enough, but this brand is LEGIT. They also make 3 minute cake in a cup which you better believe I'm trying next!
Every time I walk into Home Goods, I walk out with at least one new mug. And I really don't know where I'm going to store all these (there's TWO cabinets full as it is...) but I know I'm not the only one with a mug obsession! They're so cute and fun and Morning Culture makes the cutest mugs - I hadn't heard of them before receiving the CUTEST Rise & Shine mug. Isn't it the cutest?! I'm using it to have my Cup of Cocoa hot chocolate in as we speak - it may not be a Saturday or Sunday morning, but when you can have hot cocoa in style like this it's worth it any day, any time. ; )
These POPSUGAR Must Have boxes are so much fun to get each month! They're way better than any other subscription box I've tried before because they fill them with the best things. I'm starting a subscription for a few friends as a holiday gift this year because of how much they love mine; it's SUCH a perfect gift option! Especially for someone who has everything, because the POPSUGAR boxes always have things you didn't know you needed, but totally do. Ya feel?!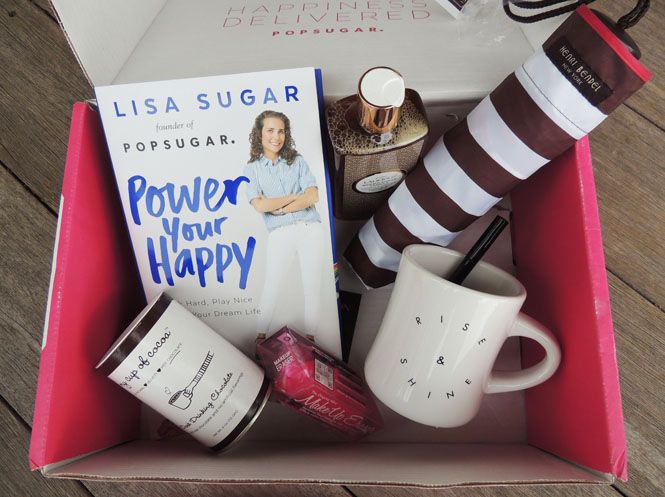 Whether you want to start getting these for yourself, a girl friend for Christmas, or both - POPSUGAR has an awesome coupon code for everyone to use on these! At checkout, use code SHOP5 for $5 off your first box! It never expires, so you can start whenever you're ready to experience this joy filled box! HAPPY WEEKEND!
XOXO
I was sent this month's Must Have Box from POPSUGAR in order to facilitate my review. Thank you for supporting the brands I love to share!