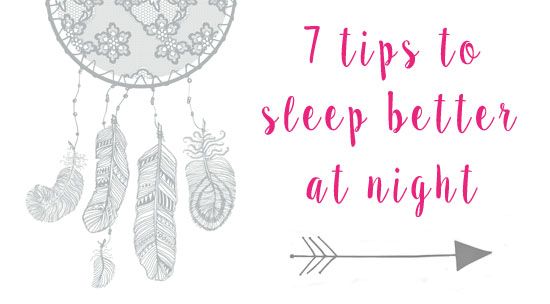 Last Monday night, I had the absolute WORST night of sleep I've ever had - seriously. I went to sleep around 1:30 AM and woke up at 2:15 for some reason and could not fall back to sleep! I ended up being wide awake until about 5:15 when I saw the sun coming up and light breaking through my blinds and literally forced myself to keep my eyes closed until I dozed off (thankfully I did). Although, this wasn't before I watched two episodes of Everybody Loves Raymond, three episodes of George Lopez and listened to an intense thunderstorm - I had a more productive night than I do most days! (kidding... not really)
I usually do wake up one or two times throughout the night, but this night in particular was so different since I didn't just dose right back off to sleep and I have no clue as to why this happened! In the summertime especially, I definitely don't have the best (more like a horrible) sleeping pattern which I'm sure had something to do with it, but I also know that messing with your sleep schedule too much is extremely bad for you and your health. Ever since this happened last week, I've been both researching and trying new things to help me sleep better and also to prevent having a sleepless night like that again! I felt absolutely horrible the next day and it was a different feeling than pulling an all-nighter (which I don't do often) because I wasn't expecting to and had already been SO overtired.
Some things I've been trying have been useless, while others have really helped me and are absolutely worth the try if you've had or are having the same problem lately.
Tips to help fall asleep and help maintain a sleep pattern:
Use a FitBit:
I use my
Fitbit Flex
to track my sleep every night! You'd be really surprised how many times you subconsciously wake up without even knowing - it's sort of scary! Once you begin tracking your sleep for the first few nights, you can then create sleep goals for yourself via the Fitbit app that help you even out your sleep pattern. I love my
Fitbit
most especially for tracking my sleep! It's been really helpful and while I used the sleep pattern feature a few times when I first got my FitBit, I never stuck with it or really paid attention to it. After realizing how much it works, it's on my wrist every night now!
Supportive pillow(s):
when I sleep, I have as many pillows on my bed as possible with me. I love having tons of pillows and wrapping myself up in a blanket (no matter how warm it is - anyone else?) but I have noticed I wake up often in the morning with back and neck pain way too often. I also suffer from frequent headaches, so I bought a
Chillow
after seeing endless commercials promoting it on TV and also some new pillows at Sleepy's this week to try! The Chillow is supposed to help with migraines and for releasing body heat - which is exactly what I needed because no matter how cool my bedroom is, I wake up in a sweat. I did notice how unsupported my pillows left me too, so buying new ones was much needed (I found out you're supposed to change pillows frequently, which I never knew) and it actually seems to be helping. I love the Chillow (best "As seen on TV" product ever!) and I've been having less neck pain with more supportive pillows. While I can't tell if it's really helping the migraine situation yet, I'll take what it does help any day! You can sleep with it right on your pillow or place it inside your pillow case - which is much nicer - and you really don't feel it, even better!
Have a bedtime routine:
no matter how tired I am and just want to jump into bed at night, I always do my nightly routine! I wash my face, exfoliate and moisturize and brush/floss my teeth right before getting into bed. Doing this definitely helps relax me before bed and helps me "detox" from my day! I also will sometimes take a quick shower if it isn't too late (and if I'm not too lazy lol!) which makes me feel ten times better when jumping into bed.
Relaxation techniques:
this is something I found when researching the first few days after my sleepless Monday night. Doing muscle relaxation exercises are techniques that most websites and forums recommend. Whenever I feel sleepless, I do a couple of them and they're extremely helpful and relaxing! I love feeling relaxed especially when I'm restless with endless thoughts on my mind! Winding down from a day is super important in being able to have a good, well rested sleep.
Buy a sound soother:
I haven't used one of these in a very long time, but when I did, it definitely helped! In fact, I totally forgot about these gems until I read about them online. The best part is, nowadays you don't need one of those big machines that plug in and take up space; you can simply download an app for soothing sounds to play directly from your phone/tablet and voila! You have a wireless, inexpensive, 21st century sound soother ; ) I think this is something I need to try because lets be honest, Big Brother After Dark does NOT put me to sleep! Although if I'm being REALLY honest, I'm going to Watch BBAD regardless!
Stay out of the kitchen:
this is something I'm super guilty of - especially on summer nights that I'm up late watching Big Brother After Dark and writing blog posts! ; ) My sleepless Monday night was one that I was searching for food at 11:30 PM, which I'm sure didn't help the situation! I ended up making an avocado wrap and figured that I was going to regret it at that hour. However I do usually try to not eat anything after 9 PM or two hours (which ever comes first) before going to bed, but I'm realizing this is a super important tip to remember and follow. Other than tea and water, most people and doctors alike would suggest not eating late hours of the night both for your metabolism, sleep and sanity the next day!
Breathing exercises:
I never thought that something as simple as a specific breathing pattern could help you relax, wind down and even make you fall asleep. When I did my research, many articles offered deep breathing exercises and one that I found most helpful is breathing in for 5 seconds, holding it for 4, and slowly breathing out for 5 seconds. It might sound silly, but don't knock it until you try it! Deep breathing techniques are meant to relax you and boy does it ever! I promise you won't look silly - try it! A few nights ago, I had that sleepless feeling again and I was NOT about to have an Everybody Loves Raymond repeat night, so I tried this breathing technique and before I knew it I was falling asleep.
Ever since I started doing some of these things at night, I've noticed that it's been easier (for the most part) to fall asleep at night and that I feel more rested in the mornings! I also started taking a multi vitamin supplement daily which seems to be helping a lot too. I don't seem to get that tired feeling around 3 PM every day which is relieving because by 3 PM, I usually am still trying to get things done! Getting good nights of sleep is a huge part of living a healthy lifestyle so I'm really glad that these tips have been helping me - and I hope they'll help you too!!
Do you have anything that helps you to fall asleep on restless nights?
XOXO
Bloglovin|Facebook|Pinterest|Instagram