Since I just recently turned 21, I have had this idea that I want to throw cocktail parties! I've been to one since my birthday and it was so much fun. It's basically like a tea party for adults! ; ) Although I had fun, since I'm a design junkie and a bit of a perfectionist, I couldn't help but think about the differences that I would have had at my own cocktail party. When I think of a cocktail party, I think of glamour, champagne and a luxe look all around. Cocktail parties are a great way for anything whether it's a celebration, party, a way to watch a premiere/finale of a TV show or even a "just because" get together with your girls! Immediately, I began thinking about what I would want to have at my own party and I love what I came up with: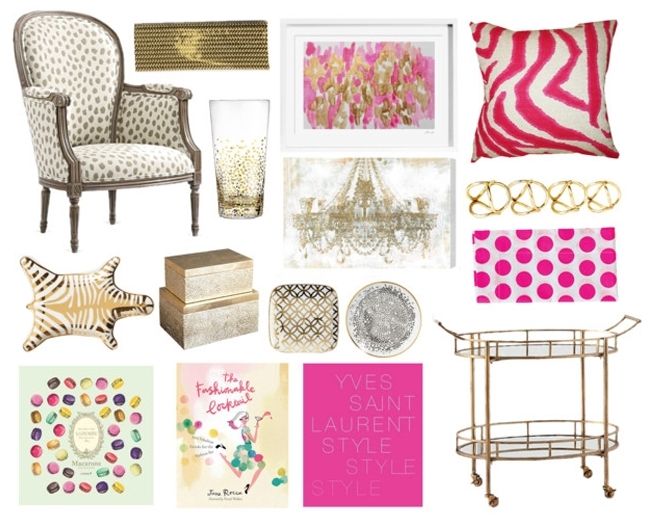 Spotted gold accent chair// Golden paper straws// Pink and gold painting// Pink zebra pillow// Gold shot glasses// "Gold Diamonds" chandelier painting// Gold napkin rings// Zebra tray// Gold decorative boxes// Cocktail plates// Gold dotted dessert plates// Pink polka dot napkins// Laduree coffee table book// Cocktail coffee table book// YSL coffee table book// Gold bar cart
As you can clearly tell, when I think glamour I think of golds and pinks all around. I absolutely love the idea of a classy bar cart to store your cocktail supplies on and also for decoration. The best part is, it looks pretty all the time as home decor!
I really love the details of these golden cups that come in many different sizes too. (these could so easily be a DIY!) There's nothing better than drinking champagne out of a gorgeous gold rimmed cup!
As you probably already know, I love styling tables of any kind and most especially love doing so with coffee table books!! The three books listed above are ones that will go on my future bar cart and they're very reasonably priced too for something that can often be a bit pricey.
Colorful cocktail napkins that go with your color scheme help to not only bring a fun and girly pattern to the party but also make the party a bit more fancy-fun!
Another must have at cocktail parties are macarons!! For a long time I didn't like them but once I tried them from the Laduree pastry shop in NYC my mind was blown and I began to love them. Not only do they taste good but they look so pretty and come in so many colors that can give any party another pop of color. I love the idea of displaying them for your guests to see as a table centerpiece in a cake stand like these especially because they come in a set of three with different sizes that compliment each other.
Gold and pink are two colors that look gorgeous together and also are bold next to one another. Adding a pretty mirrored tray to hold drinks and some fresh flowers on top of your coffee table book stack will make your cocktail party even more exciting for your guests and for you to have on display! There is nothing more feminine, luxe and chic than this color combination especially for a cocktail party/bar cart set up. Adding a pretty painting on the wall above your bar cart then finishes off the look making it seem like a permanent set up - which you very well may want to do after seeing how gorgeous a space like this could come out!
A bar set up like this is also something that you could very easily DIY a lot of and really create a lot of the look based exactly on how you'd like.
As a very organized person, I love to seem as if I'm organized as well in front of guests! I also love the idea of having appetizers for food at the cocktail party just as you would see at a wedding.
Cocktail parties are usually three or so hours long. Give your guests some gorgeous decor to look at while they enjoy your company! Along with the drinks and the appetizers and finger foods, gorgeous colorful decor and accent pieces can take your party from feeling plain to exciting in a heartbeat!
Have you ever had a cocktail party? What type of look would you create for your bar area?
XOXO
Bloglovin|Facebook|Pinterest|Instagram
source, source, source, source, source