I've been talking about my bathroom makeover for months now - and finally it's ready to be shared with you guys! It's been such a long process but I've loved every second of it! It couldn't have turned out any better and I'm finally extremely happy with the end result : )
I'm that person who scrolls through Pinterest looking at as many before/after projects as I possibly can! I love seeing a rooms potential and what it can become with some paint and new accessories. My bathroom was in major need of a makeover and when you see these "before" pictures you'll completely see why! Like I've mentioned before, it's much easier to find the accessories and details for a room before picking the paint color. I knew I wanted to paint, but there were so many color swatches I was loving so I stopped looking and first picked my shower curtain and all of my decor!
The best part of this bathroom makeover is that all the changes I made were cosmetic. Nothing major had to be done and everything was in great condition (thankfully). The most work that needed to be done was cleaning the grout on the tile floor and re-grouting in the shower/tub. In my perfect world, I would have a huge bathroom with double sinks, herringbone faux-wood tile and some gorgeous counter tops, but until I'm living on my own that isn't going to happen. However I really do love the way this bathroom makeover turned out and I'm so excited to share it!
Here's the before pictures and I am warning you it's scary, bright and needed to be redone for a very, very long time...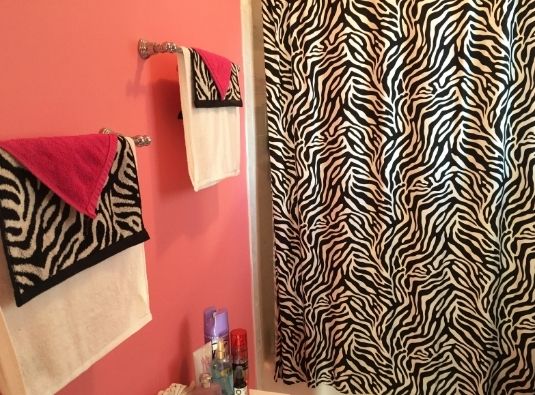 Every time I look at these pictures I cringe a little more...
I'm not entirely sure why this shelving unit was so messy or how it got that way! I liked having the extra storage, but having the shelf in that spot stuck out too much. It also let me have way too much clutter! My mess of hair straighteners, blow dryer and curling wands also got a new home off of the wall (thank god)
I thought I had the right idea with the towel placement but the zebra print is throwing me off big time. Don't get me wrong - I LOVED zebra print a few years ago. It was so in style and that was exactly when I made my bathroom bright pink and covered in zebra print everything (and anything) I could find! Thankful that stage has gone and passed...
Can someone please tell me what I was thinking?
If you're still reading after seeing those pictures, a big thank you! I promise the next couple of pictures are going to be much more pleasing to look at. As you can see, my bathroom isn't a huge space. When we added on to our house the second time, my en-suite was added and I only had the space that was there to work with. That was, unless I made my closet smaller and if you know me at all, you know that was not going to happen! Do you have a small space and think there's not much you can do with it? Guess again because there's SO much you can do no matter how many square feet you have to fill up!
Once it came time to pick a paint color that matched the shower curtain I picked, I went through so many swatches and shades of seafoam until I finally made up my mind!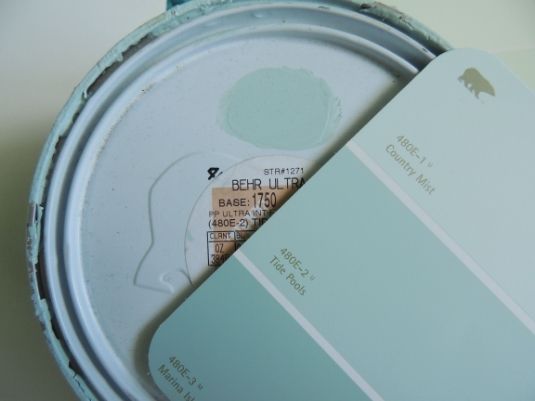 After going back and forth with different shades and colors, I ended up choosing Tide Pools by Behr and I'm so glad I did! I typically only paint with Behr paints because the quality of the paint and the way it hits the walls seems to be better than others. You saw that shade of pink - I didn't even need a primer coat to cover that up! You can read about my tips on painting a room if you're getting ready to paint also!
Now here's the new, improved, de-zebra-fied bathroom: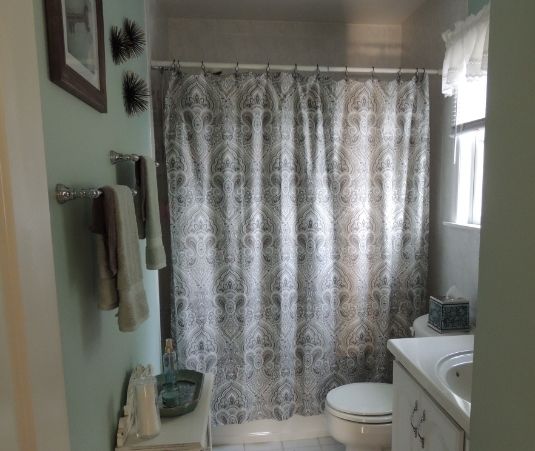 How much better is this?! It still blows my mind knowing that this is what came from that bright pink mess!
My tissue box, toothbrush holder and tumbler are all from Home Goods. They always have different sets of bathroom organizational products in different themes and this one was (and still is) the prettiest I've ever come across! When I purchased this set I was contemplating between this and another similar one but I'm so glad I chose this one! At this point of picking things out, I still hadn't found my shower curtain but seeing this set, I knew that I wanted color in the sea-foam green palette!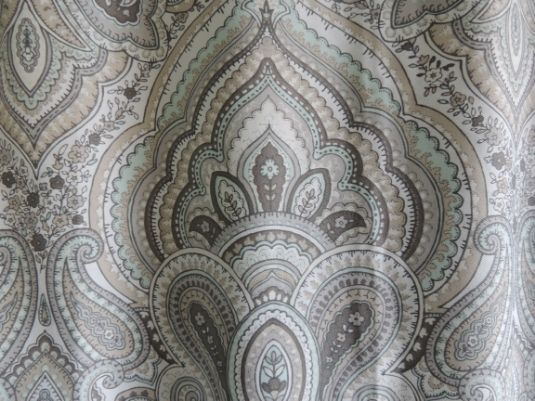 The following week, I found my shower curtain!! This is also from Home Goods and I fell in LOVE with it when I saw it! It's Tahari and I got it for $19.99 which was an incredible deal! I found the same one on Amazon and am so happy I was able to link you guys to it!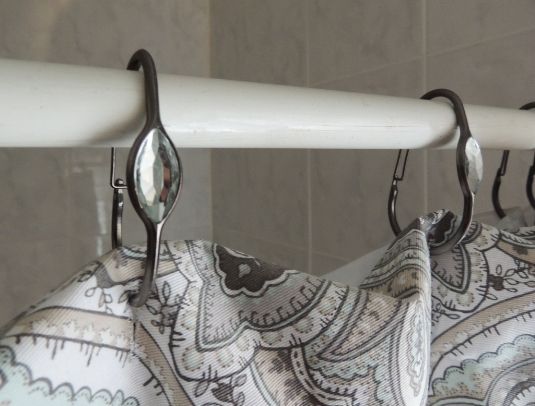 I never really thought that something simple like shower curtain hooks could make such a huge difference in a bathroom like they have for me! Before I just had plain white hooks and once I hung this new shower curtain up, I started to look for some prettier ones. Mine are from Pottery Barn and unfortunately aren't available anymore, but I have seen some cute ones on Joss and Main lately!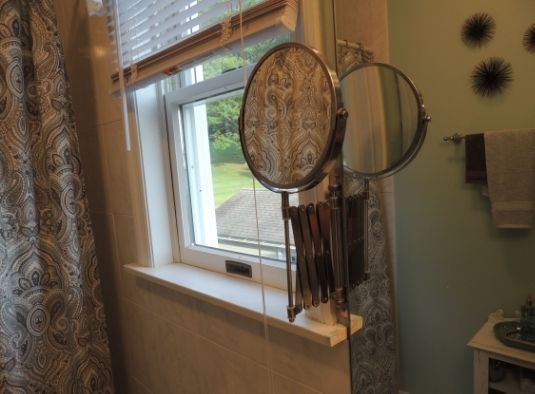 In all of these pictures, you've probably noticed my two pull out mirrors on either side of the vanity mirror. I bought one of them from Ikea and I absolutely loved it so I bought another one to install closer to the window. This mirror is under $10 and is super easy to install!
This tray is another Home Goods find!! I bought this the same day I purchased my shower curtain and the design on the bottom matched perfectly so I had to buy it! I originally wasn't going to keep the mini white chest in the bathroom, but once I found this tray I changed my mind. I do display my perfumes, but this bottle of Aqua Kiss from Victoria's Secret is one of my favorites AND matched the paint perfectly so I put it here for display!
My makeup is all stored within this chest but it's no where near organized as of yet so I figured I'll talk about my makeup storage sometime in the near future!
It took me about four different tries until I got this wall exactly how I wanted it to be. I went to Target with my shower curtain once the room was painted to pick out towels and a mini rug and it just so happened that they had a perfect shade of sea-foam to match my walls! There were a couple different shades of brown that I liked but I decided to go with the darker brown to help make the lighter colored towels pop against the walls.
I knew I wanted a large frame for this wall, and I was originally going to create and print one of my favorite quotes for said frame, but then I found this frame and loved it! I actually found it by mistake while shopping for supplies to create my mugs for Sip of Sass. I still planned to print my quote for this frame, but once I hung it up to see where I liked it, I ended up really liking the stock picture that came with it! The colors were perfect so (for now), it stays.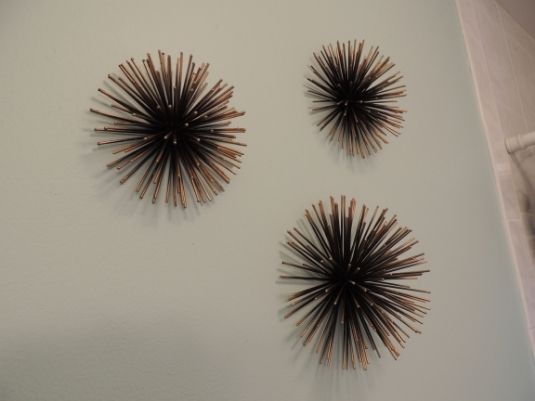 Okay - how adorable are these scoppio spheres?! I fell in love with these wall decor pieces from ZGallerie! The same day that I found these, I was in Target (shocker) and I found a cheaper version that look exactly the same if not prettier! I loved them because they were a dimensional object and was different than the frame and normal wall decor. I love looking at them and I love that they're all different sizes!
Finally - my favorite part of the room! I found this also at Home Goods and I first noticed it because of the color. I bought it to try in my bathroom and once I hung it up, I realized that the arrow graphic was pointing toward the bathroom door! That's the best part because it reminds me to have a beautiful day when I leave the room : )
The best part of this project was that I completely designed my bathroom on my own; from the paint to the hardware to the accessories, picking everything out was so much fun and I would do it over and over again in a heartbeat! And I'm pretty sure we can all agree what a difference a couple coats of paint can make!
Other products seen above:
Facial pad holder:
Home Goods
Small candle:
Bath and Body Works
Foaming soap/silver holder:
Bath and Body Works
I'm SO happy with how my bathroom turned out and am so glad to have gotten rid of that pink! Are you in the midst of re-doing a room in your home?
XOXO
Bloglovin|Facebook|Pinterest|Instagram