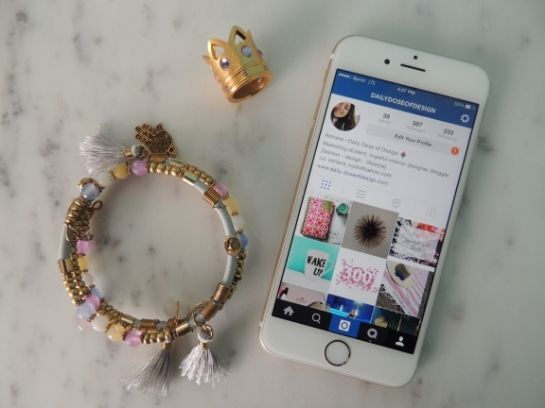 I started Daily Dose of Design's Instagram about four months ago - and actively started using it a little less than three months ago. Instagram is one of my favorite social media websites EVER. My personal account (you can request to follow me here if you'd like!) is what I use regarding social media most; after my blog was beginning to take off, I figured it was time that it, too, needed its own account!
Not only is Instagram extremely fun to use, it's also a great way to share your content and get it exposed to new readers - along with meeting other bloggers and creating friendships! I can't even begin to describe how many friendships I've made via blogging and more specifically, from following each other on Instagram! I love sharing pictures and of course the endless amounts of filters that they keep adding! Who doesn't love a good Valencia filtered photo? ; ) There's SO many great uses for Instagram and if you use it correctly, effectively and regularly, it can help your blog grow and most definitely will help you to connect with other bloggers in your niche(s)!
Instagram has become so popular over the past few years and while I still have a lot to learn, I have a pretty good grasp of how to use it successfully. A little fun fact: there is approximately 318 million people in the United States and approximately 300 million monthly Instagram users... that statistic is insane to me! It really is true that Instagram is the most popular social media network. Therefore, there must be some great ways to gain a following on it, right?!
How to grow your Instagram:
Hashtags are a MUST:
I've gotten quite a bit of my following by using as many relevant hashtags on every posted photo as possible. I've always associated hashtags as being an annoyance, but that was before I was a blogger! Now that I am a blogger and have a growing Instagram account, hashtags are everything! Depending on your niche and who you want your audience to be will determine what hashtags you use. The main hashtags that I use on my photos are #blogger #fblogger (or #lblogger or #interiordesign depending on the post) #instadaily and #igers. Again, these depend on the type of picture I'm posting and how far I want my reach to be. While I don't usually use Instagram's max of 30 hashtags per post, I tag my photos with around 15 tags (notice the pictures that have more hashtags usually have more likes). After posting with certain tags, I go into the feed of all the photos with said tag and like pictures that are relevant to me, my blog and my post(s). Doing this also gets new bloggers to see your pictures! Leading to my next point...
Follow others in your niche:
once you've searched through the hashtags that you use and like other pictures, give them a follow if you like what they post! Chances are, they'll give you a follow back. Instagram's geotags (aka "places") are also super helpful to find bloggers and accounts that post in your vicinity!
Post regularly:
nobody wants to follow a user that doesn't regularly post daily or every few days! Some people say you shouldn't post more than three times a day (to not overload your followers) and others say you should post up to nine times a day. Personally, I wouldn't post more than three times a day. I normally post once daily, however there are certain times that I'll post two or three per day; even then, the three posts are spaced out. Interestingly enough, many accounts that have massive followings (I'm talking hundreds of thousands - even millions) post tons of times a day. If your pictures match your theme/blog/brand and are high quality, likable photos, post away!
Generating blog views:
while Instagram is awesome for sharing content and creating relationships, it's important to give your followers a link to your blog or website that's easily accessible too! Unfortunately, Instagram doesn't make it all that easy to share your link on your posts. As of now, you'll have to resort to writing "link in bio" on your blog post pictures! For example, in the description or location section of a photo you are posting that relates to a blog post, add that your link is in your bio. Doing so should mean that your blog's link is in fact in your bio (stating the obvious - I know)! Your photo(s) should be engaging enough for a reader to want to click into your profile to then view the post on your blog. When I post, I try and put myself in the shoes of one of my readers and I ask myself if it's a picture that would make me want to find out more and read into a post. I do occasionally see Instagram referrals in my analytics and lately that number has increased which has me hopeful!
Loop giveaways:
not only do you get a chance to win an awesome giveaway prize, you also get the chance to meet new bloggers (and vice versa)! I've participated in a couple of giveaways and while not every profile will match your style, it still allows you to find new people to connect with and expand your reach. Participating in a loop giveaway of some sort is just as beneficial since those who enter must follow every host. This can get rather annoying, however if you've found the giveaway from someone who you already follow, chances are you'll enjoy the profiles who are participating accounts in the giveaway too.
Picture likes/comments:
I'm sure you've heard people tell you that it's important to engage with other bloggers and comment on their posts with meaningful comments and such, am I right? Well it's equally as important to do so on Instagram! This goes along with searching through your hashtags; however it's important to stay active with your followers and the people you follow, too. When I scroll through my feed, I like pictures that are relevant and leave a meaningful comment. When other people go to comment on the same picture, they'll see your comment and if it is of interest to them, it's likely that they'll want to visit your profile!
You can follow my Instagram here to keep up with my posts and life happenings!
Do you have any Instagram secrets?
XOXO
Bloglovin|Facebook|Pinterest|Instagram