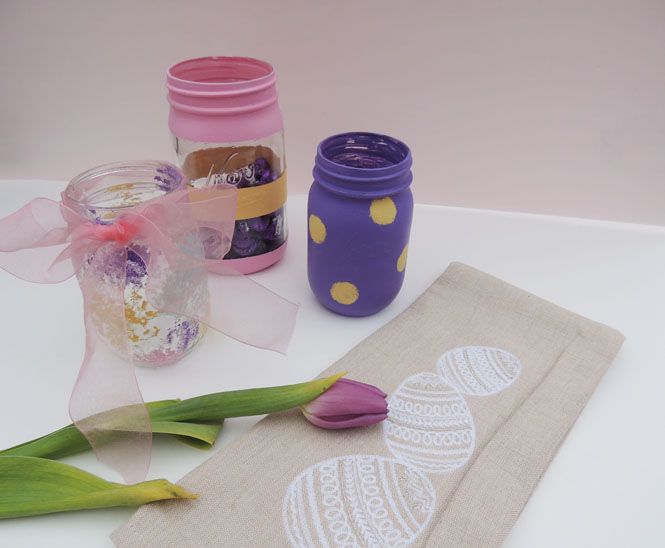 Seasonal decorating is a ton of fun but if you're busy and have a hard time to find time to decorate, then this is for you! I love decorating for spring and more specifically, Easter. I've been trying to come up with a fun, quick and simple DIY project for Easter decor that is great to make last minute as a center piece, favor, candle holder, vase, the list goes on and on. These vases are fun to make because there's so many different patterns and colors to choose from and they can even double as all year decor in certain rooms of your home.
Making your own decor can be really fun, but also very time consuming. In case you're still looking for a fun DIY for this weekend, here are the cutest mason jars that take SO little time to make! There's so many varieties of patterns you can create too:
Here's what you'll need:
I chose to use matte paint because I like the way it looks on mason jars and it's super easy to distress once the jars are dry, but you could go with any kind of paint that's made for glass. Pretty ribbon is optional, but still totally necessary! You'll also want to have some kind of tape handy if you're going to create patterns; I used blue masking tape because it's the easiest to rip and easiest to take off too.
Depending on what kind of pattern you're doing, start with the taped designs. I chose simple, horizontal stripes for my larger jar and used a tape measure to make sure I was wrapping the tape around the jar in a straight line.
I usually paint 2-3 coats depending on the type of paint, color and the look I'm going for. For these, I did two coats because I liked the way the glass shined through a little bit. I also decided not to distress these once I saw the turn out!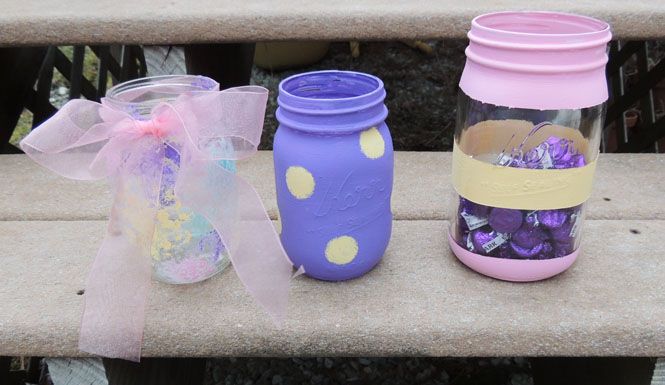 Once the paint is dry, you can start any designs that have an overlay of paint - like the purple polka dot one has. Originally, I was going to paint a different colored stripe on the larger jar but I LOVED how the clear stripes looked! I thought it was perfect for displaying some color coordinated Easter candy too ; )
These are so simple to make and super fun too! I love making these jars for all sorts of things, but playing with fun, pastel colors for Easter is the best : )
For this jar, I used a craft sponge to try and go for the hydrangea-look and I'm so happy with how it turned out! I love the colors together and it's something different than I've tried before.
I hope this simple and quick DIY project gives you some inspo for decorating on this beautiful Friday! I'm so excited for Easter and these festive mason jars are definitely helping!
XOXO
Bloglovin|Facebook|Pinterest|Instagram