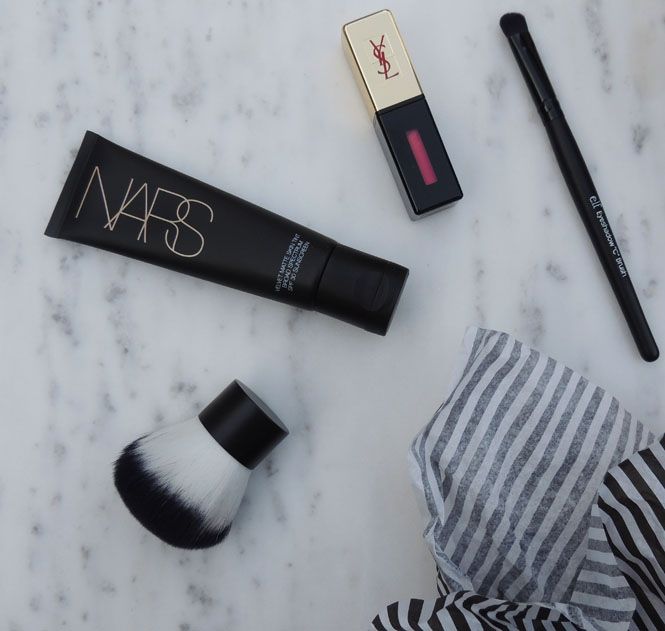 Finding makeup that you really love can be hard - especially face makeup. I have never been able to find a concealer/foundation that I loved or that matched my skin perfectly and I have tried SO many especially lately. There's a ton of drug store branded foundations that work well (especially the Maybelline matte mousse!) but nothing has given me the coverage I was looking for or the natural look I like to have even when wearing makeup.
Last month, I heard that NARS was releasing a brand new skin tint/foundation and I didn't really think twice of it until it sold out in my mall's Sephora twice in two weeks! Every time I walked into the store, people were going crazy over it; I read a bunch of reviews and they were all so positive and I was dying to try it. I went back into Sephora a few days later and asked about it and I got a sample to try before buying it because lets be honest, $44 for a face tint isn't cheap!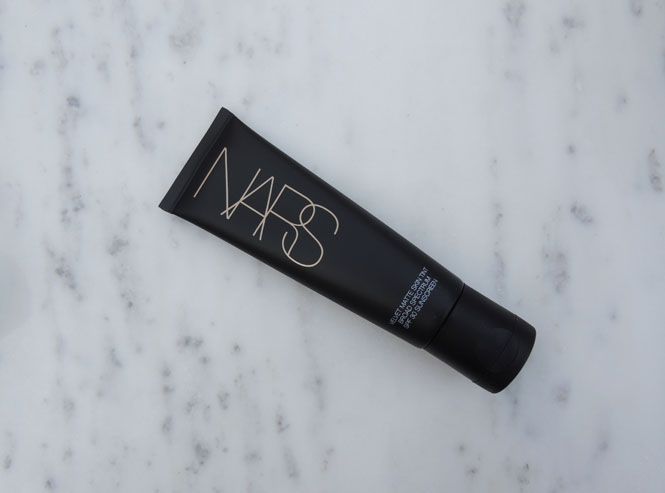 Let me tell you - my $44 was sooo well spent!! I loved the sample so much so I went and bought this as fast as I could. I have combo skin oily and dry but not too much of either and this is by far the best product I've used to help manage that. I've heard from a lot of friends that they're hesitant in trying this skin tint because they assume it won't be good for their skin but it really is great for all skin types. It gives such a natural looking finish and great buildable coverage!
This skin tint is completely oil free (which I LOVE) and has an SPF 30 which is great for summer months too. The best part about the Velvet Matte Skin Tint is the way it feels when putting it on your skin. I can't even begin to describe how smooth it feels! It's helped even out my skin tone and it covers any redness or blemishes really easily. I've been using this kabuki brush to blend and it's been the best combo! I also love using these beauty blender sponges when applying the skin tint.
I love the way it dries; quickly, evenly and most importantly, it doesn't make your skin feel or look dry like you may think a matte skin product would. It's literally like body butter for your face that gives great coverage!
Another concern of mine when I first started using this was if it would last all day - I've tried numerous face products that started looking dull, faded and chalky after wearing it for a few hours but I am seriously so happy with how long this lasts! It doesn't move and doesn't look any different hours later. It has great coverage and I would say it's just the right amount - sometimes when a product gives too much coverage it looks caked on but this is perfect to build up the coverage you need. I also really love that it doesn't try my face out and doesn't make your face feel dry at all when you wear it either.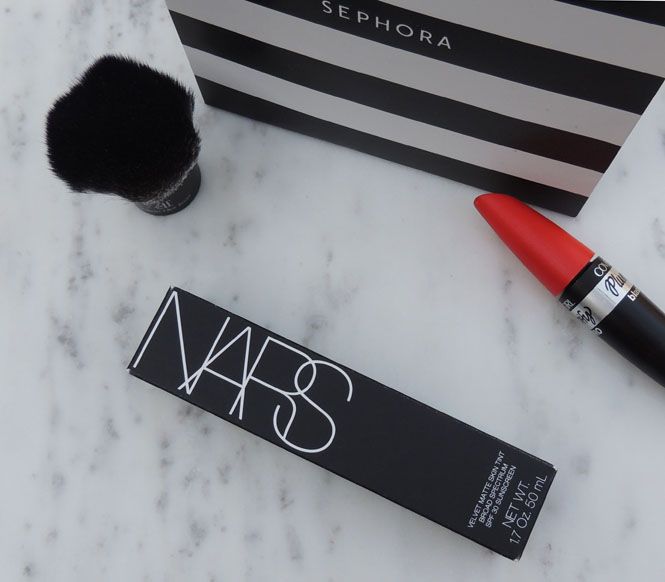 Some face makeup products don't always smell the best and the fact that this one smells really good is another pro to add to the list. It's great for controlling pore size and minimizing any shine or oil on your face too. Like I said, I have combo skin and trying NARS' new skin tint has been like hitting the makeup jackpot! ; )
I love this skin tint so much so that I saved talking about it for an entire blog post! It's by far my favorite beauty product and honestly worth the money. I have a new found love for NARS products and it's becoming one of my favorite go-to brands. If you're considering buying this, I highly recommend going into a store that sells it and trying it out to find your shade. I never would have been able to choose mine online and most definitely would have chosen wrong - the pictures are quite deceiving online. I ended up being a match for Terre-Nueve. Side note: has anyone tried the skin match technology in Sephora?! It's so cool; a Sephora employee will use the tool to measure your face color and tone in a few different places and then all of their products that match your skin pop up on the screen, it's amazing!
I was surprised that Terre-Nueve was a match for my skin because it seems really light, but it makes sense since this gives buildable coverage. My mom ended up buying this skin tint also after seeing how much I loved it and she got it in Alaska; I think once the summer comes and I'm tanner, I'll need to get a shade or two darker but so far, Terre-Nueve is killin' it for me!
I highly recommend checking this skin tint out! It looks so natural and with so many shades you'll no doubt find the most perfect match for your skin. NARS has done it again!
What NARS products do you love? I'm linking some more of my favorites from NARS, since I'm borderline obsessed now!
XOXO
Bloglovin|Facebook|Pinterest|Instagram