One of my absolute favorite holidays is Easter. Between the meaning of the holiday, the excitement of seeing family and dressing up, it's such a fun Sunday! Ever since I was little it's been a huge deal in my family and picking out my Easter outfit was always and still is my favorite part. It's also pretty much the unofficial start of Spring if you ask me - the first time we can wear cute, warm weather clothes - even if it isn't that warm out! I'm hoping for a beautiful day this year though.
Here are some outfit inspiration ideas for your Easter outfit shopping this weekend! I haven't even started thinking about what I want to wear, but putting these together has definitely helped! Whether you're getting dressed up or staying more casual, looking springy and cute is always so fun!
*May contain affiliate links
Floral Dress// Tory Burch Crossbody// Essie 'Fiji'// Michael Kors Watch// NARS 'Turkish Delight'// Gold Cuff Bangle// Gold Bar Bangle// White Cutout Heels// Stud Earrings
I have absolutely LOVED this dress since I saw it on the runway! The back is gorgeous and with all white and gold details I think it's perfect for Easter Sunday!
White Tie Knit Shirt// Valentino Rockstud Heels// Light Pink RayBans// White Kate Spade Bucket Bag// Saint Laurent Lip Stain 'Pink Rain'// Gold Stackable Rings// Pink Gingham Pants
Gingham everything is seriously what's up! I never thought I would love pants like these , but I'm obsessed. Gingham is definitely making a come back and I am so ready for it!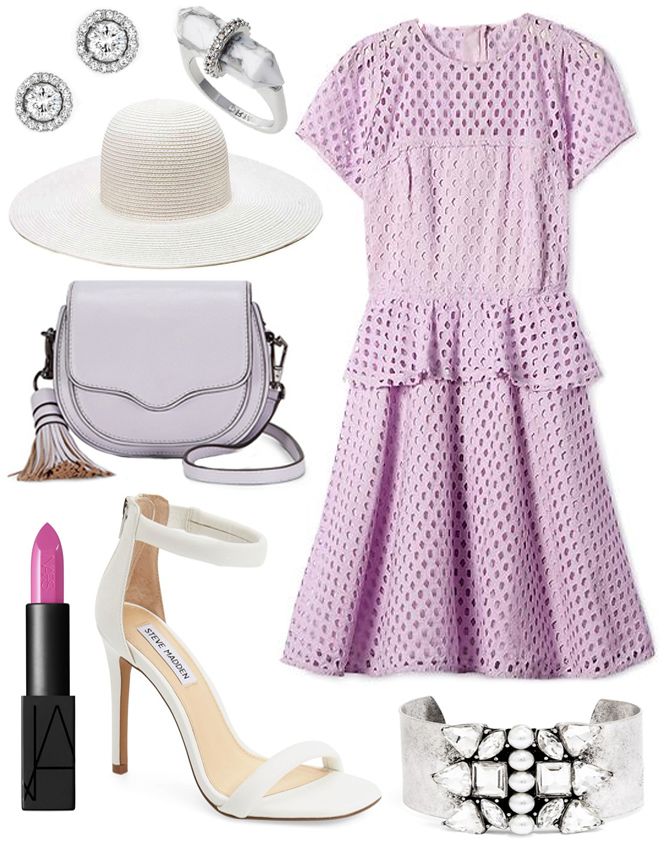 Diamond Stud Earrings// Crystal Ring// White Floppy Hat// White Crossbody // Lace Peplum Dress// NARS Lipstick 'Claudia'// Steve Madden Strappy Sandal// Crystal Cuff Bracelet//
I fell in LOVE with this dress when I saw it. It comes in white and navy too and it can double as a cute sun dress that you'll wear all summer! I always wore hats on Easter when I was a little girl and now I love floppy hats again! Forever 21 and Nordstrom have the cutest hats and I'm especially loving this one from F21! It's so inexpensive and I wear this all summer long.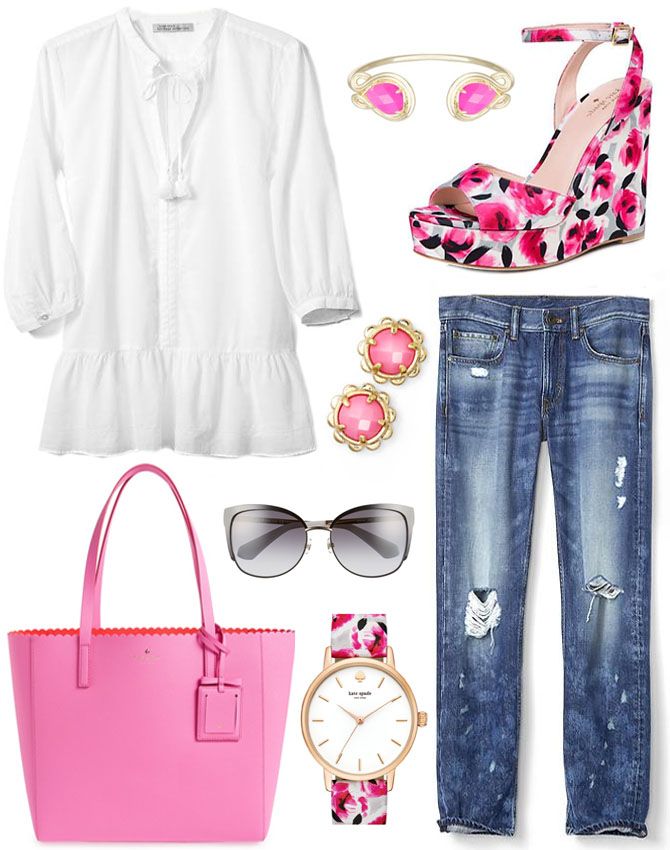 White Pom Pom Blouse// Kendra Scott 'Andy' Bracelet// Floral Kate Spade Wedges// Pink Scalloped Kate Spade Tote// Scalloped Stud Earrings// Kate Spade Sunnies// Floral Kate Spade Watch// Distressed Crop Jeans
This is a more casual look if you aren't looking to get as dressed up for Easter or if you simply don't want to be super dressed up all day long. Seriously, how cute are these wedges?! Kate Spade and florals just belong together in one sentence! There's even a matching watch that I thought looked super cute with the shoes. I have a new found love for Banana Republic jeans and let me tell you - these capris are everything! They're so comfy and are so flattering on. Simple can still be cute! ; )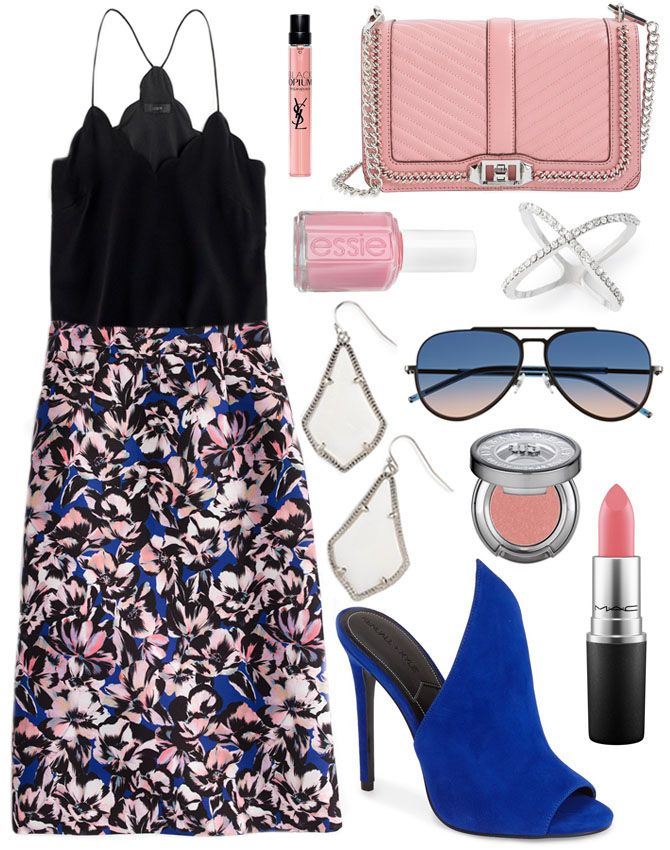 Black Scalloped Top// Floral Skirt// Saint Laurent Perfume// Rebecca Minkoff Crossbody// Essie 'Petal Pink'// Criss Cross Ring// Kendra Scott Earrings// Marc Jacobs Sunnies// Urban Decay Eye Shadow// Kendall + Kylie Mule Heels// MAC 'Please Me'
I could stare at this all day. I'm seriously obsessed with this look! Scalloping on clothes, accessories, shoes - you name it - I LOVE it! I really love that this scalloped tank top can be really versatile; dressed up or casual with capris/shorts. These mule wedges are such a beautiful blue and they're actually really, really comfortable!
Crystal Wrap Ring// Pink RayBans// Kate Spade Satchel// Essie 'After School Boy Blazer'// Navy Lace Blouse// Laura Mercier 'Fresh Raspberry'// Floral Skirt// Crystal Earrings// Crystal Statement Necklace// Steve Madden Pumps
Another floral skirt look because I can't stop shopping for florals! This is a more practical look for Easter in NY when it falls in March... As if I didn't love floral prints enough; throw lace in with it and I'm one happy girl! I just added these pink RayBans to my collection and if you're looking for bright pink, I highly suggest picking them up ASAP because I haven't been able to find them almost anywhere! This lace blouse is another top that can be worn for so many different occasions and the price is amazing too - especially compared to the almost exact $400 one that JCrew has! Laura Mercier is one of my favorite makeup brands but I hadn't tried any of her lipsticks until I tried the Fresh Raspberry shade and it is so beautiful. This is another brand of lipstick that really lasts all day and makes the price so worth it.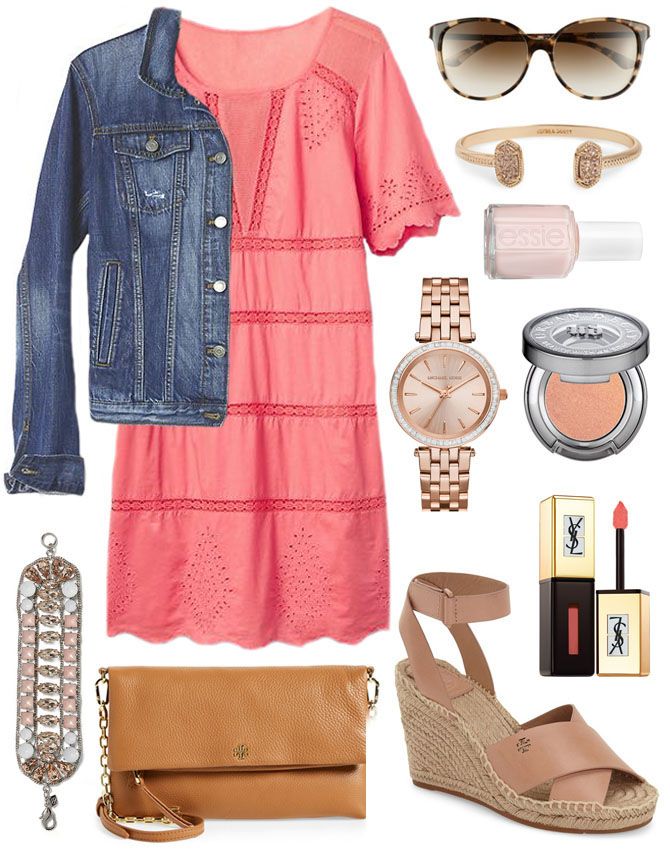 Denim Jacket// Coral Mesh and Lace Dress// Kate Spade Sunnies// Kendra Scott Bracelet// Essie 'Angel Food'// Michael Kors Watch// Urban Decay 'X' Eyeshadow// Crystal Beaded Bracelet// Tory Burch Crossbody// Tory Burch Wedges// Saint Laurent Lip Stain 'Wet Nude'
Another semi-casual look but I mean... this may be it for me! I love denim jackets for all year round and especially in the spring. This denim jacket is a perfect wash of denim that can be worn with literally everything. I love coral and tan tones together - I get it from my mamma! : ) This crystal beaded bracelet comes in two colors and it's seriously one of the most beautiful bracelets I've seen. I love the colors of the stones and the way it sparkles!
If you celebrate Easter, what are your plans? Which look is your favorite?
XOXO
Bloglovin|Facebook|Pinterest|Instagram