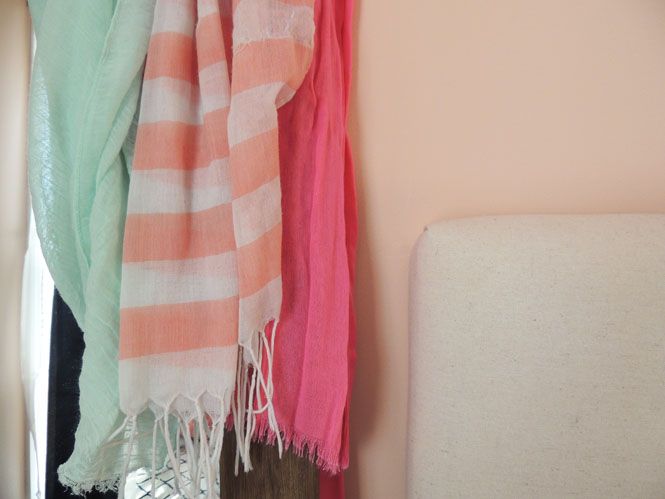 If there's one trend that never gets old and can be so versatile, it's scarves! Blanket scarves, skinny scarves, gauze scarves; there are so many styles and ways to wear them that they work for basically every month of the year in every kind of weather. My scarf collection is constantly growing; I have two of these scarf organizers hanging in my closet that keeps my scarf collection organized and I'm pretty sure I could find one there to match every single outfit combo in the world. I love accessorizing with them in the spring and using a cozy blanket scarf to keep me warm in the winter and still look cute.
Since spring is upon us, it's usually still too cool to wear sandals and tank tops but perfect for capris and a short sleeved tee or a thin, long sleeved shirt. My perfect spring outfit is a tshirt, crop jeans, espadrilles and a pretty scarf! It's amazing that such a simple piece like a scarf can change the whole look of an outfit and can be styled in so many different ways, but I think that's exactly why they're becoming more and more popular. There were a ton of gorgeous scarves and wraps on the runways of NYFW this season too.
Here are some of my favorites for spring: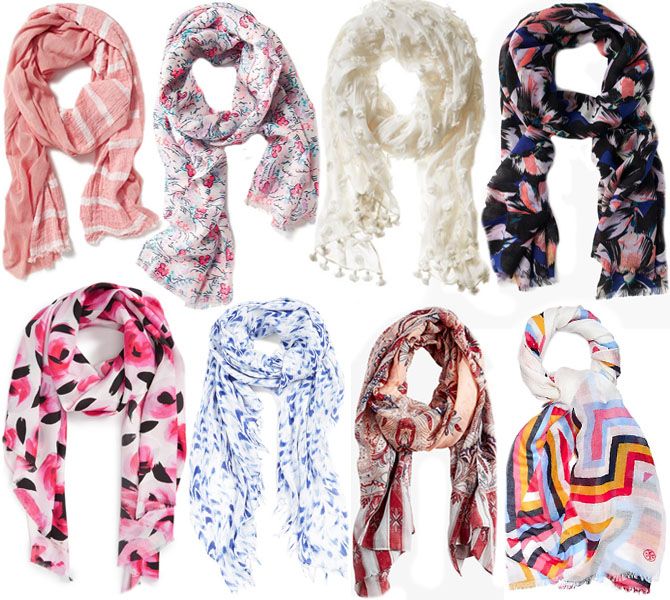 Peach Striped Scarf// Pink Floral Scarf// White Dotted Tassel Scarf// Navy Floral Scarf// Rose Garden Scarf// Turquoise Patterned Scarf// Paisley Printed Scarf// Colorful Striped Scarf
For cooler weather the best material scarves are wool and cotton and for warmer weather, gauze, cotton and silk materials are perfect for a lightweight accessory. It's no secret that the tassel trend is one of my favorites and so are floral patterned scarves like this one.
My ideal spring outfit:
Blue Striped Scarf// White T-shirt// Espadrilles// Tory Burch Tote// Cropped boyfriend jeans
I basically live in looks like this in the spring months! I love how simple but pretty and put together it is and how easy it is to get ready in the morning when you're going for a look like this! ; )
My favorite places to shop for spring scarves are The Loft, Express, Old Navy, Gap, Banana Republic, JCrew and Nordstrom.
Here's some more of my favorite scarves this spring:
XOXO
Bloglovin|Facebook|Pinterest|Instagram