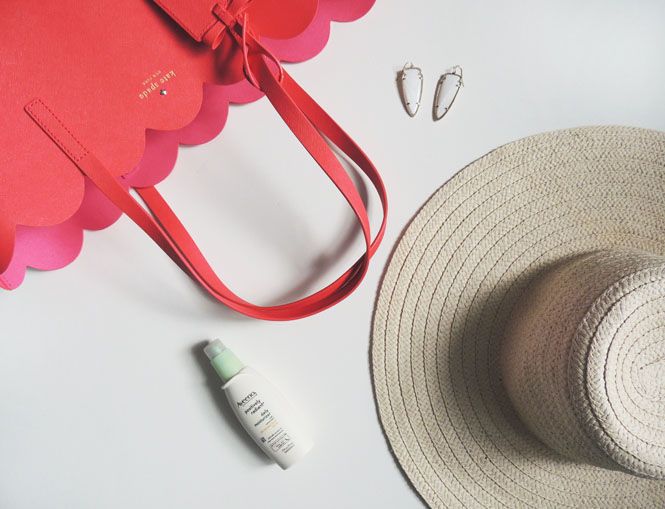 Happy Monday and more importantly, happy SPRING BREAK!! I am so excited that the best week is finally here and it's super sunny today to kick off the week before I even get into the warmth! This is the best time of year and such a perfect time to get away on a vacation or even a staycation - the main goal is having some much needed R&R and that is nooo problem for me ; ) I'm a terrible packer mostly because I'm so indecisive so I end up taking with me way more than I need but with some of these things, over packing is so necessary!
Here are my Spring Break Essentials:
Mirrored Sunnies// Pink Tassel Bracelet// Face Protector// MAC Saint Germain// Kendra Scott Earrings// Floppy Hat// Tory Burch Romper// Pink Bucket Bag// Tory Burch Flip Flops// Pineapple Float// Ice Cream Cone Makeup Bag
Can we talk about the pineapple float?! It's this years version of the donut float that was so popular last year and I had to buy it the moment I saw it. It'll make for a really cute picture wearing this fun floppy hat too. I love that this is one that's cheap enough to wear to the beach and the pool but it still looks really pretty on and the quality is great.
Tassels are so in style and especially for spring break and beach trips I LOVE everything about them! I'm so obsessed with this tassel clutch and these turquoise tassel earrings - perfect for beach days and nights!
The MAC shade Saint Germain is always my go to lip shade for spring and summer because it's such a beautiful color on. I also have been using this YSL shade on repeat!
The entire BP line at Nordstrom is seriously amazing - especially their Dior sunglasses dupes. I love designer sunnies as much as the next girl but for beach trips especially, the last thing I want to worry about is loosing a pair of expensive sunglasses.
I can never get enough of spring and summer themed everything! I couldn't possibly fit all of my favorites into one picture so here are some more of my favorite things for Spring Break this year:
P.S. check out this post for some great skincare tips for this time of year!
What are your favorite essentials for Spring Break?
XOXO
Bloglovin|Facebook|Pinterest|Instagram