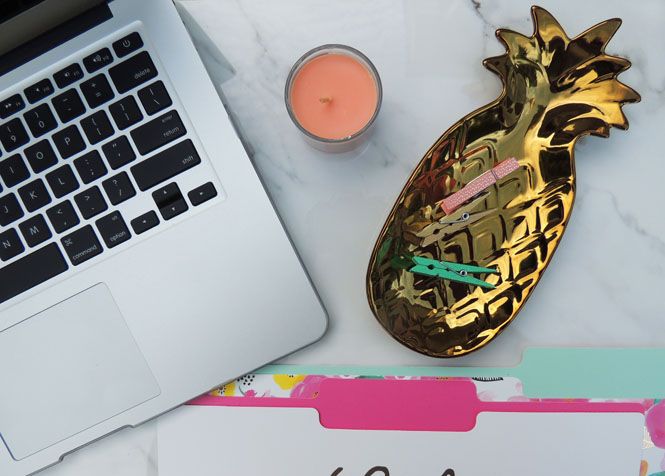 It's incredibly weird to me to not have started a new school year for the first time in the past twelve years this year... I can't believe I'm a college grad; I really don't know where the time has gone, but man it's a great feeling to have a diploma after a LOT of hard work! Post-grad life is a lot different than I had expected it to be thus far but I truly cannot complain in the least. The best part about college isn't the parties or the freedom - these are nice and all, but the true blessing in disguise that comes from the college experience is the way you grow as a human. As I sit here now, I really have realized just how many life lessons I learned throughout college. And let me tell ya - there's way more of them than there is knowledge about any of the Gen Ed requirement classes I took. If I could go back, there are definitely things I would change and tweak around - starting from the very beginning of the experience. Literally. I've also realized how many things there are that I wish I knew before I began my college years, and just how much I actually did learn. So here I am today, a college graduate - sharing all of the things I wish someone had told me upon entering some of the craziest years of my life (so far, God bless):
Have an opened mind.
You're in a new school, meeting new people and getting used to a whole new routine. It can be hard to not want to socialize at first or do things that are out of your comfort zone with new friends, but it's the best thing you can do for yourself. I found it really hard to get myself to want to do anything social having to do with my school (especially since I was a commuter student) but it really does make a huge difference.
It's not as bad as your high school teachers make it seem.
All throughout high school I heard teachers basically warn students that college would be "so different"; as in much harder, more strict and who knows what else - but they say it and they say it a lot. Is college different than high school? Completely. But it isn't nearly as scary or intimidating once you start as your high school teachers make it seem. Professors expect more out of you because you're older and in a mature situation, but in many cases they're more laid back. Throughout my four years of undergrad, I always asked myself why high school was shaped around making college seem so different and scary. I promise, it isn't!
The work you put in shows.
It
is
different than high school in that 98% of the time, professors don't care if you do the work. It isn't affecting them, it's affecting you. But if you put in the necessary work and do what you have to, you'll be on their good side. Four for you, Glen Coco.
It's okay to still not know what you want to do.
I've always been indecisive as to what I want for a career; it wasn't until the beginning of junior year of undergrad that I realized I wanted to go into interior design and I assumed it wouldn't last, as every other potential career path I'd come up with in the past. 2 years later I think it's safe to say it is something I love and will pursue, but good lord it took a LOT of time to get there! I changed my major 4 times. Four. FOUR different majors, courses of study and a LOT of headaches! Don't freak out if you don't know what you want to do. Don't freak out if you decide you want to change your major a million times. That's what college is for - and everyone is in the same boat.
Take advantage of the services your school offers.
Gosh, I look back and I realize I could have had an entire resume written for me - among many other things. Don't be afraid to ask for help or to use the services that are literally there FOR your benefit. You're paying thousands of dollars a year to go to this school, use the dang resources people! I wish I did!
Do you, and don't worry about everyone else.
Way easier said than done, I know. It's not hard to get super caught up in your friend group, the craziness of classes and everything else going on. But it's beyond important to make sure you're striving for success and doing what you need to do and what's best for you in the long run. Any friend group whose worth your time will understand that much.
Finding a happy medium doesn't come easy.
Do I sleep, do I finish that paper? Should I go to the football game or should I not call out of work? Is going to this bar really worth the headache tomorrow? Is this class worth my time? What's my family doing; can I hang out with my best friend this weekend? - Some of the MANY, many questions that will run through your mind one million times per day. There's so much to do and so little time. If you're blogging through college - add that to the list like so many of us have! Balancing things out and finding that happy medium takes a LOT of time. I don't think it was until the spring semester of my sophomore year that I really felt like I had a good schedule going for myself. It's so, so important to prioritize everything going on. Whether that means you get a planner and write everything down or you make to-do lists, find what works for you and decide what comes first. It isn't easy, but once you find that middle ground and are happy with it, it works and things fall into place.
Do NOT buy your textbooks before the first 1/2 class meetings.
Seriously. Don't. I can't tell you how much money I saved by not running out to buy my books just to unnecessarily bring them to the first class meeting. To be honest... There were a LOT of classes that I didn't even need to buy the book(s) for... It may sound awful, but hear me out. First of all, you may decide to drop the class; you might hate the professor (it's bound to happen) and just don't feel like it's a good fit. You might read the syllabus and find out the book isn't even on the professor's list. And the worst - you might buy a huge textbook that costs $170 only to use one chapter. Freshman year I bought all of the required books, but never from the bookstore. Always look on sites like Amazon - you'll find the book for a fraction of the price, or possibly the e-book version which is a blessing! Back to my point: textbooks aren't always necessary. You can almost always find excerpts online; sometimes even the whole text book online. Of course there are exceptions and in most cases, the book(s) are necessary. If you do buy the book, sell it on a site like Amazon, Chegg or Valore Books after the semester is over. But I promise you - I barely bought any books for three years of undergrad and I'm still holding a Bachelor's Degree. Save your money. ; )
STUDY ABROAD.
I always wanted to, and I never did. I kick myself almost every day for not taking the opportunity to study abroad. I have such a travel bug, and I love seeing new places. I love experiencing new things and I love meeting new people. I'll never understand why I didn't pursue taking a semester abroad when it's something I ALWAYS told myself I wanted to do. Learn from my mistake, friends. Take the chance on yourself, get out there and freakin' travel.
Do everything you can to make it a great experience.
Your college years are the last four years before a real sense of adulthood hits you in the gut. There's a slim chance you'll get a great job straight out of college and there will almost always be something you wish you could have done better. Whether you enjoy where you are or not, make the best of it. After all, it really is a learning and growth experience. If you do anything in your college years, let it be personal growth. It's the best thing you could ask for.
XOXO