I'm still finding it very hard to believe that I only have about two weeks (wait, I think it's less..) left of summer AND that I'm about to be a senior in college?! WHAT is happening?! I feel like I started high school just yesterday - let alone college! For those of you who don't know, I definitely plan on going to design school after graduation. I'm highly considering getting my real estate license and working in that field to put myself through design school - and then I'll be designing homes in a few short years - that's what I like to think anyway!
Anyway, every year before school starts my mom, sister and I spend a day or two shopping both for new clothes and supplies. We usually go to the outlet center and one of our favorite malls, so this Wednesday we're heading to the mall and I'm super excited! While I'm not ready for summer to end at all, I of course am excited to shop ; ) I always look forward to making a list of things I know I want to get and looking at the trends for the Fall! The only thing better than brand new clothes, shoes and supplies are the deals that go along with them. I've come to realize that this is the week that all the back-to-school deals really begin during these last few weeks of August making it the perfect time to shop!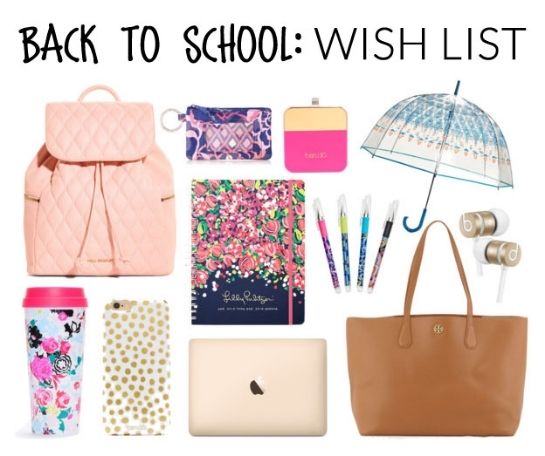 Quilted Vera Bradley backpack// ID/card case// Portable iPhone charger// Bubble umbrella// Lilly planner// Colorful pens// Gold Beats earbuds// Floral coffee mug// Gold dotted iPhone case// Gold MacBook// Tory Burch tote//
This Fall, I'll be wearing a lot of wine/burgundy, olive green and shades of tan and brown. I've never really worn olive green before, but I've been seeing it a lot lately and it's such a pretty color! I'm also on the hunt for a cute pair of knee-high boots and am loving this pair so much. I also tend to wear scarves SO much when it starts to get cooler. It's kind of ironic that I go Fall clothes shopping this early because in New York, it doesn't really get cool enough to put summer clothes away until the end of September; which I'm totally fine with because I'll hold on to any last bit of summer that I can! Blanket scarves are one of my favorite things ever - they're so pretty and SO comfy! I'm especially loving this one this year!
I like to buy a few really nice handbags every season since I know I'll have them for a long time! My collection never stops growing but I can't complain because bags are my absolute favorite thing to buy! I bought this tote in light blue this past June and it's such an awesome bag so I'm definitely going to purchase it in a few more colors - the best part is that it's under $50!! Here's some more of my favorite bags for the Fall that I've had my eye on:
It's no secret that I'm an extremely organized person (I'm a Virgo - I can't help it!) so I've been on the hunt for deals, steals and everything in between for my shopping trip this week and for my outlet shopping trip next week! Here's some of the best deals I've found so far:
JCrew: save up to 30% with code SAVEMORE
The Loft: Friends & Family 40% off everything (!!!)
Ann Taylor: get 15% off regular priced items with school ID
Macys: extra 20% select items with code BTS
Anthropologie: extra 20% off sale with code SUNNYSKIES
American Eagle: all jeans buy one get one 50% off
H&M: 20% off your purchase with email signup
More Fall favorites:
I can't wait to share with you guys everything I find this week! What are your favorite looks for this Fall?
XOXO
Bloglovin|Facebook|Pinterest|Instagram