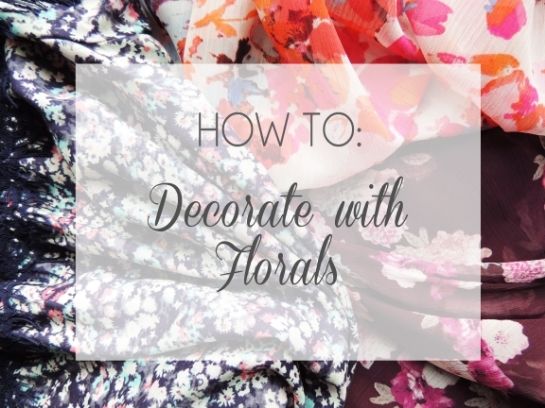 Using floral prints and patterns to decorate a room can seem sort of risky in hopes of not making it look gaudy and old fashioned, but these prints come in so many different shapes, sizes and colors and is a real trend these days! Not only are floral patterns extremely stylish, but they also can bring life and light into a room that may have a before picture of being dark and gloomy.
Gorgeous floral pieces for your home:
Floral accent chair// Chanel flowers wall art// Floral table lamp// Watercolor floral throw pillow// Framed floral print// Floral wall mirror// Gray couch// Floral accent pillows// Colorful flower wall art// Watercolor floral lamp shade// Floral tassel pillow
The key to decorating with florals is to find a certain pattern that you like - the colors, size of the flowers and the style of the print - and sticking to it!
Here's some tips for decorating with floral designs in different spaces:
Floral doesn't mean ancient:
believe it or not, you can decorate a space with floral prints without making it look like you just raided your grandma's attic. If you're going with floral prints on your couch or the pillows, balance the pattern out by adding bright colored pillows, a statement rug, or a
stylish coffee table
.
Don't overdo it:
trust me, there is no time that you should ever try and decorate every aspect of a space with floral patterns! More is less. Flowered fabrics are usually bright and vibrant and are "popping pieces" - or pieces that you first notice when you walk into a room. If you have a floral patterned couch or accent chair in your living room, get throw pillows that are a solid color that matches the floral print. If you have a floral comforter in your bedroom, use matching colors for decor pieces.
Be aware of the print sizes:
be sure to remember that the scale and size of a floral print can make a huge difference depending on which aspect of a room you're decorating. For example, if you're doing a floral accent wallpaper or styling a furniture piece like a couch, bigger floral prints will look better than small, cluttered floral prints. On smaller scaled pieces like a floral lampshade or an accent pillow, smaller flowered prints will stand out more.
Hanging plates:
a trend that's really popular right now is decorating your walls with decorative plates. I really love this look - especially in an open concept living/dining room! Try brightening up a room by playing with different patterned floral plates to create a focal point on your walls. This is one (of few) examples where it looks good to use many different flowers - just try to stay within a theme or color scheme!
Accent walls are everything:
I absolutely love the idea of having an accent wall - especially in a bedroom! Wallpaper can be tricky and seem daunting, but finding a modern, floral print wallpaper that you love may be the answer to your bedroom decorating woes. Try a monotone floral print instead of going too bold and hurting your eyes. A larger floral print that's a simple color can go a long way!
Pairing with patterns:
even though floral patterns already have a lot going on in them, pairing floral prints with other patterns like chevron or stripes can really make it pop even more!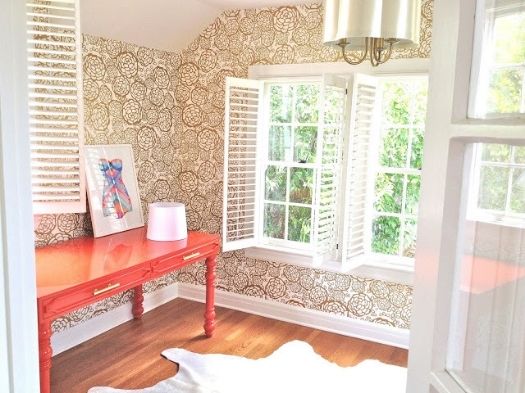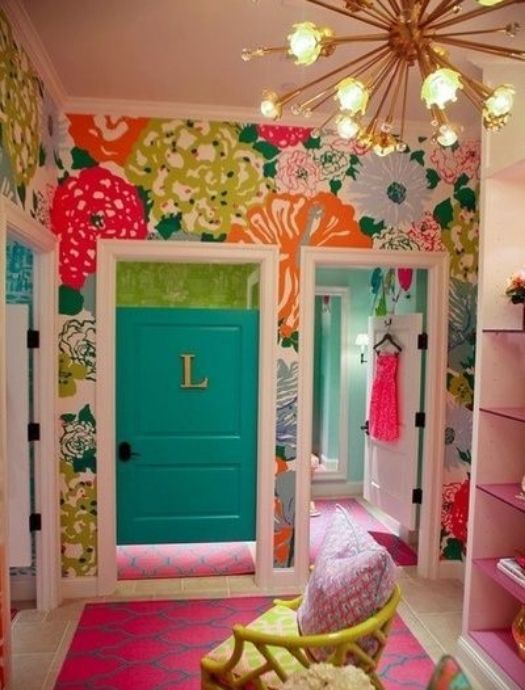 source & source The floral wallpaper (left) is absolutely stunning! I would love to find a similar wallpaper for my closet or (future) dressing room/office! It's so feminine, chic and makes a statement without overdoing it! I love the tan/gold and the colors that were matched with it! The second gorgeous room is a Lilly Pulitzer dressing room - which I could LIVE in! Every time I go into one of Lilly's stores I fantasize over the dressing rooms. The floral wallpaper is super bold with such a pretty color scheme and has larger scaled flowers versus the smaller scaled flowers in the first picture. They give such a different look yet both are so bold and make a gorgeous statement!
Floral Comforters:
Floral pillows:
Pretty floral clothing and accessories - just because : )
Would you ever decorate with floral patterns?
XOXO
Bloglovin|Facebook|Pinterest|Instagram