You're going out and you don't want to lug around a big tote bag with you that weighs a ton of weight, forces you to knock into people and is a complete annoyance - we've all been there! That's why I've been using cross body bags ALL summer long. But these bags are small and there's no way you could fit nearly everything you hoist around in that big tote of yours... Just take the necessities!!
Cross body bags have been my go-to ALL summer long. I love using big tote bags (the bigger the better!) but cross bodies and clutches alike are perfect for dressed up outfits and also for events that go on not only during the summer but all year round. For every concert, etc I've gone to lately, I've been taking a cross body with me and it's been so helpful in not really having anything to carry or worry about!
I went to an all day music festival in June and I was taking a cross body with me and I was so nervous I was forgetting something. I'm the type of person who has everything that I could ever need with me at all times, so taking a small bag for an all day event was pretty difficult! That's when I realized I really only needed certain necessities. Now, whenever I'm using a cross body I go to my list of cross body essentials!
How cute is this Kate Spade cross body?! I found this at the outlet in June and I bought in three colors because it's such a perfect size!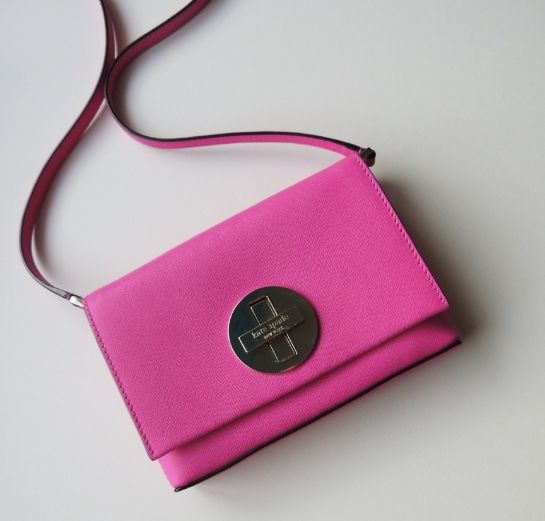 What I always have in my cross body:
Hair ties:
there's never a time that I don't 1. need a hair tie and 2. have a hair tie! No matter how many I buy, I always am loosing them or they snap super easily (with my thick, curly hair I'm not surprised!) I take at least three with me where ever I go and the no-show elastics that come in SO many colors are super fun! My black and white striped one is my favorite and it's perfect for when you don't want a crease in your hair when you take it back down. These have been a must have for me and I pick up a new pack whenever and where ever I see them. I also always have a couple of bobby pins with me because they're good for so much more than just keeping your hair in place!
Lipstick/lip gloss:
if there's any makeup that fades the most often, it's lipstick! I always carry around the color I'm wearing that day for easy re application. My favorite and most used lately is
YSL #7
. I usually carry around a makeup bag but that obviously wouldn't fit in a small cross body so I just take the essentials.
Re-wetting eye drops:
if you wear contacts like I do, you know how important these are! I recently switched to daily lenses (which I am loving and recommend 100% over the two weekers!) and my eyes get SO dry that I use these drops probably twice a day! The bottle is super tiny which makes it perfect and easy to carry around in a cross body - thank god!
Roller ball perfume:
most perfumes come in roller ball form or at least a smaller bottle. I always look for these when I buy a new perfume so that I can carry it around with me to re apply throughout the day.
Card/ID case:
another beauty of using a cross body is not having to carry around a 5 pound wallet with tons of change in the zipper compartment!
Card cases
come in so many different colors, brands and styles and they fit super easily in a cross body bag. I love my Kate Spade card case that I scored at the outlet a few weeks ago! They're easy to find and trust me you'll be glad you have one!
Chapstick:
my two favorite chapsticks are
Burt's Bees
and
Vaseline's Lip Therapy
. Both are so hydrating and again, so tiny and easy to carry around! Next to my phone, chapstick is one thing I can never leave the house without.
If you're looking for every day essentials that will fit in a smaller bag, check out the travel sections in stores like Target and CVS. You can get small bottles of hairspray, mini deodorants - the list goes on and on and they fit perfectly in a cross body.
A cross body may seem tiny, but you'd be amazed at how many things can fit in them!
What are some of your essentials when you're using a smaller bag?
XOXO
Bloglovin|Facebook|Pinterest|Instagram